Danielle Cohn has been making the headline for a few days now. The famous TikToker with most controversial age, Dani, confirmed her ab*rtion rumors recently. Before that, many people have been calling her out to state the truth publicly. There have been hints of the ab*rtion in her TikToks and the tattoo she got in January. However, it was  a speculation until Dani confirmed it herself. Following her statement, fans wanted to know who the father was and why he didn't come for her support when she was going through it alone. Many fans also connected the dots and assumed Ethan Fair was with Dani in those days. Ethan announced he'd address all the allegations soon since he was getting all the hate. However, that's not going to happen now.
Ethan Fair will not share his side of the story
When coming out with her truth, Danielle Cohn did not name any one in the video. She did confirm she called the baby-father first, to inform him about the situation. In response, the guy sided with Danielle to have an abortion. However, he was not there with her throughout the whole process. Dani did not have his support.
That revelation angered many fans and they started throwing hate at Ethan Fair. Danielle was not dating Mikey Tua at that time and she was in a relationship with Ethan. When the hate comments did not stop, Ethan announced in his Instagram story that he'd be making a video soon that will reveal all the truth.
View this post on Instagram

👀- @ethanfairr
While the people were still waiting for his video, Ethan kept reposting his friends' IG stories who were showing full support to him. They all urged Ethan's fans to spread positivity. Now, after a week, Ethan Fair has confirmed that he has thought about the video. And he will not be sharing the video at all.
From his statement, it is evident that Ethan Fair has already made the video with the receipts. But he is not going to share it as this will create more drama on the internet.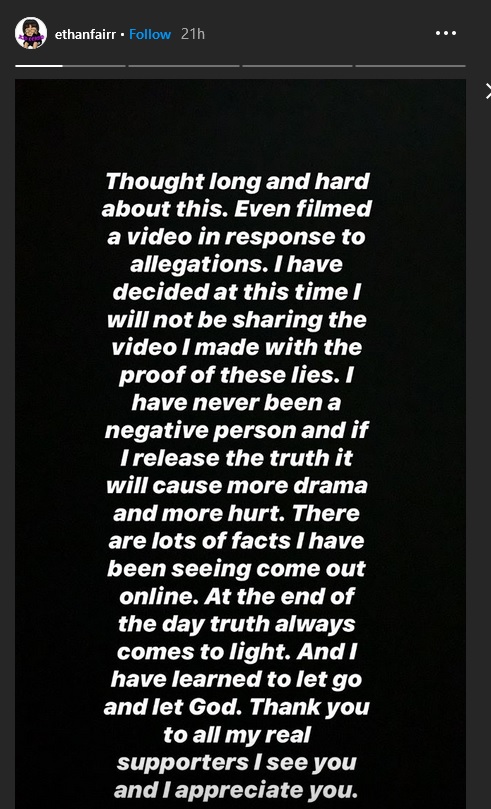 Ethan Fair was being forced to clarify his position not just because of the hate he was receiving, but in fact, Danielle Cohn was also liking and commenting on some shady posts that had put Ethan Fair on the spot.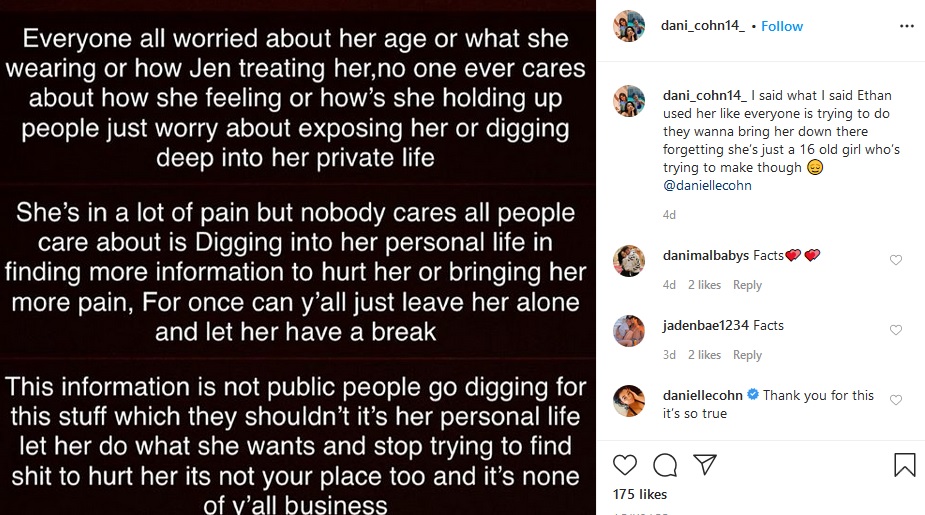 Ethan Fair has also not specified the "lies" he was going to address. However, he did say he has seen some posts on the internet that are true. And as per Ethan, the truth will be revealed to the internet by someone. The truth he is referring to, might be something relating to this comment by Virginia, the adult who leaked the audio confirming abortion.
View this post on Instagram

Read thissss
The truth might come out soon. Do you think Ethan Fair should have shared his recorded video with receipts?