The beauty community is currently in shambles on YouTube because of the Tati Westbrook, Shane Dawson, and Jeffree Star situation. Some makeup artists and influencers managed to get out of the drama such Nikita Dragun. Some even came out with more people on their side such as James Charles. But right now James and Nikita are under fire for attending a Larray's big birthday party. Other members of the YouTube community are calling them out such as Tyler Oakley. But now, Manny Mua is also throwing some subtle shade at his friends Nikita and James.
Manny Mua urges everyone to stop throwing parties
YouTuber and makeup artist Manny Mua is not afraid to voice his actual opinions online. Here's what he tweeted out recently:

Manny is encouraging everyone to the safety measures during a pandemic. The first one is to wear a mask and another one is stop throwing parties.
And who recently threw a party? Nikita Dragun.
In her birthday post for Larray, Nikita said this:
happy birthday bestfriend 🎂 @larray doesn't like to celebrate his bday so i decided to throw him the most insane surprise party ever… nikita style ! he literally is a light in everyones life . always making u laugh and feel good even on ur worse days . friend thank u so much from the bottom of my plastic heart… i was at a low point when i met u and u showed me true friendship , loyalty , and love . i had to go all out for u and something tells me u had a good time 😉 love u so much xo shoutout to @wifeoftheparty yet another iconic party <3
This seems like a direct shade to Nikita Dragun. But Manny Mua did clear up a few things.
A fan appreciated Manny for calling our problematic influencers out:
Lol!!!

@petermonn

said you dip your toe in the drama every now and then but this really needs to be said by people with platforms. The rest of us "peasants" don't seem to matter to certain influencers… Thank you for being responsible with your influence. 
This is what Manny Mua had to say on that:
haha i don't think i'm dipping my toe into drama at all, i'm just using MY platform to bring awareness to things i feel is important… like wearing masks and not being in large social gatherings.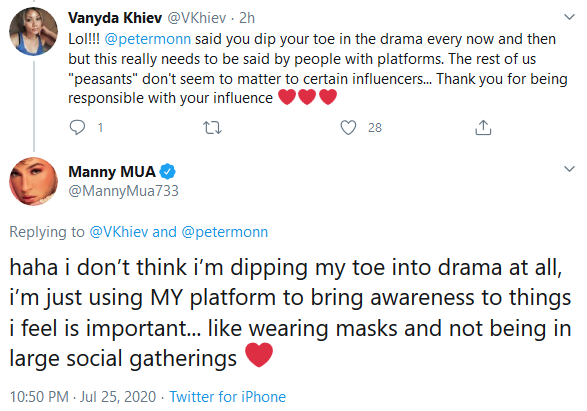 James Charles already responded to the backlash
Manny Mua tweeted this out today. But James Charles also posted a video where he shares what his daily routine is like. It was a vlog on the same day Larray birthday party took place. James Charles addressed the issue of the birthday partying in the midst of the pandemic in the middle of the video. He called it a stupid and selfish decision:
Larray also responded to Tyler Oakley calling him out at the party. He said that he agreed with what Tyler was saying and he admits it was a wrong decision:
Nikita Dragun has not addressed the issue yet. Let's see if she does.
Manny and Nikita did a collaboration with James Charles on his YouTube channel along with other makeup artists in May of this year.