Shane Dawson was the father of YouTube because of his in-depth docuseries. The series features the likes of Jeffree Star, Jake Paul, Eugenia Cooney, and Cancelled podcast host TM. Now, Dawson is now a certified member of the dramatic beauty community of YouTube. After releasing his makeup collection and series with Jeffree Star, he launched a YouTube channel. The channel, Shane Glossin channel, will exclusively feature makeup-related content. Though he may be working on his famous conspiracy videos and this time, it'll be about makeup! I wonder if it'll feature NikkieTutorial's drama.
Shane's Makeup Conspiracy Series?!
Now, we're not sure if it would be a series or not but recently the YouTuber shared something interesting. In one of his Instagram stories, he answered a question from a fan: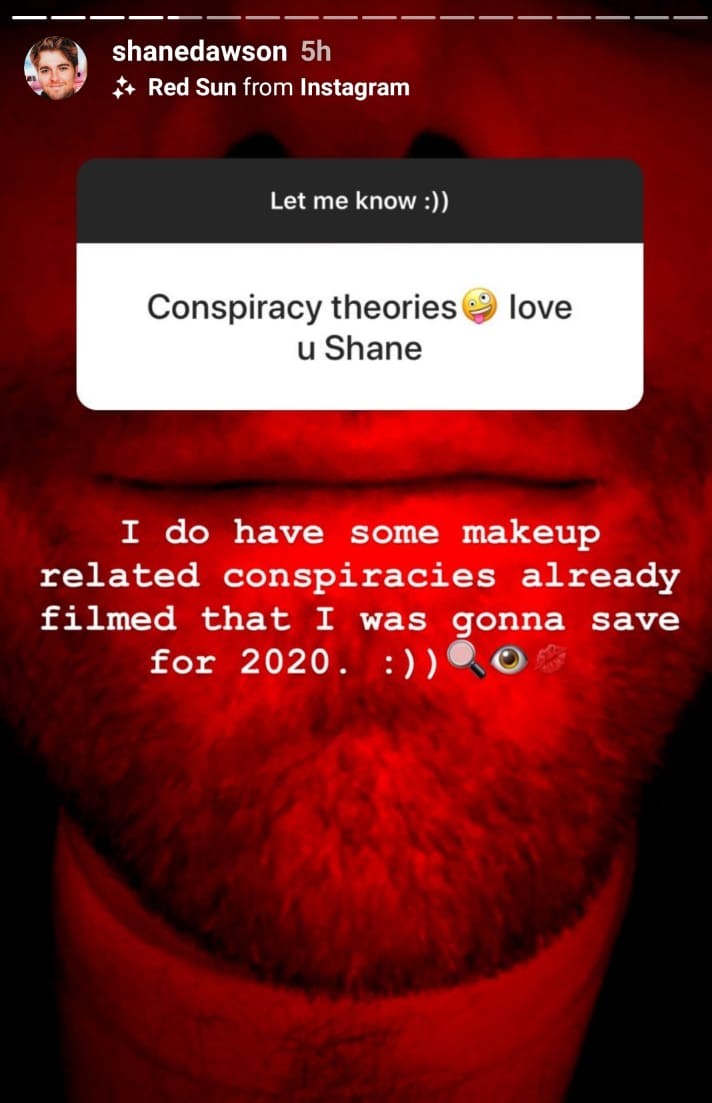 The king of YouTube has finally spoken! There are going to be conspiracy videos coming from Shane Dawson soon on his channel. It may be on his Shane Glossin channel because it's make-up themed.
Shane Dawson's Famous Conspiracy Videos
If you have any idea about the scandals that go on in the beauty community of YouTube, you would know there is drama every single day. From the infamous Tati Westbrook vs. James Charles feud to Jaclyn Hill's lipstick disaster, there are stories to cover every single day.
However, Shane Dawson's conspiracy videos usually take on a unique angle. Fans love his conspiracy videos because the theories he chooses to put in the videos are compelling.
They're not all just Illuminati-themed videos but also contain suspicious activities by major companies such as Apple, Hollister Co., Abercrombie & Fitch. He's also taken on interesting theories such as why people believe the earth is flat and how deep fake tech can be a dangerous political tool.
Makeup Conspiracy | what they could be about
Shane's makeup conspiracy videos could be about anything. It might take a deeper look into the business side of things as we saw in his Jeffree Star series. We saw that Jeffree Star Cosmetics' product was stolen before the launch. Perhaps Shane would explore how anyone can steal such an important product despite a lot of security.
It could also feature important scandals like Jacyln Hill's lipsticks gone wrong. The manufacturing and packing of the makeup industry is a complicated one. Surely, there are a lot of conspiracies going on about there. It's also interesting because some of the palettes in Shane's own makeup collection had some hairs in it. Even though the matter was quickly resolved, there is a lot to unpack here.
Marlena Stell's Netflix series about the pollution of the makeup industry is an interesting topic too. Perhaps, Shane will be inspired by it.
There's also something else that Shane could do, something that has been recently trending: NikkieTutorials.
Will NikkieTutorials be in Shane Dawson's Makeup Conspiracy Video?
NikkieTutorials, real name Nikki de Jager, is a popular member of the beauty community of YouTubers. After rising to fame thanks to her creative 'power of makeup' videos and collaborations with famous celebrities, she has about 12 million subscribers. Her subscriber count is, however, growing because she recently came out as transgender.
Her coming out video was nothing short of perfection, emotional and vulnerable. Unfortunately, the circumstances surrounding her coming out video were sad. In it, NikkieTutorials reveals that she was actually blackmailed into coming out as transgender. Someone in the beauty and makeup community found out her identity. They threatened to leak it to the press.
People suspect that it's an ex-Too Faced employee. Too Faced and NikkieTutorials history goes way back. Nikkie's first-ever makeup product was a collab with Too Faced. The makeup company manipulated her into an awful business deal. Her makeup products went on to sell millions of dollars but NikkieTutorials only received a flat fee of $50k initially. 'The Beautiful World of Jeffree Star' series highlighted this as well. Jeffree Star put the company on blast for its unfair treatment of new makeup artists.
We're sincerely hoping that Shane Dawson's mysterious new makeup conspiracy video will feature NikkieTutorial's whole story and her drama with Too Faced.