COVID-19 coronavirus (SARS-CoV2) is all over the globe now. Every country, every city is contaminated by the virus and humans are a threat to humans. So widespread is the virus that not even the crowned prince of Wales, Prince Charles is safe. In these trying times, we are all locked in our homes. It can become very hard to keep your spirits up at times like this. And everyone realizes this. As the panic settles in, there's not even much to keep us occupied. A big thanks to our celebrities who are doing so much staying inside their four walls to help our sanity. A few hours ago, Shane Dawson, our Glossin' Queen, posted that he is working on something for us.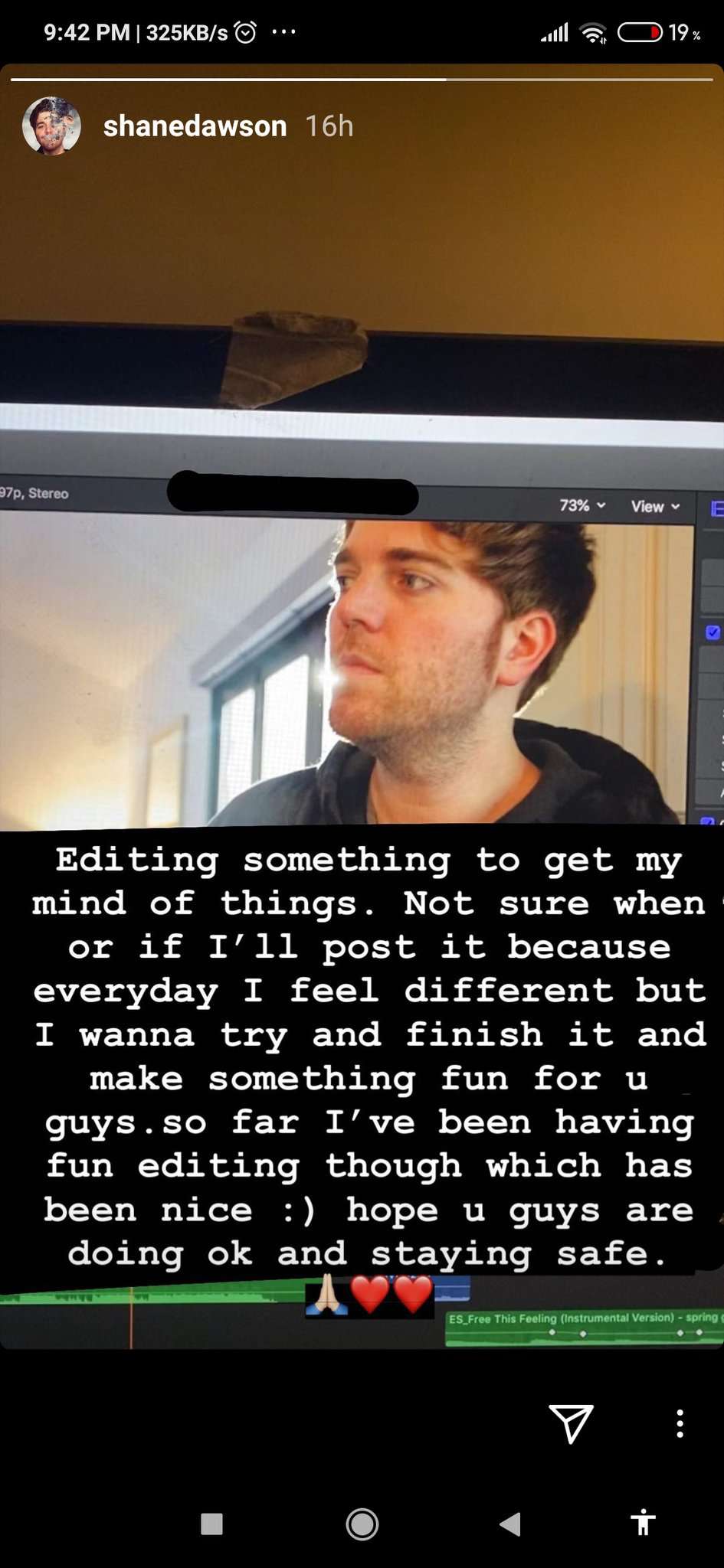 Shane Dawson editing a video he 'might' post.
So, as we all know, no one is immune to the Coronavirus. It has taken over everyday routines and confined everyone to their homes. So, it is safe to say that people are epically freaking out. Shane himself admits that he is freaked out and spiraling with the situation at hand. Since things are so gloomy and all. For Shane, this was a bad time because his 4th anniversary with fiancé Ryland Adams came right in the middle of this virus outbreak and he could not celebrate it appropriately. However, in an attempt to get himself out of it, Shane is editing a little something for his fans today. He wants to distract his fans and subscribers from all the panic and stress of the Coronavirus.
Editing something to get my mind of(f) things. Not sure when or if I'll post it because every day I feel different but I wanna try and finish it and make something fun for u guys. So far I've been having fun editing though which has been nice. 🙂 Hope you guys are doing ok and staying safe.
Well, even though the post is still hanging in the air, we are happy that Shane Dawson is trying to do things to occupy himself from the anxiety of the current circumstances. We do hope all you readers out there are taking the necessary precautions against the Coronavirus outbreak.