Keeping Up With The Kardashians is not going anywhere. If you have never watched a single episode of the show yet, then it's time you start watching it. Anything to entertain us when we are quarantined, right? The show has been running for many years. And season 18 just started off with more family drama. In fact, it showed Kim Kardashian West and Kourtney Kardashian going at each other like we all used to do, when we were kids. You do not see two grown businesswomen, or mothers. In fact, you see two tweenagers going at each other's throat. Well, that's a whole separate story. However, many fans believe that Kourtney Kardashian is the one to leak Taylor Swift-Kanye West audio call recording.
Was Kourtney Kardashian the person behind leaked call?
Taylor Swift and Kanye West feud does not seem to end at all. It just goes into hibernation and shocks everyone after every couple of years. While the whole world is struggling with COVID-19 at the moment, someone suddenly leaked the complete call of Kanye West & Taylor Swift. That's the call where Kanye West allegedly took permission from Taylor Swift to use a bit*hy verse in his song Famous. The verse was about Taylor Swift owing Kanye sex because he made her famous (what he believes).
The call was previously leaked by Kim Kardashian, but that was the edited version. After everyone has heard the actual call now, the majority is canceling Kim Kardashian and Kanye West. Kim is still defending Kanye. And she was seen slapping Kourtney Kardashian multiple times because of an argument. The whole scenario has made fans believe that it was Kourtney who leaked the call.
Why fingers are pointed at her?
First of all, whoever made the video of Kanye West on the call with Taylor Swift, was definitely Kim Kardashian. And she still had the video with her because she must be planning to use it at some point in life. There are also chances that all the sisters have a backup of the call video. Kim Kardashian's slaps must have pissed Kourtney off and she might have ended up leaking the call to the media. She even liked a tweet that says Khloe & Kim are passive-aggressive bullies.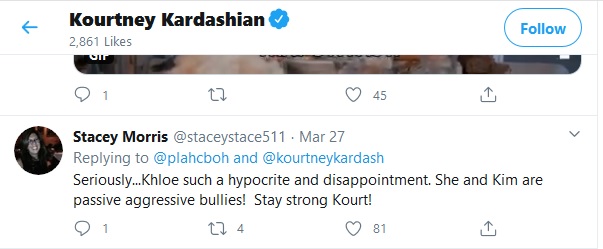 There is also a group of people who believe that it is all pre-planned. Even though Rob Kardashian claims that his sisters did not know the camera was rolling during their fight, they knew the cameraman was there. That means the staged fight and the leaked call was a part of a major plan. Was it to improve the ratings of the KUWTK show? We'll find out soon enough.