Many fans got worried for Charli D'Amelio and Chase Hudson after the breakup rumor hit the news. Charli and Chase have been dating for quite a while and fans really shipped them together. However, things took a turn when Chase sent an image of his private parts to Nessa Barrett (Josh Richards's girlfriend). The caption on the image apparently said "still softi'sh" due to which Josh ended up making a diss track with Bryce Hall. They also highlighted how Chase is cheating on Charli while claiming he still loves her. Fast forward to April 14, the famous TikTok couple has finally confirmed the rumors.
Charli D'Amelio & Chase Hudson confirmed the breakup
On April 14, 2020, both Charli D'Amelio and Chase Hudson announced their breakup officially on their Instagram stories. What seemed like a one-sided breakup during the past few weeks, is actually a mutual decision. In fact, Charli and Chase have also shut down the rumors that they will never be seen together again. They still have love for each other and they'll stay friends forever.
Charli stated in her Instagram story: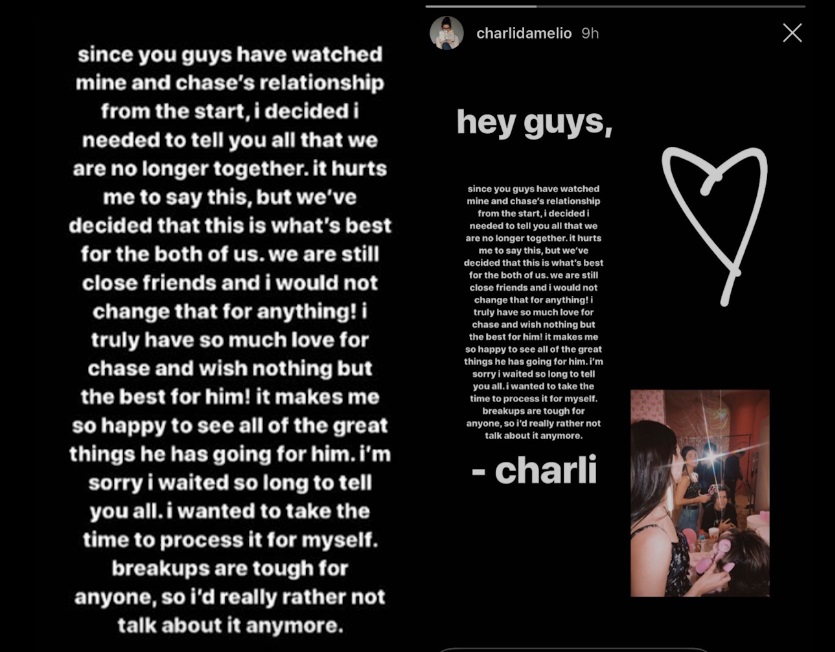 She confirmed she was going through the post-breakup tough phase due to which she couldn't announce it to her fans.
Similarly, Chase Hudson also announced the breakup on his Instagram story: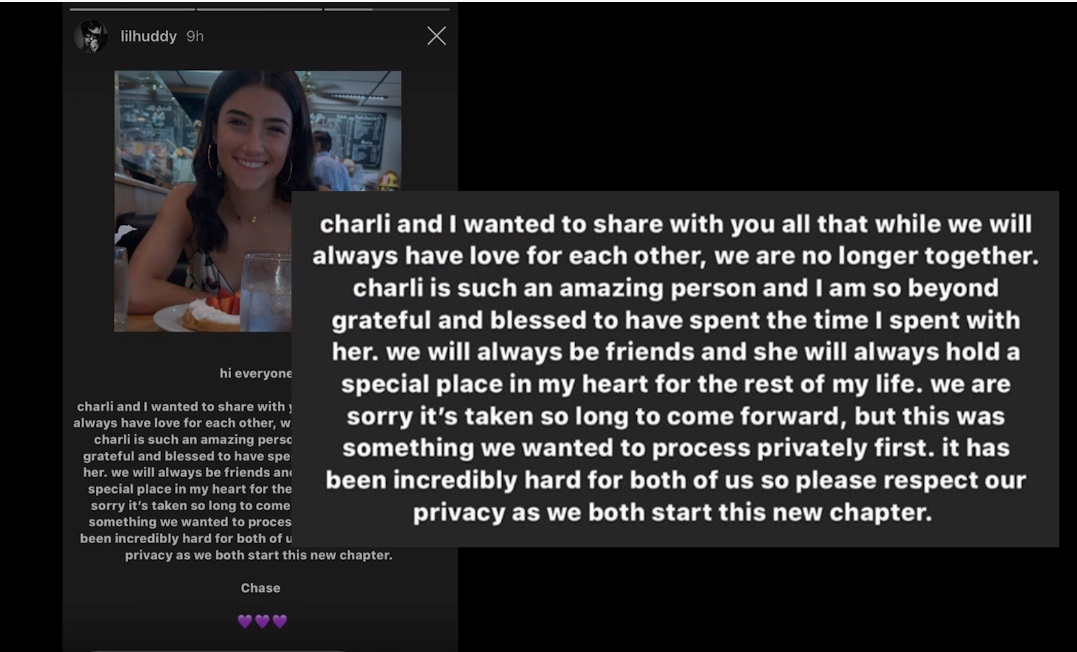 While many people still say both of them are too young to be in a serious relationship, this step has shut down many critics. They might not have called it "official" on their social media handles. However, they have announced the breakup officially, shutting all the rumor mills.
Post-breakup feels
Chase Hudson recently posted an interesting Instagram story. While that was just him being his normal self, however, the song selection does feel like a throwback to all the good times Chase and Charli D'Amelio enjoyed together. It's K. by Cigarettes after sex. And the lyrics used in Chase's story are:
I remember when I first noticed that you liked me back
We were sitting down in a restaurant waiting for the check
We had made love earlier that day with no strings attached.
Bitter-sweet memories. He also tweeted to confirm that this song has a special place in his heart.
https://twitter.com/xlilhuddy/status/1250139311321669632?s=20
Chase Hudson has also shared his Spotify playlist with his fans.
We wish them all the best for their bright future ahead.