Justin Bieber finally released his latest single 'Yummy' after a long hiatus from music. He released his last song in 2015. 'Yummy' is also the lead track for his upcoming album. But sadly, it did not fare too well. In fact, the response has been mediocre at best meanwhile critics have completely slammed the song as a flop. Why did Yummy fail to make an impression? There's more to it than what meets the eye (and ears.) Read on to know what happened.
'Yummy' is painfully mediocre
If you listen to the song right now, you'll know what I'm talking about. It simply seems like 25-year-old Justin Bieber is still 16. In fact, even his first song 'Baby' was way catchier and better than 'Yummy.'
What is it about 'Yummy' that makes it such a failure? The lyrics have zero substance. And even the baby-like chorus failed to be its saving grace.
The song is just run-off-the-mill trying to be catchy with zero effort put into it. The video is bizarre, filled with food, and then a baby pink hair & outfit-clad Justin Bieber dancing on the table. It just fails to make a positive impression.
Critics wrote:
The main melodic hook is amateurish, catchy in intention but not in practice. By Bieber's standards, the vocals sound flaccid and disinterested. The lyrics don't even bear discussing.

Yummy is more than just an untimely flop for Bieber.
Meanwhile, the Los Angels times wrote:
"Yummy is basically three-and-a-half minutes of PG-13 sex talk seemingly directed at Hailey Baldwin."
Justin Bieber Posted Guide On How To Top Billboard Charts Before Releasing The Song
There's more behind the song's failure. Apart from the song being weak, it was Justin Bieber who put himself under a negative spotlight. He has been accused of trying to manipulate the Billboard Charts for his songs' success.
First, he reposted a guide on his Instagram that was originally posted by a fan. It included step-by-step measures to ensure that 'Yummy' tops the Billboard charts. This included telling fans to play the song on repeat at low volume or while sleeping, making multiple playlists on Spotify filled with 'Yummy', and using a VPN to make it seem like you're playing it in the US. There were also tips like buying the song multiple times from iTunes and Justin Bieber's website.
While Justin Bieber quickly deleted the repost when he faced backlash, he's still being called out for it. The original post is below:
More self-promotional tactics by Bieber
That's still not it. Justin Bieber has used yet another tactic to win views and help 'Yummy' top the Billboards. Recently the Billboards announced that their rankings will now be taking YouTube audio/video views into account.
What did dear Justin do?
He posted various official videos and audios for 'Yummy' including a compilation of food fights with Yummy playing in the background. And other Beliebers reaction videos, and a lyrical, and an official music video. And more.
And yet again, he got called out for this too.
#Yummy and baby pictures
Justin Bieber's Yummy was under scrutiny even before its release. The Canadian musician received extreme backlash when he started posting pictures of infant babies with the caption #Yummy.
This gave the wrong idea to many people who did not shy away from making harsh judgments.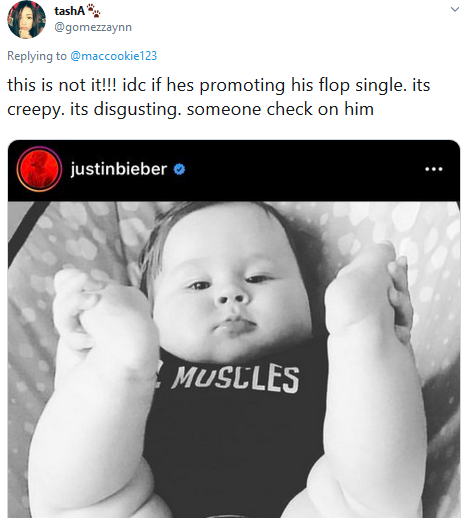 After a lot of people called him 'creepy' and other horrible things, some fans came to the rescue. They gave the explanation that the babies' parents had first posted the pictures themselves. And Justin was simply reposting them.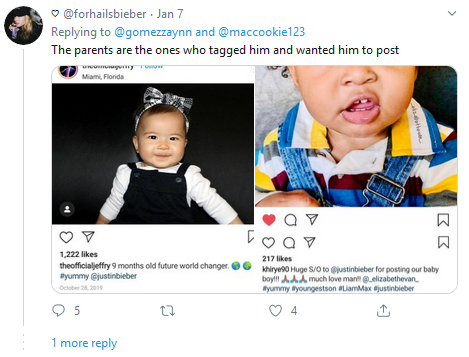 Like we said, 'Yummy' has been facing negativity since some time now. Of course, if the song was good, then maybe the criticism for Justin Bieber would have faded. But the song, being painfully bad, and then these marketing tactics have together decided the ill fate of Bieber's new song.