There are few singers who hold an aura of mysticism as Bob Dylan. His lyrical work is head and shoulders above a large swath of musicians in the industry. And that is what makes his art one of the hauntingly beautiful out there. So much so that it is an almost impossible task to pick a favorite one out of the bunch. However, the former Beatle Ringo Starr once dared to name his pick, and it is not what one would expect.
Bob Dylan had a great relationship with Ringo Starr and the rest of the Beatles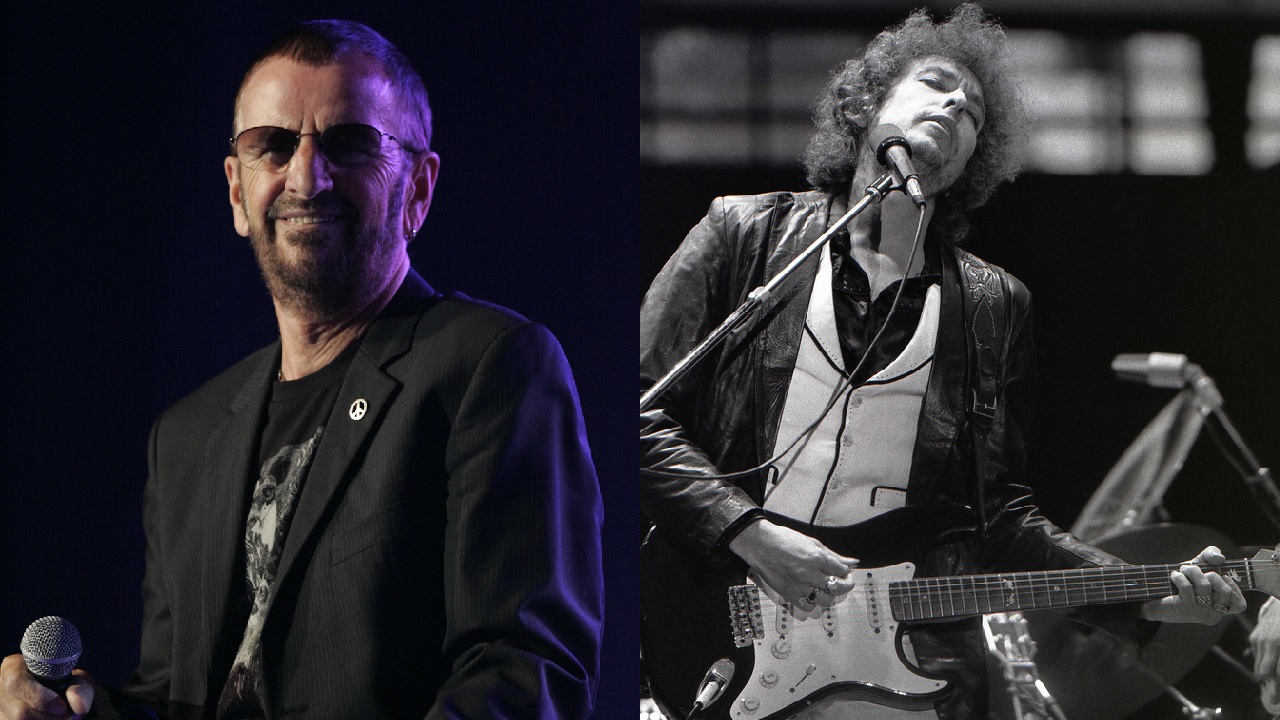 Since the very beginning, Bob Dylan and the Beatles have shared quite a fruitful relationship. In some instances, it even became recreational. Ringo Starr once debunked the myth that Dylan put the Beatles on marijuana, revealing that he wasn't their dealer, but was just in the room when they got high for the first time. But that was just the beginning. Over time, Dylan impressed the fab four to such an extent that Paul McCartney even admitted to wishing to be more like Dylan, saying:
I always like what he does. Sometimes I wish I was a bit more like Bob. He's legendary… and doesn't give a sh*t! But I'm not like that. His new album? I thought it was really good. He writes really well.
And that's not all. Ringo Starr then also performed alongside Bob Dylan at the 1988 Rock and Roll Hall of Fame induction, singing their rendition of All Along The Watch Tower by Jimmy Hendrix. Even when The Beatles were at the peak of their fame, Ringo took a trip to the Isle of Wight along with his bandmates George Harrison and John Lennon, just to catch a glimpse of Bob Dylan.
Ringo's favorite Dylan song may surprise you
Ringo Starr's favorite Bob Dylan song is one that you would definitely not expect. It's neither considered as one of the top 10 by the fans nor is it the most heard one on Spotify. The song is When the Deal Goes Down, which was among the lineup of Dylan's 2006 album Modern Times. The Beatles drummer made this revelation in a 2009 interview to ABC News, demonstrating how closely Ringo has followed Dylan's career. He said:
You just got to love Bob. My old-time favorite lately is 'When the Deal Goes Down,' and it's just a beautiful love song. It's this beautiful love song, he's very romantic in a lot of songs, everyone listens to his wacky dream stuff, which is great. He moves me on that record.
Ringo Starr then further explained what about the song made it so special for him. He also emphasized the eminent status that Bob Dylan holds among the musicians of the world, continuing:
That's why I like it. If it moves me, it's the sentiment of the record and how he says it. But no one else can say it like that. We met him in the '60s in New York. We just sort of bumped into him ever since. He's just an incredible artist that is well-placed in the musical history of American music and world music, so I put Bob down because of all of that. You couldn't do a list without mentioning Bob.
Here's a link to When the Deal Goes Down:
Recently, Bob Dylan has been at the center of some controversy. He was accused by a woman who claimed that the singer sexually abused her multiple times in New York City when she was 12-year-old in 1965. So far, Dylan has vehemently denied the allegations. Moreover, critics have also seen a discrepancy in the claims made, as at the time of the alleged abuse, Dylan was doing a tour in the UK.