Mr. Kate or Kate Albrecht is a YouTuber who makes videos giving makeovers and doing renovations. Working alongside her longtime partner, Joey Zehr, the two move around in a caravan with their baby Moon making design dreams come true. Recently, she took on two big projects. Doing the spa/meditation room at Jeffree Star's new Mansion and designing the Vlog Squad. Well, the Vlog Squad is pretty big so, she is designing for Carly and Erin and Jason Nash. In the last video she made, she went to Jason Nash's place and when she asked him what rooms he wants to be done, he directed her to the rooms of his two kids, Wyatt and Charley Nash. Almost 3 weeks in and Mr. Kate posts the reveal video!
Mr. Kate makes over Jason Nash's kids' rooms.
So, even in the first part, we saw how Jason Nash said he knows nothing about redesigning or interior design at all. The second video is kind of hilarious as Jason struggles to understand the world of Mr. Kate! Jason Nash is a single dad who Vlogs with infamous David Dobrik and his squad of fellow YouTubers. He believes he does not have the style knack so he calls Mr. Kate and her crew to redecorate his kids' room It's adorable!
https://www.instagram.com/p/B5dlRYFB7Pa/
So, for the makeover, they decorate Charley Nash's room in lighter tones. A blend of whites, and pinks, and purple. The room has the most gorgeous fairy light curtains thing going. The focus of her room is a cozy space to hold snacks and host her friends. The room, previously an empty carpeted space with a make-shift bed, is now every teenage girl's dream. And her reaction is priceless!
View this post on Instagram
As Mr. Kate says so herself, it is one of her favorite reactions ever!
As for Wyatt's room, it is decorated based on his interest in music. Mr. Kate installs a dark-colored accent wall. According to Jason, when they were painting the wall, the color they used was 'horrible'. Later he justifies his use of the word saying that he thought the same color was going to be used in the entire room. So, yay! But the wall is literally so amazing with the builtin sections.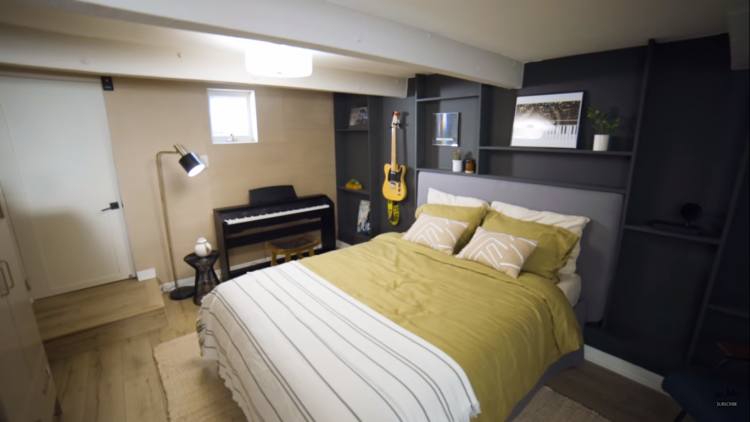 Pretty cool Mr. Kate! But we all know that the most awaited video by Mr. Kate is the Jeffree Star Spa-niverse reveal. Good news, it is expected soon as Joey Zehr, Kate's husband said, that is their next video.