NikkieTutorials (Nikkie de Jager) is a YouTube famous make-up artist. She was recently blackmailed into coming out. The gorgeous beauty guru reveals that she is transgender! As expected, this was a hard time for Nikkie. However, all the support and acceptance by her fans, is helping her through it. But it's not just them. It's the YouTube community too. James Charles, being all for "sisters", tweeted that he is so happy for her!
Our YouTubers on their support for NikkieTutorials
James Charles is a fellow make-up guru on YouTube and it is so refreshing to see him and other YouTubers put aside their personal drama and life aside for a bit to come together to support a fellow. James is not the only one supporting her right now.
Jeffree Star, although going through a rough patch himself after the breakup with long-time boyfriend Nathan Schwandt, supports Nikkie!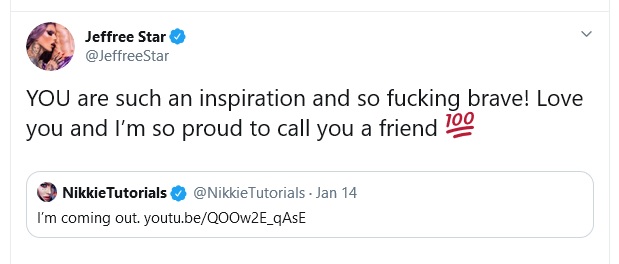 Eugene Lee Yang, being the activist and LGBT advocate he is, also took to Twitter to Twitter to praise the gorgeous beauty on her bravery.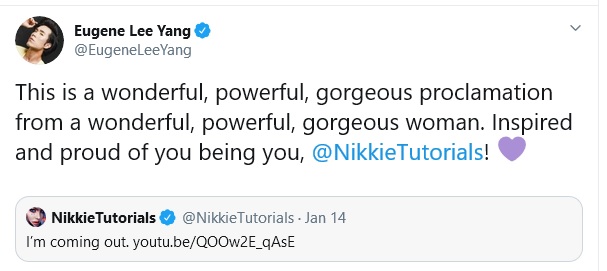 Another YouTube Inspiration, Nikita Dragun, also congratulated Nikkie and we know she can relate for she herself came out earlier in 2015.
Shane Dawson adds to the list of YouTubers who were all in for supporting Nikkie. Fans also theorize that Shane Dawson should do another one of his expose series to expose the real blackmailers of NikkieTutorials.
Lastly, our MUA, Manny MUA, also responded to Nikkie Tutorials.
This overwhelming response is such a positive influence on Nikkie. She is ever so grateful to all the responses to her coming out. In her very hyped Instagram story, here's how she thanked everyone.
The incredible amount of love and support and warmth means so much to me, um, and I just thank you,

Thank you. I'm going to take today to just read everything, take it all in and process.
Directed to both, her friends, and fans.