Whenever there is a popular band in town, they compare them to The Beatles. They've set a standard of popularity and music that is unmatchable. And that is why every British boy band tries to measure up to them. Many people compare the popularity of One Direction to The Beatles, but this isn't even a fair comparison. No one could come close to them at the peak of their popularity. And that peak is called Beatlemania!
What was Beatlemania?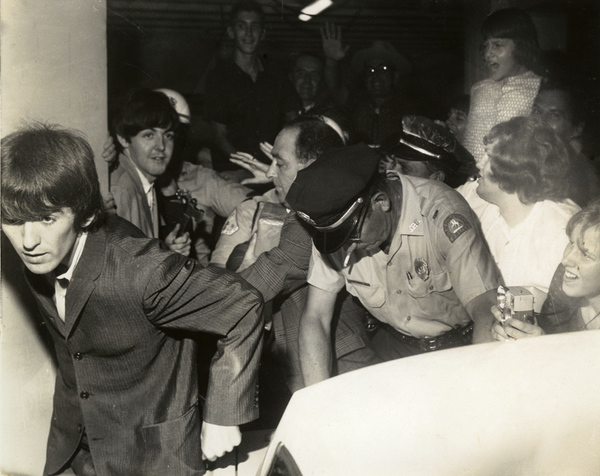 Words can't describe how crazy it was. People used to gather in crowds of thousands, screaming to catch a glimpse of these four boys from Liverpool. Police barricades weren't enough to hold them down. People (mostly girls) used to climb down the walls of their hostels and tried to scam their way as close as they could to their rooms. If you want to have a closer look at how crazy the crowds and girls were around the Beatles during these years, look at this compilation by CBS. It's unlike anything you'll ever see:
I'm sure One Direction is an amazing band, but The Beatles just blew them out of the water in terms of popularity.
Screams used to drown out their voices during their concerts!
Here's a clip from their concert in Shea Stadium New York City. Just look at the crowd and hear the screams!
It was so loud that The Beatles couldn't even hear themselves play. Ringo Starr admitted in an interview that he had to look at Paul's foot or John's behind to see which part of the song they were singing. He spoke to Ellen DeGeneres on her show, and had this to say when Ellen asked could the screaming girls even hear them:
Well, it was part of the life we had. And we couldn't hear us. So, you know, it seemed to be that you came to see The Beatles, and then Paul counted and then you just screamed till we bowed and left.
It was so crazy during Beatlemania that Ringo couldn't even hear his own drums!
If I went to do a fill, it was like in silence, you know? So I would be watching Paul's foot or John's a**, or you know "Where we up to?".
Imagine, the Beatles concerts were surviving on John Lennon's behind. That's how insane it was during Beatlemania. Crowds used to be so numerous that people would compare them to Hitler's rallies in Nazi Germany. I'm sure One Direction has had their fair share of crazy concerts, but never so wild that they couldn't even hear their own voices!
The Beatles rarely got a few moment's rests during Beatlemania
The Beatles recall that during those crazy years, they barely got any rest. Just some 5 minutes here and there – that's it. Their producer George Martin, who is often called the fifth Beatle said this about those crazy times in an interview:
Well I mean wherever they went, there were hordes of people trying to get a hold of them. Trying to get their autographs. Trying to touch them…
…They were like Jesus almost.
Their manager Brian Epstein admitted that they didn't get any time off!
They didn't get any time off. Yeah we seem to get five minutes off here and there. It might have been longer than that, but it felt like five minutes.
George Harrison recalls that it was wild during Beatlemania, even during their hotel stays:
It was all kinds of stuff happening all the time, it was terrifying. And, you know, if some people would set off firecrackers in the hall then you'd think some one of the others got shot or something.
This is merely a glimpse into how crazy everything was during Beatlemania. Frank Sinatra had many women crazy over him too, but it was nothing compared to The Beatles. And One Direction can't even be put into the same conversation. British boy bands often have a special place in the ladies' hearts, but nothing can match Beatlemania.