English pop star Dua Lipa, now an international sensation, has joined powers with talented American rapper Megan Thee Stallion. On Friday, the duo released their newest and first collaboration called "Sweetest Pie." Fans have been waiting impatiently since its announcement with a colorful cover art with tasty cakes. The track is finally here, with a music video to top it off.
It's always amazing to see amazing singers make a collaboration together! Fans of both Megan Thee Stallion and Dua Lipa were really happy to see the new music video and song come out.
Related: Dua Lipa & DaBaby's Levitating music video review
Dua Lipa And Megan Thee Stallion's "Sweetest Pie" has fans hooked to it
This new collaboration between the pop star and the rapper is not about desserts. The song is uplifting and has high positive energy. It has a sensual vibe which fans already expected. The song is produced by Johnny Homen, OG Parker, Lil Hommies, and Platinum Libraries. Dua Lipa, Megan Thee Stallion, and Nija write the lyrics of Sweetest Pie. The chorus is catchy, and it seems fit for a summer vibe. It could be a new summer anthem as well.  Fans can't get enough of the new song.
The music video captures "horror" with sweetness.
In a recent tweet that replied to fans, Megan claimed that the music video would have a horror twist:
"It's a horror twist on things that are typically meant to be pretty lol"
That could give us a hint about the meaning of Sweetest Pie!
The "Sweetest Pie" music video makes the audience revisit fantasy with fun, with some deep meaning behind it all.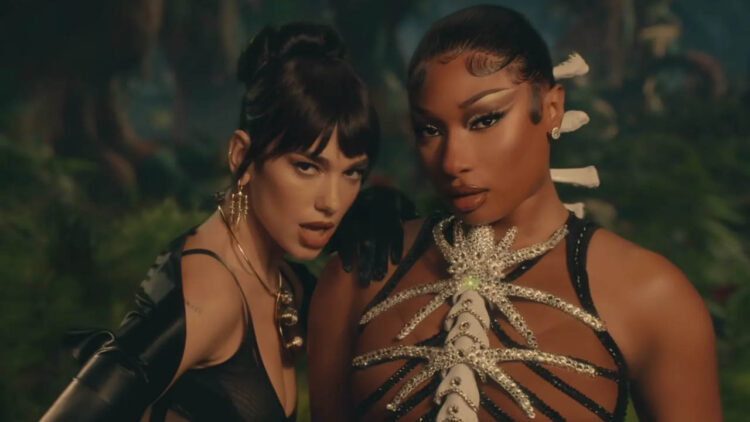 In addition, an adventure and horror theme is going on throughout. Moreover, there is a forest. Using a forest setting and wild imagery may create an eerie and mysterious atmosphere.
There were visuals related to women's body parts and some wild top-notch imagery. could potentially represent the objectification and sexualization of women. The predominance of black and golden outfits may symbolize power and strength. In the midst of all this, some creepy things happen; for instance, Megan's face goes blue, and Dua becomes a spider.
Furthermore, there is a reference where angry men come together to crucify both women. They take them to a place burning with huge flames, possibly hell. The reference to angry men coming together to crucify both women and taking them to a burning place, possibly hell, may suggest a commentary on the violence and oppression women face from patriarchal structures. This could be seen as a feminist stance.
Overall, it seems like the piece incorporates various elements to create a unique and possibly provocative experience that explores themes of horror, adventure, and feminism.
Eventually, Dua and Megan free themselves, which sends out a great message
They seem to be glowing and flourishing in a place of total disaster. After battling hellish fires and their enemies, the two have come out thriving. This could be a nod to their respective careers in the music industry where they had to work hard to make a name for themselves.
And unsurprisingly, the song has become a massive success. "Sweetest Pie" has reached #1 on Spotify's hit list. The song can be a massive hit with summer right around the corner. Dua is currently on her North American Tour of "Future Nostalgia." There are chances that this song will be performed by Dua and Megan together live!
So, what did you think of the song and the music video of "Sweetest Pie"? Do you think the two singers should do more collaborations? Let us know down in the comments below!