We all know that there is a lot of history between the Beatles and Elvis Presley. The fab four from Liverpool practically idolized Elvis throughout their teenage, thinking of him as the king. And when they met him at his home in Beverly Hills, they were simply starstruck. However, Elvis did not share the same sentiments as them. Instead, Elvis actually tried to have them banned in the United States. Now, it turns out, that President Richard Nixon shared similar sentiments as well. In a recent interview, legendary music presenter and DJ Bob Harris revealed details that the former US President asked Elvis to spy on John Lennon.
Related: When Elvis Presley Tried To Get The Beatles Banned
On December 21, 1970, Elvis Presley had his historic meeting with the then US President Richard Nixon. There, Elvis pretty much rambled on about The Beatles, as the archives reveal him saying:
The Beatles had been a real force for anti-American spirit. The Beatles came to this country, made their money, and then returned to England where they promoted an anti-American theme.
In fact, Elvis was so insecure and paranoid of the Beatles that he even mentioned their negative influence on American culture to the FBI. But, it turns out that Elvis wasn't alone in detecting them, especially John Lennon.
Nixon wanted Elvis to spy on Lennon for his anti-Vietnam criticism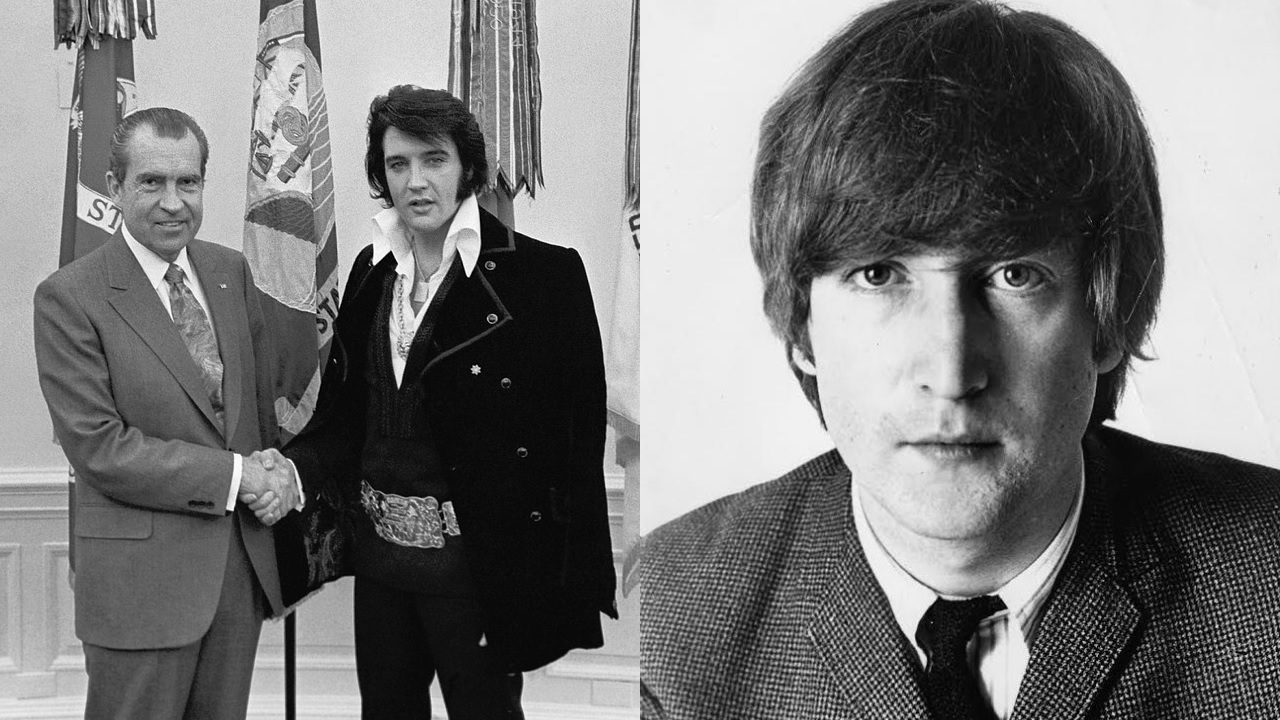 Now, it turns out that Nixon wasn't a big fan of The Beatles either, just like Elvis Presley. In fact, he particularly didn't like John Lennon out of all the fab four. And in his dislike of him, Nixon hired Elvis to spy on Lennon. And the reason for this hatred of Lennon was his vicious criticism of the Vietnam War. Elvis and Nixon were "great friends" as Bob Harris claimed in his interview and this shared hatred of the Beatles must have strengthened that bond. Harris told hosts, Gary Kemp and Guy Pratt:
It sounded like it was almost a figment of [Lennon's] imagination when he was saying, 'My phone was tapped, I get followed everywhere' — but it was true; he really did.
Harris continued to explain that Nixon actually "recruited" Elvis to spy on Lennon. He also talked about making sure Lennon could never re-enter the US if he ever left, saying:
Nixon was out to get him and that's why John was stuck in New York, or stuck in the States: he knew, were he to come back to the UK, he'd never get back into America again. Not while Nixon was in the White House. Nixon was a great friend of Elvis and vice versa. Nixon had [instructed] Elvis to gather as much information about John Lennon as he possibly could.
Lennon wasn't a big fan of the King either
Harris further explained that Nixon considered Lennon to be a "counter-culture enemy". And during his tenure in the White House, he tried to have Lennon deported multiple times. But apart from these two, John Lennon wasn't fond of Elvis Presley either. Harris said it was "hate at first sight" when the two met in the 60s and they shared a "resentful" rivalry. He continued:
For John it was a very disillusioning moment because he loved Elvis's records, so… to discover he was a right-wing southern bigot was a big shock," Harris told the podcast hosts. Equally, Elvis saw Lennon as being this upstart Liverpudlian know-it-all who'd taken his crown. He usurped Elvis and he was resentful as hell.
This goes to show just how complicated Elvis Presley was as an icon. The singer also suffered from long-term health issues, which Sally Hoedel attributed to his maternal grandparents being first-cousins in his new book Elvis: Destined To Die Young. There was a lot more to Elvis than just his addiction problems. You can watch Bob Harris's complete interview below: