Well!! I guess it's safe to say that Jeffree Star is not only launching palettes after palettes. But he is also becoming a little more active on his YouTube channel. Previously, the beauty guru revealed a pink theme collection with the name of Pink Religion in July. Then he launched the Star Ranch palette and accessories in September's first week. Which was pre-booked and sold out before the actual launch date. And now, Jeffree is launching another palette and collection which is inspired by the Autumn theme. Autumn in Wyoming starts in late September and continues till the mid of November. Maybe it's one of the reasons why Jeffree is launching this new collection on the 24th of September just in time for the Autumn.
This new Autumn inspired palette and collection is named "Pricked". And the packaging is really different and cute.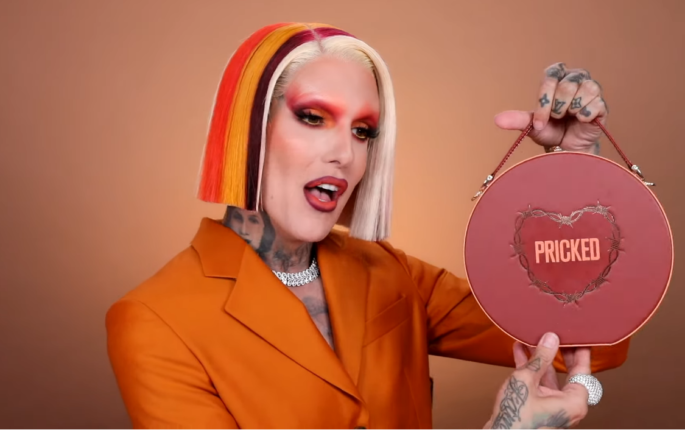 A List Of Products From Jeffree Star's Upcoming Collection "Pricked"
Alright, guys, you might need to take a deep breath and calm your nerves because Jeffree's soon-to-launch collection "Pricked" has some jaw-dropping products. Like eyeshadow palette, liquid lipsticks, lip gloss bundles, mascaras, lip scrubs, and hand mirrors. So without any further delay, let's dig into the makeup madness.
So the first jaw-dropping and teeth-shattering product we have is Jeffree's Pricked eyeshade palette.
Jeffree Star Cosmetics Pricked Palette
As you can see, the Pricked Eyeshade Palette consists of 18 beautiful eyeshade colors with an amazing mini purse-like packaging. And the color theme of this palette is inspired by the hues of FALL.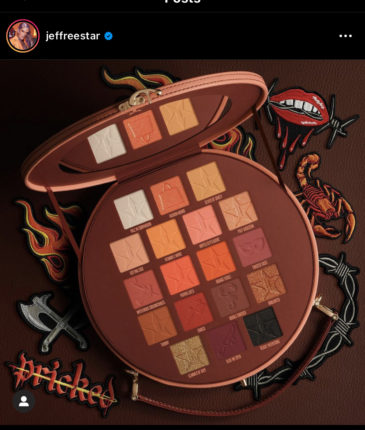 This gorgeous Fall theme palette has five metallics and thirteen matte shades. And if you are a crazy orange-tones lover like me, then your hands must be itching right now to grab a hold of this Pricked palette. You can also make some crazy smoky eye looks by using "Deadly Intentions", this is a beautiful black metallic shade, and blend it with Orange Fatale, Double Crossed, and UnBlunted.
Pricked Supreme Gloss
So the next thing we have in the Jeffree Star Cosmetics Pricked collection is the Supreme Gloss Bundle It consists of six lip-smacking colors with a very light formula. But the overall coverage is really good. And you have an option of going bold with the burgundy and orange lip gloss. Or, you can go with the plain nude or soft pink lip gloss to create a very simple or elegant look.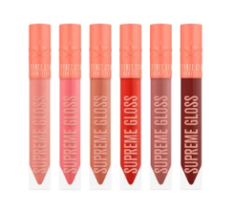 And there is one more thing amazing about this lip gloss bundle, and that's its fragrance. Yes, all of the lip gloss shades are orange scented. Isn't that amazing?
Starting from left to right of the lip gloss swatches, we have Unicorn Blood in a shiny burgundy. Next to Unicorn Blood, we have Entwined in a peachy nude tone. Then the 3rd one is called Hot-Headed and it's in the shade of bright orange. Next to Hot-Headed, we have Nude Garden in terracotta tone. The 2nd last shade is called Never Content in a soft brown. And the last one is named after Jeffree's birthplace, Orange County, in a peachy pink tone.
Pricked Velour Liquid Lipstick
And the next product from the Jeffree Star Cosmetics soon to launch Pricked collection is the Velour Liquid Lipstick bundle. This bundle is one of the limited-time products. So get your hands on them before they run out of stock.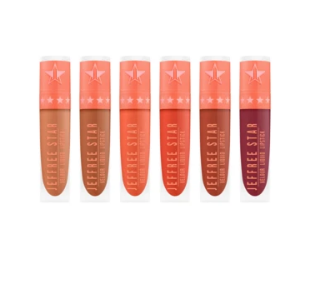 I have taken the left picture from Jeffree Star Cosmetics' website and the second one is from Jeffree's YouTube channel. Where he showed swatches from the Pricked collection in a YT video. Starting from left to right, we have "Bite My Lip" in a beautiful shade of Burgundy. Then the second shade in Orangy tone is called "Tangerine Queen". On number 3 we have "Play Your Luck" in a beautiful color tone of nude with a hint of pumpkin and orange.
Next, we have on the list, "Pain Is Pleasure". Oh wow!! I mean Jeffree never fails to amaze us with these unique product names. Anyways, Pain Is Pleasure is a beautiful rusty orange color. And next to Pain Is Pleasure, we have "Don't Panic" in a Terracotta Orange color. "No Squeeze" is the last shade from the bundle collection in a very cool tone of nude.
New Shades Of F*ck Proof Mascara In Jeffree Star's Pricked Collection And Some Other Products
Now let's move on to the most wanted beauty item on the Jeffree Star Cosmetics product list. Yes, guys, it's none other than the cool as ice F*ck Proof Mascara. This is one of the most wanted products of JSC and is always out of stock. But Jeffree was kind enough to launch three new shades in the upcoming Pricked collection. And those are Coral, Blood Orange, and Brown.
Next, we have on the list are two new highlighter shades in extreme frost formula. Krystal Kumquat and Citrus Bling. As per Jeffree, these highlighters give a very shiny, wet, and diamondy effect. And you can also grab a hold of the new lip velour scrubs in Cantaloupe, Blood Orange, and Orange Gummy Bear. Last but not least, JSC also launched hand mirrors in three new shades inspired by the FALL season.
Sadly, most of the new products are pre-booked once again. So I guess we will have to wait and see if Jeffree is going to announce a re-stock of the upcoming Pricked collection which will be launching tomorrow.
Related: Jeffree Star's New Palette and Accessories from 'Star Ranch' Collection Sold Out