We all know Nikita Dragun is not only a YouTube make-up artist but also a model. She has her own make-up brand by the name of 'Dragun Beauty'. I don't know if you guys have seen Snapchat's original storytelling series featuring Nikita in 'Nikita Unfiltered'. But it's worth watching.
Nikita never fails to impress fans with her very moderate dressing sense. And at least 90% of the credit goes to Oscar Utierre for dressing her up like a bold&beautiful runaway model.
Let's Throw Some Spotlight On Oscar Utierre First
Oscar is a very young fashion designer who is also running a dress and jewelry brand by the name of 'Utierre'.  He appeared in one of Nikita's YouTube videos with the title 'Exboyfriend does my makeup'. The title actually says ex so you are not mistaken. And the video description clarifies all the doubts (if someone is having any).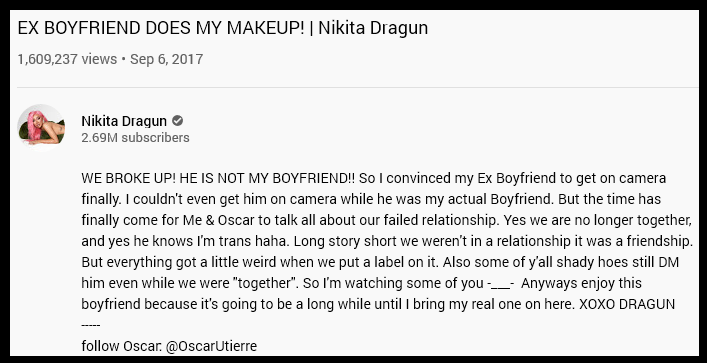 "WE BROKE UP! HE IS NOT MY BOYFRIEND! So I convinced my Ex Boyfriend to get on camera finally. I couldn't even get him on camera while he was my actual Boyfriend. But the time has finally come for Me & Oscar to talk about our failed relationship. Yes, we are no longer together, and yes he knows I'm trans haha.

Long story short we weren't in a relation it was a friendship. But everything got a little weird when we put a label on it. Also some of y'all shady h*es still DM him even while we were 'together. So I'm watching some of you. Anyways enjoy this boyfriend because it's going to be a long while until I bring my real one on here. XOXO DRAGUN…"
This description is going to confuse you for the next hundred decades. But let me sum it up in a much easy way. Oscar and Nikita are in an open relationship. You will figure everything out after watching this makeup video and Nikita Unfiltered.
Let's move on
"Nikita: There are two beauty blenders and you decided to use the dry one.(to blend foundation)

Oscar: Oh, That's why it's wet.

Nikita: Just like the old days you couldn't get me w*t."
Uh, babe stop it! Oscar is a beefcake so I'm certainly surprised as to why he couldn't.
Anyways, let's move on. Nikita mentions every now and then that she met Oscar the very first day she arrived in L.A. She tried to flatter him in a Bellamy party and got his number. They both jumped to the friendship tag first and later the relationship one. And they got back to the friendship tag.
Personally, what I think is these two are just throwing loose balls. They are actually a thing. But they don't want the fans to highlight their relationship and ruin it.
Nikita Dragun And Oscar Utierre In Nikita Unfiltered
I swear this girl right here gave me a lot of migraines throughout the show. From going on one blind date to another, and, giving mixed signals to Oscar at the same time. She ended the whole season without even considering to give a chance to any of the Beefcakes for a serious relationship tag.
Nikita shouldn't even consider dating anybody else. Oscar truly understands everything about her and has been her biggest pillar of support. Maybe she just doesn't want to settle down at the moment because she is too young.
Our mama dragon revealed in the last episode of 'Nikita Unfiltered' that she doesn't feel like messing up her friendship with Oscar. And he is probably going to remain as just a friend.
 2nd Season Of 'Nikita Unfiltered' Is Going To Be About Her Relationship With Oscar?
So Nikita just shared a few pictures with Oscar on her social media. And I swear these two make such a gorgeous couple. But I just fail to understand the fact that even if she doesn't want to give Oscar the boyfriend tag, why does she keep giving him mixed signals?
Or maybe she can't get her hands off him because she finds him too attractive. Anyways, let's just take a look at what she had to say about Nikita Unfiltered and her relationship with Oscar.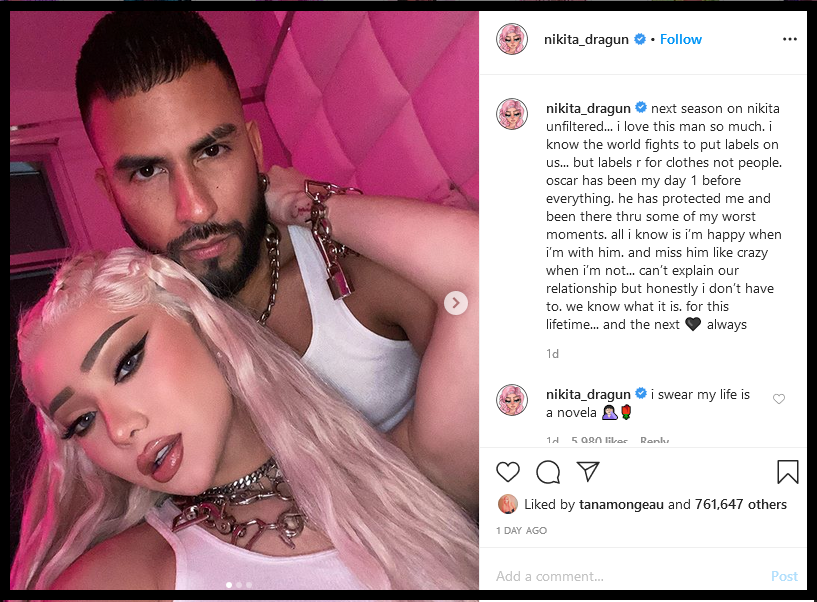 Oh, so we might be seeing lots and lots of Oscar on Season 2 of 'Nikita Unfiltered'.
"next season on nikita unfiltered… i love this man so much. I know the world fights to put labels on us.. but labels r for clothes not people. oscar has been my day 1 before everything. he has protected me and been there for some of my worst moments. all i know is i'm happy when i'm with him. and miss him like crazy when i'm not… can't explain our relationship but honestly i don't have to. we know what it is. for this lifetime.. and the next. always".
Ummm, I guess this picture description clearly sums up Nikita & Oscar's relationship in a very perfect way. But we can still hope to see them settle down one day.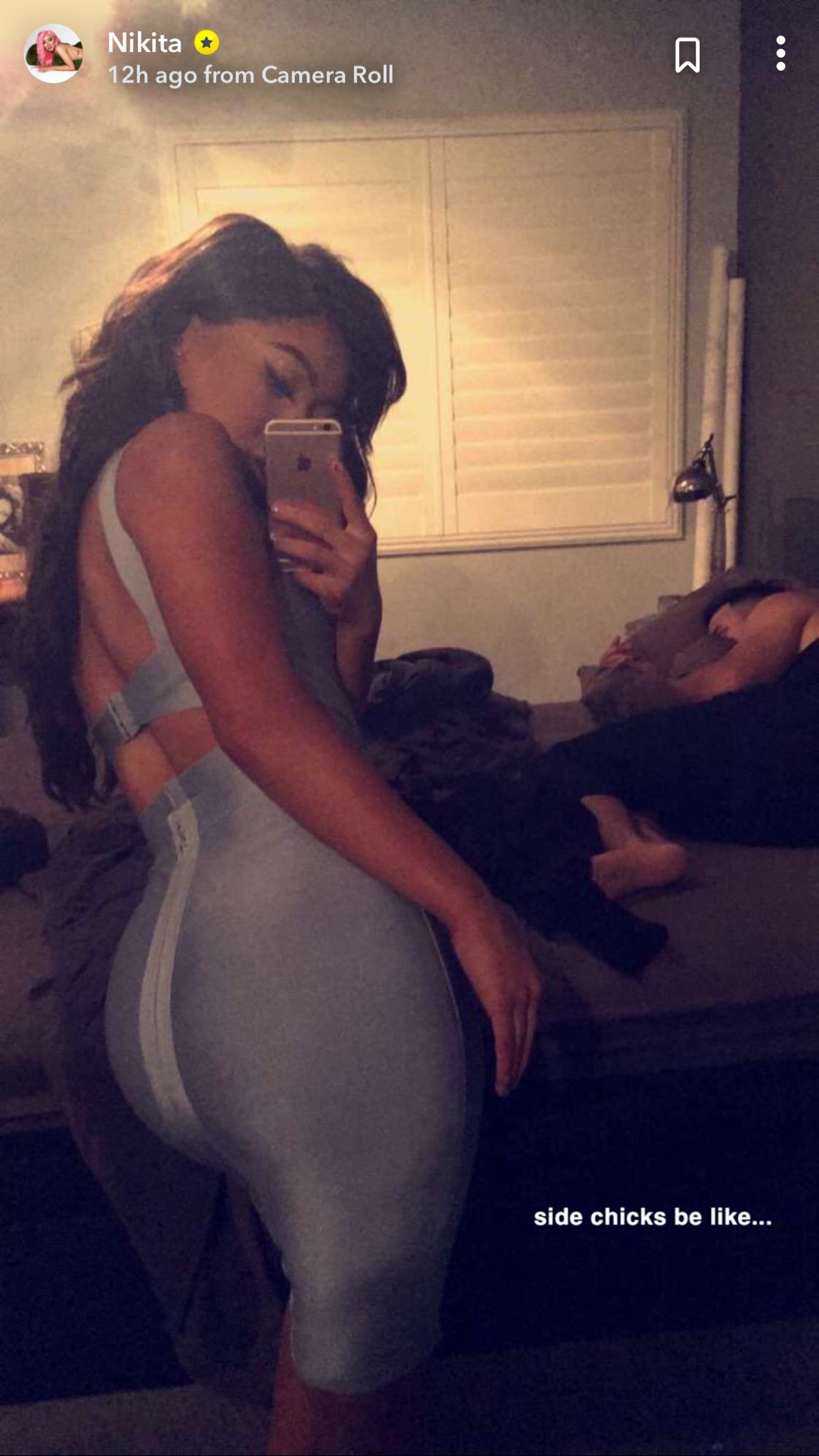 But there is this picture which Nikita recently posted on her Snapchat story with the caption 'side chicks be like'. She won't be calling herself a side chick. This means she is obviously calling Oscar a side chick because of a big, slippery, and obvious reason.