London Grammar recently took over BBC Radio 1's Live Lounge and blessed us with a couple of songs. While one was their latest original track, Baby It's You. The other song was a cover of The Weeknd's Blinding Lights. In other words, they picked the famous song of the year, and gave it a London Grammar twist.
London Grammar & blinding lights
The fans were surprised to see London Grammar joining BBC Radio 1's Live Lounge, and covering Blinding Lights. Was it perfect? Well, it was for all the LG fans (including me, of course). Hannah Reid has a soulful voice and when she starts singing, you forget everything happening around you.
Therefore, seeing her singing Blinding Lights was probably the best thing that has happened in September 2020. One of the fans even commented on YouTube that Hannah's voice works as a tranquilizer.
The first 90 minutes are focused on Hannah singing The Weeknd's song. And the background music picks up after the 90 minutes mark. The way London Grammar has given The Weeknd's Blinding Nights their own signature spin makes you forget the original beats for a few seconds.
The fans loved it and they are glad to see London Grammar back to producing new music and giving their signature touch to other songs.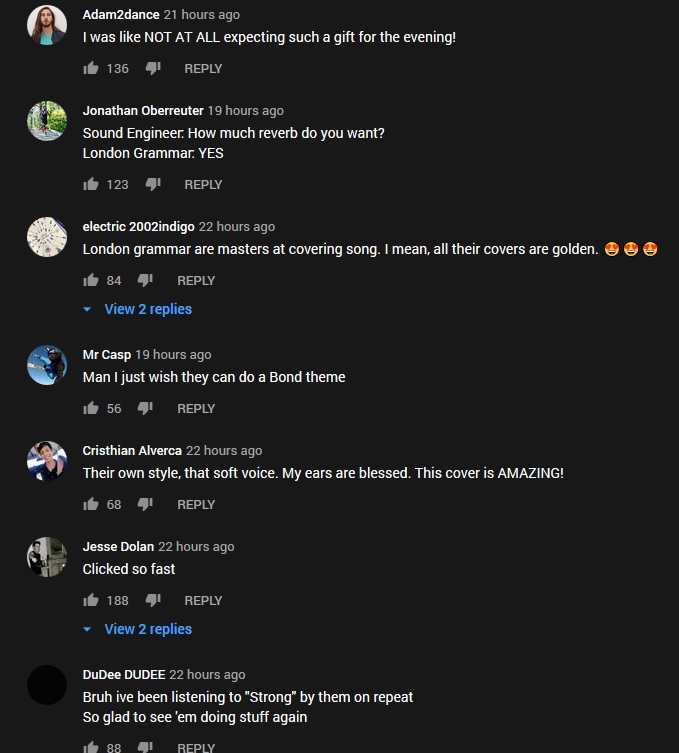 Billboard Nominations 2020
While London Grammar has not made it to Billboard Awards nominations this year. The Weeknd has succeeded in getting nominated for three categories. These categories include Top R&B artist, top R&B male artist, and top R&B song. But the song nominated for the top R&B category is Heartless, not Blinding Lights. Billboard awards will take place on October 14. And will be hosted by Kelly Clarkson.
Other famous covers by London Grammar
The band has covered many songs. However, the best covers include Wicked Game by Chris Isaak, Nightcall by Kavinsky, Wrecking Ball by Miley Cyrus and Bitter Sweet Symphony.