Zayn Malik is all set to return with his new music, starting off with a track named Better. From last few months, Zayn was staying away from the internet and focusing more on his personal life. He is expecting his first child with girlfriend Gigi Hadid. The happy news will hit the internet any day and all the fans are excited for the couple. Is the new song dedicated to his new life as well as new father role that he will embrace soon? We'll know more when the song comes out.
Zayn Malik announces Better release date
It's been months since Zayn blessed his fans with a new song. His last release was a collaboration with R3hab and Jungleboi for Flames. The audio for Flames was released in November 2019, while the official music video came out in January 2020.
Zayn Malik might not be a part of One Direction anymore. However, his music is still pretty good. In his teaser for the upcoming song, there are no vocals. And that means we would really have to wait for 36 more hours to hear the song for the first time.
Guessing from the beats of the teaser, the song is going to be mindblowing and soothing at the same time.
The teaser tweet is going viral on the platform, and it is about to hit million views already. While it has crossed 2 million views on Instagram. The official music video for Better is set to premiere on coming Friday, September 25, 2020.
Gigi Hadid shows support
Zayn Malik shared Better song teaser an hour ago through Twitter and Instagram. And while he has the support of his fans, Gigi Hadid is also excited for the upcoming track. She liked the Better teaser shared on the Twitter, and it's everything for Zigi fans.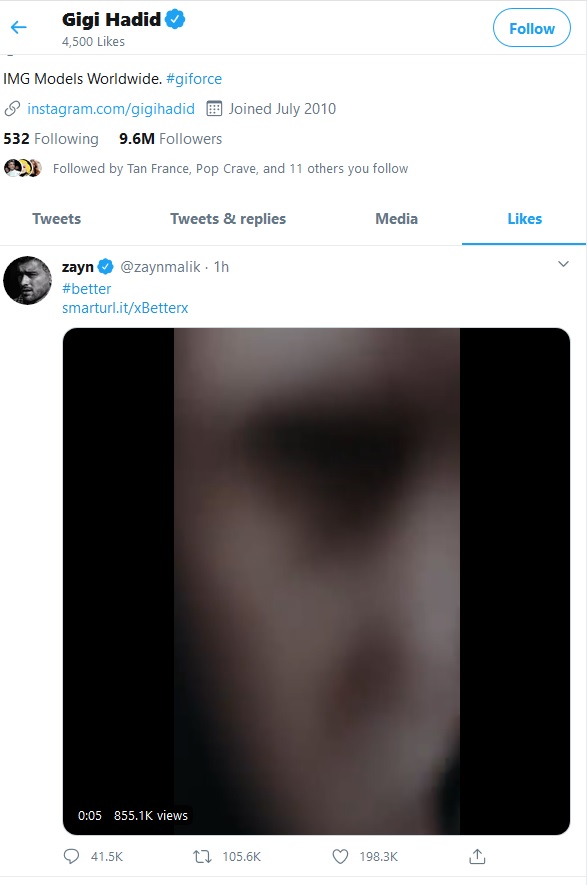 Are you excited for the new Zayn Malik song? Let us know your thoughts in the comments below.