James Charles' fans and customers are not happy with Sisters Apparel merch order delays. We all know that James had a rip-roaring drama with fellow YouTubers such as Tati Westbrook, Shane Dawson, and Jeffree Star last year. Long story short, there were some serious allegations made against James by the fellow YouTubers. James parted ways with them and tried very hard to maintain his reputation clean and clear in the Beauty Industry. Then the drama hyped even further when a few weeks ago Tati apologized to James in a Youtube video. She also said Jeffree and Shane pumped her to start the fight in the first place. And while this drama was still going on, James' Sisters Apparel website went down. And a lot of fans think Jeffree Star is the main reason behind James' website going down. Because James' merch was under Jeffree's Killer Merch company, fans thought this was the reason. After two months, Sister Apparel did a relaunch and moved to Mad Merch.
Why are James Charles customers are not happy with his Sisters Apparel?
Fans are really unhappy with James for showing a very non-serious attitude for order dispatches and poor customer service.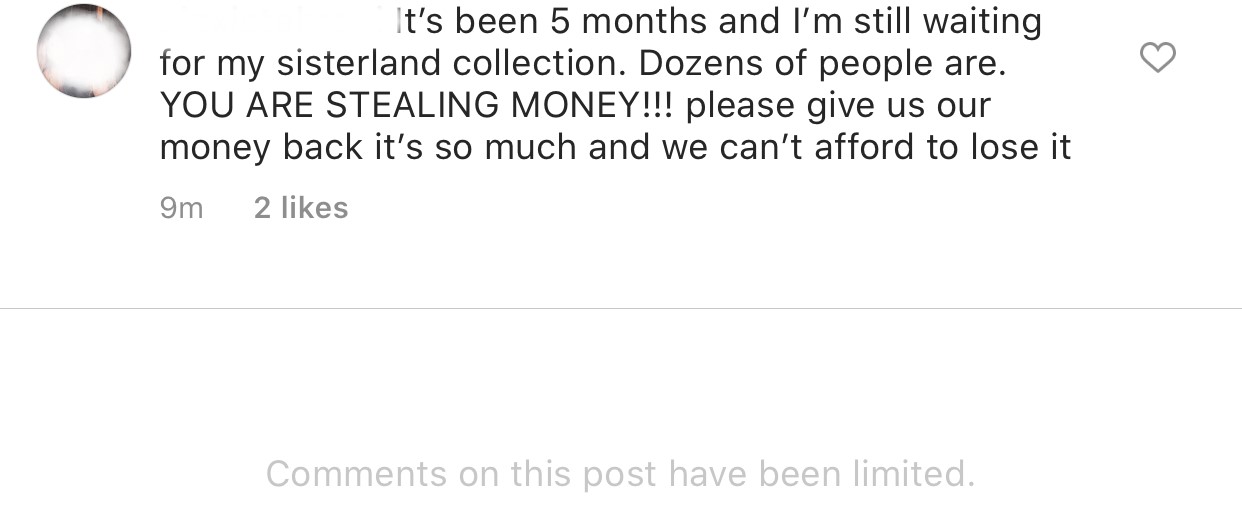 So a fan here commented on James Charles' new classroom merch on Instagram. She pointed out that so fans including herself have been waiting for a few months now but they still haven't received their orders yet. Imagine how hard it must be for so many people out there who wanted to grab ahold of one of James' merch and paid a lot of money for it. But they are neither getting the orders or a money refund.

Some of the fans were really unhappy that James has been launching new collections but not taking any action for hundreds of delayed orders. Last month he promised in an Instagram story that all the previous orders are dispatched. A few fans even commented that the hoodies which they received after months are completely worn out.

And here is another fan who is clearly tired of other fans defending James. She ordered something from Amazon during the pandemic but still got it. Hence, the fan was critical of James Charles' Sister Apparel company.
Wha's the actual reason behind the delays in orders?
A lot of fans think James Charles' Customer Service Team has to do something with the delayed orders. While some of them think that James should launch the merch with a specific number of units, dispatch them first, and then launch more units on the website. Because they clearly have limited workers and are not being able to handle thousands and thousands of orders.
James or his team still has not responded so many tweets and emails by fans who are waiting and waiting for weeks and months. Let's see what's going to happen when the classroom merch is going to launch in two days.