For those who are still unaware of Jake Paul's outstanding personality and talents. You guys have to Binge-watch his YouTube videos and trust me when I say, ' you won't regret any second of it', you really won't regret any second of it. Jake Paul is one of those very cool YouTubers who always try to bring something fun and entertaining for his fans.
Jake Paul has also made tons and tons of headlines in tabloid news. His videos now contain a lot of adult stuff and he never shies away from being a part of conspiracies. In a recent YouTube video, Jake Paul recently refers to Shane Dawson's conspiracy palette and throws a little shade on him.
A little history between Jake Paul and Shane Dawson
We are familiar with two of the best YouTube content creators, Jake Paul and Shane Dawson, as we all know that Shane created a documentary, 'The Mind Of Jake Paul,' on the fellow YouTube star. This documentary was made back in 2018 and consisted of eight parts. And at the beginning of the first part, Shane mentions how badly he wants to make videos on many YouTubers.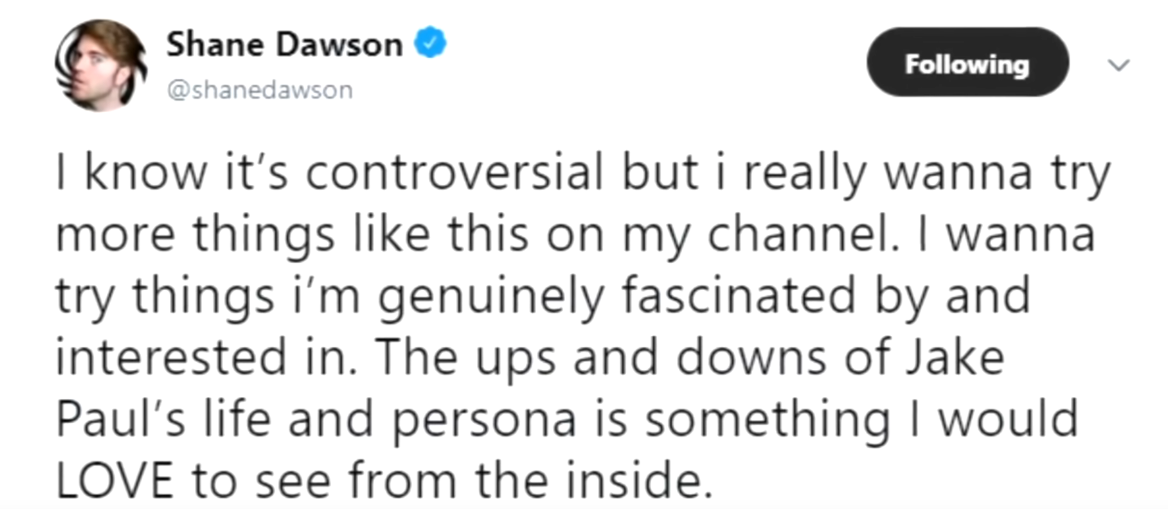 Anyways, let's try to figure out why and when things started to go down the hill. When people found out Shane Dawson was working on a documentary with Jake Paul, they were not up for it.
Shane reading people's comments: "He is a bad person. He has done bad things. He is a Sociopath and he is a liar."

Shane: "So obviously I was a little scared… And I tweeted it because I didn't know the extent of it. I thought he was just cringy…I want to talk to a psychologist."
He further added:
"And see like if he is a sociopath because that word was all over my timeline. And ironically enough I was going to do a series about the sociopaths before this even happened."
Shane mentioned the reason why Jake might have agreed to make a documentary with him. Only because of the sake of views. So I guess Jake always kept this thing in his heart. And now he is coming back at Shane with full force.
Shades Shane Dawson in his recent video
So we all know that every Thursday, Jake posts a new video. And in the latest video, he indirectly threw shade at Shane Dawson. So Jake Paul fans who have been following his videos for the past couple of weeks would know that Jake has four new Team 10 members.
He showed Elle Danjean and Kaylyn Slevin (TikTokers) their new space. These girls were dating Bryce Hall and Tayler Holder, but things didn't work out for them. So anyway, one of the girls mentions that they need some space to put their makeup, to which Jake replies:
"Do you guys have the conspiracy collection?

The girls reply: uhh what?

Jake: Nevermind, he got canceled."
He further added that he is not a sociopath. We all know that he is not mentioning Shane's name anywhere. But anyone can quickly figure out that Jake clearly remembers what Shane said at his documentary's beginning.
So I guess this year is not in favor of many YouTube celebrities and TikTok Stars. Please stick around for more updates on the Team 10 members.