Keeping up with the TikTokers tonight seems like the most challenging thing we have ever done. It's even harder than Keeping Up with the Kardashians. However, these tiktokers might be young, but they know what they are doing. After the whole Twitter feud that started off with Josh Richards' reaction to Thomas Petrou's vlog inviting Nessa Barrett to the Hype House, Twitter got a whiplash. Too many tweets coming from all the sides leading to tiktok creators dividing into multiple teams. After Chase Hudson 'exposed' everyone in his now-deleted tweet, Jaden Hossler and the Sway Boys could not stand it. So, they decided to confront him by going to the Hype House. Here is what happened next.
Jaden Hossler & Chase Hudson | Twitter feud
Before digging into what happened at the Hype House, here is a quick overview of the Twitter feud between Jaden Hossler and Chase Hudson.
View this post on Instagram

NOW…… FASTEN YOUR SEATBELTS😭☕️👀
Seeing Chase Hudson's tweet, Jaden Hossler was quick to call him out on it, reminding him about their confrontation.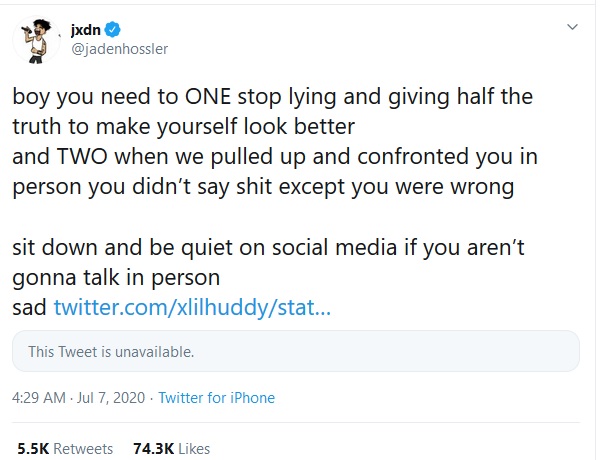 And then he confirmed he was going to the Hype House.
View this post on Instagram

WHEW😭☕️
These tweets are removed from Jaden's Twitter now.
View this post on Instagram

jaden tweets out about chase😬
Sway House Vs Hype house
The Sway boys and the Hype House members are really close friends. So, when Jaden Hossler went LIVE standing outside the Hype House, fans knew things are about to get ugly.
Initially, someone from the Hype House talked to Jaden Hossler from the house. The identity of the person is still unknown at the moment, but one thing can be confirmed is that it was not Thomas Petrou. Due to the language used, we cannot post the videos here. However, you can see a glimpse of what went down between them here.
The Hollywood Fix team was outside the Hype House as well. They shot the whole scene of Jaden Hossler standing outside the Hype House. Then a few members of the Hype House, including Thomas Petrou and Tayler Holder, come out to meet with the guys. Bryce Hall and his mates arrive at the same time in their car, playing Still Softish at full volume. The video can be seen here. Because of the cameras, the boys went inside to discuss the issue in person.
And they even pulled a prank on the paparazzi.
The results
Thomas Petrou will be uploading a video today, that will hopefully give an insight to what actually went down. The thumbnail shows a screenshot of his previous vlog, where he asked people to vote if they want Nessa Barrett in the Hype House. The video will be titled "Nevermind".
Until then, Jaden Hossler posted an update on his Twitter. He confirmed that even though he was heated, they all talked it out and now the things are settled.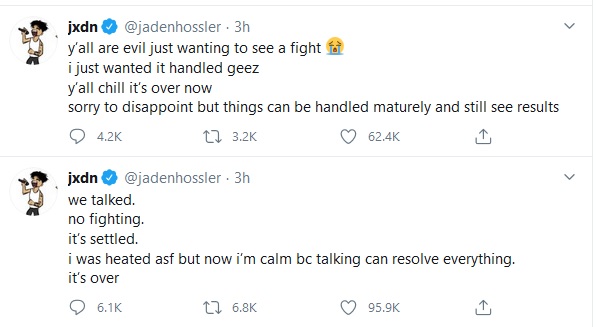 The things seem to settle down for now. But apparently, huddy gang is gearing up for revenge as they are bringing Jaden Hossler's past tweets, showing him as Trump supporter as well as homophobic, into the battle.
Will TikTok continue for a few more days? Yes, because most of them would be sharing their side of the story on YouTube now. We'll keep you posted on what happens next. (hopefully, no more drama).