TikTokers are serving hot tea from the last few hours and the supply does not seem to stop at all. As Nikita Dragun tweeted, TikTok community has taken the drama crown away from the beauty community. At this point, almost everyone is insomniac, or sleep-deprived. It all started when suddenly, there was a vlog on Thomas Petrou's YouTube channel that Nessa Barrett might be joining the Hype House. Well, it wasn't just the title that came out as shocking. It was the thumbnail, with Chase Hudson and Nessa Barrett. Josh Richards did not like it. Sway family did not like it and things heated up on the internet, specifically Twitter. All the lash-back led to a statement from Chase Hudson. And ultimately, it led to Charli D'Amelio & Dixie D'Amelio shutting him down.
Chase Hudson releases his statement
For a brief overview of what happened after everyone started pointing fingers at Lil Huddy, he did not like it. (guilty or not, no one likes fingers pointed at them). When Chase Hudson could not take it anymore, he took it to Twitter and issued a statement in his defense.
Since his tweet is deleted now, the screenshots available on the TikTok room are being posted here:
View this post on Instagram

MAN WHAT???? Tweeted by chase😭☕️. Chase was not letting y'all bash him today. Chase spilled ALL the tea on everyone
That, for very obvious reasons, did not sit well with all the people mentioned in the statement. However, the person who got hurt the most from this tweet was Charli D'Amelio, Chase's ex-girlfriend.
Charli D'Amelio & Dixie D'Amelio come for Lil Huddy
We all know Charli, and how she stays away from the drama. Charli never addresses an issue unless she cannot stand it. And Chase Hudson's statement was "that's it" for her. Therefore, she addressed Chase's statement right away. And that tweet is still available on her profile, even though Chase has deleted his now.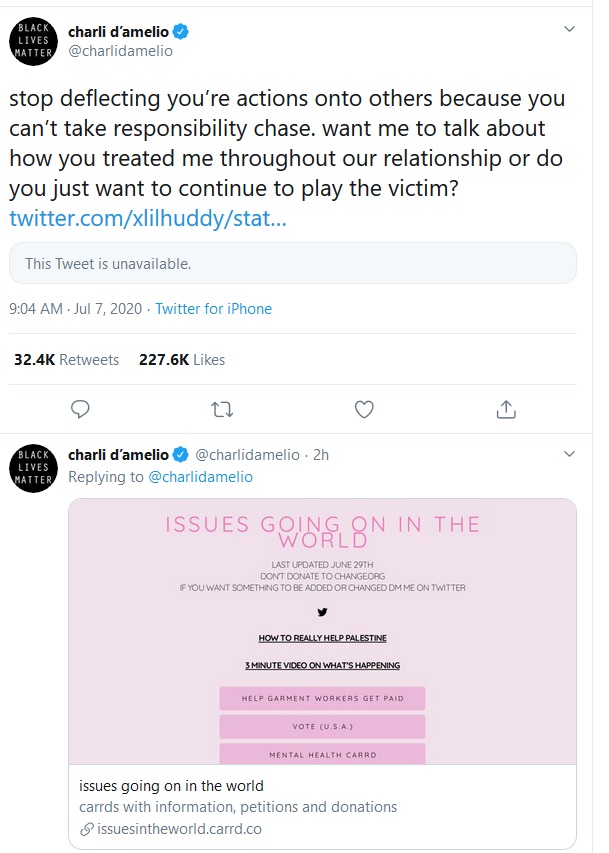 And we all know when it comes to her family, Dixie D'Amelio is not the one to hold back.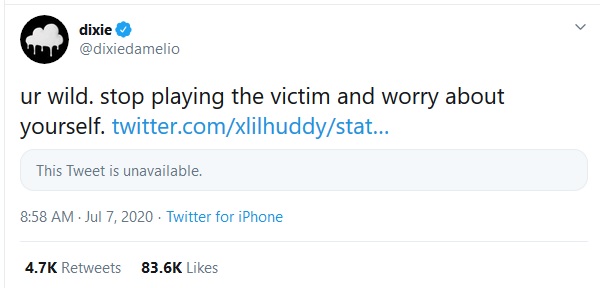 Dixie did not just shut down Chase Hudson because of Charli D'Amelio. She also did it for her boyfriend, Griffin Johnson.
Chase Hudson's ex-girlfriend, Cynthia Parker, joins the force as well.
View this post on Instagram

Cynthia tweets out😬☕️
Soon after the whole drama started, lilhuddyisoverparty started to trend on Twitter. And it is still trending.
Will this drama end soon? Keeping up with everything in the tiktok community is getting tough at this point. Do you think Chase Hudson will clear it all up with the D'Amelio sisters? specifically Charli? Let us know what you think of this whole situation in the comments below.