Eugenia Cooney has been facing multiple controversies recently. While one revolves around her fans getting worried for health again, the other controversy was pretty disturbing. A few people came forward with concerns about Eugenia's Discord server and her moderators, or mods, that helped her with the server. A few mods were exposed for inappropriate chats with young fans. They wanted the mods gone, but Eugenia took their side and things got worse for her. Seeing how her reaction escalated the issue, Eugenia finally responded to the allegations in a silent way. Turns out, she deleted her Discord server.
Eugenia Cooney deletes Discord & Internet reacts
Since many of her fans just follow her on Twitter, Instagram or YouTube, they did not know about Eugenia Cooney deleting her Discord server. In fact, someone shared the news on Reddit.
As the user stated, the issue was not just of inappropriate language used in the server. It was also a platform for bullies that dragged others for their insecurities. Many people were happy to see her server gone from Discord. But soon, there were talks that Discord might have manually deleted Eugenia Cooney's Discord after multiple reports on her account.
The speculations turned out to be false as Repzilla, an Internet creator, confirmed that it was actually Eugenia herself that deleted her Discord server. People had doubts earlier because she has been inactive on all of her social media from last 2 weeks.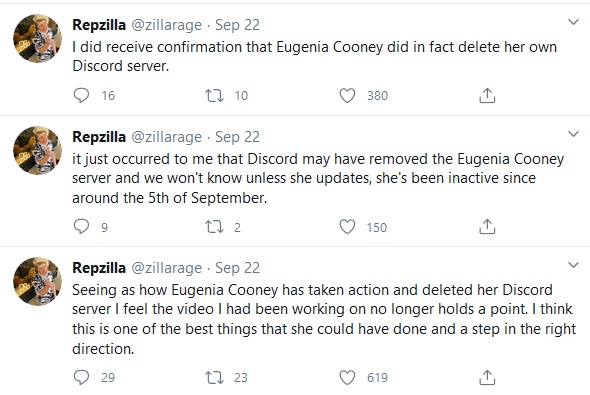 Some of her fans were happy to see that she is distancing herself from the negativity and taking some time for herself.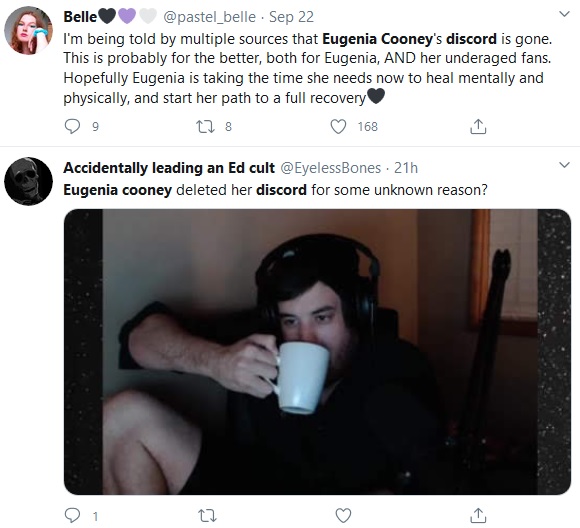 While a few are worried that Eugenia Cooney has been inactive for weeks now.

Some of her fans have created a new Discord server to spread positivity.

Her supporters confirm that it's not a place for hate and criticism. Will Eugenia Cooney return to Discord and be careful with her mod selection this time? We'll have to wait and see. We hope that she is okay and taking some time for herself.