Some of you might know it already that Ethan Klein, co-founder of Teddy Fresh brand is claiming that James Charles has copied their block panel designs for new merch. Ethan Klein first tweeted about James' new merch designs on his Twitter. James then asked Ethan to discuss things privately. But Ethan had other plans. He shared some message receipts on social media and made things a lot messier. A lot of fans think Ethan should have discussed things with James in person, and not on social media. Or he should have contacted his law firm and handled things a bit wisely. One minute Ethan is bringing receipts to throw shade at James. And then the next minute he says is that he doesn't want to sue James's brand Sister Apparel. Let's dive deeper into the whole story.
Ethan Klein shares screenshots of James Charles' DMs
.James has had his fair share of controversies and scandals in the past so it made sense for him to want to work out things privately. However, Ethan Klein still had some issues and he ended up sharing the whole private conversation he had with James Charles regarding their merch feud.
We find some new information in the DMs. You can see that James Charles admits that one of his merch's hoodies is an exact copy of Teddy Fresh's teal, purple, and a pink hoodie.James Charles shared that he only created the design using Nike's inspiration personally. His design team came up with the final look of the hoodie which he approved. But James shared that he did not know it was a hoodie belonging to an established brand. He didn't even know about his and his wife Hila's company Teddy Fresh. James also claims he hasn't seen the clothes either prior to Ethan showing it to him. He does admit that his design team may have copied the design without him knowing about it.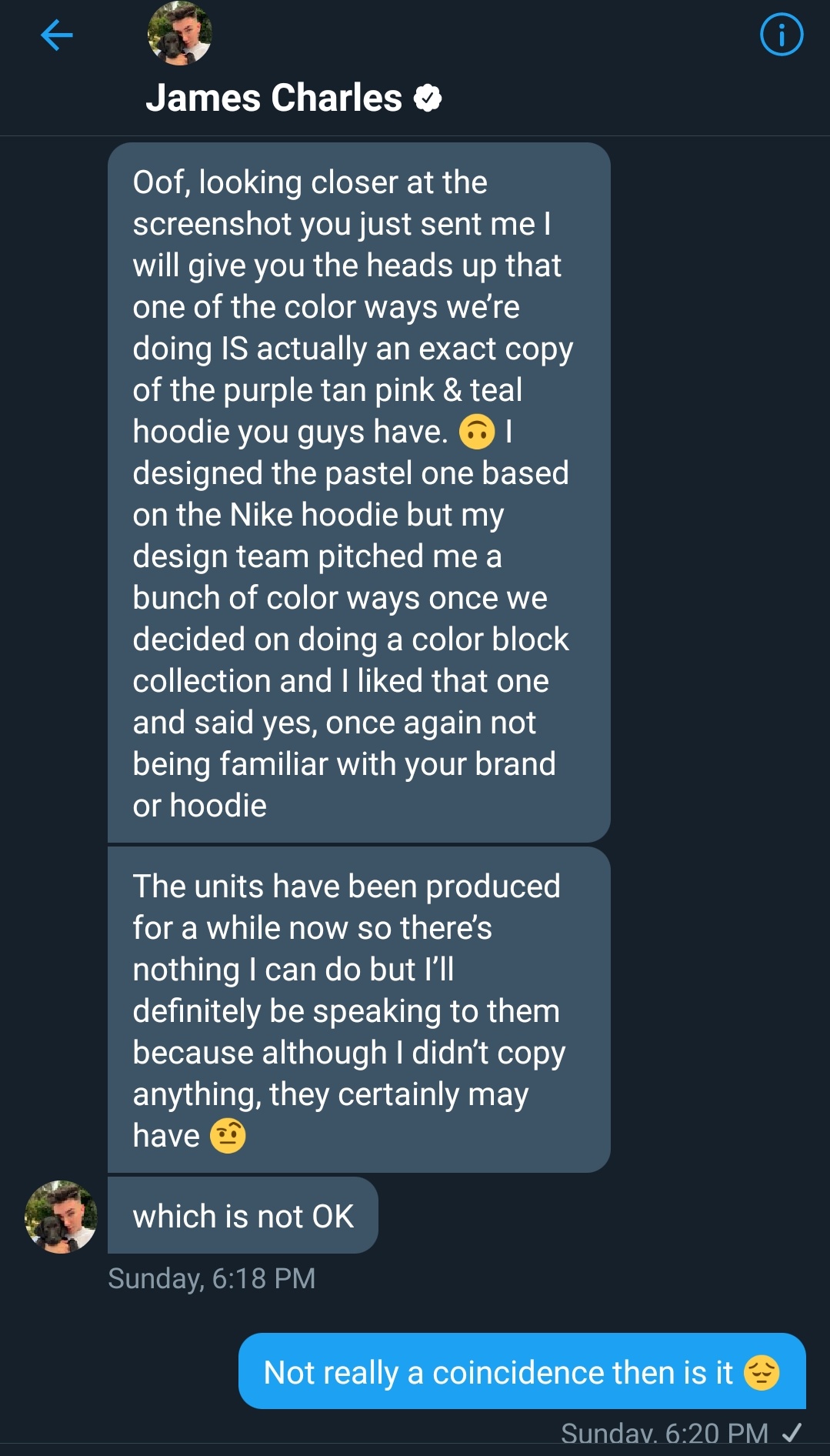 Further, he shares that the launch date is close and he cannot do anything about it because all the units have been produced in large numbers already. James Charles further tried to say that it didn't matter the designs were copied because Teddy Fresh has a different demographic and audience than James Charles' Sister Apparel. He claimed that for that reason there is no competition between these two clothing brands.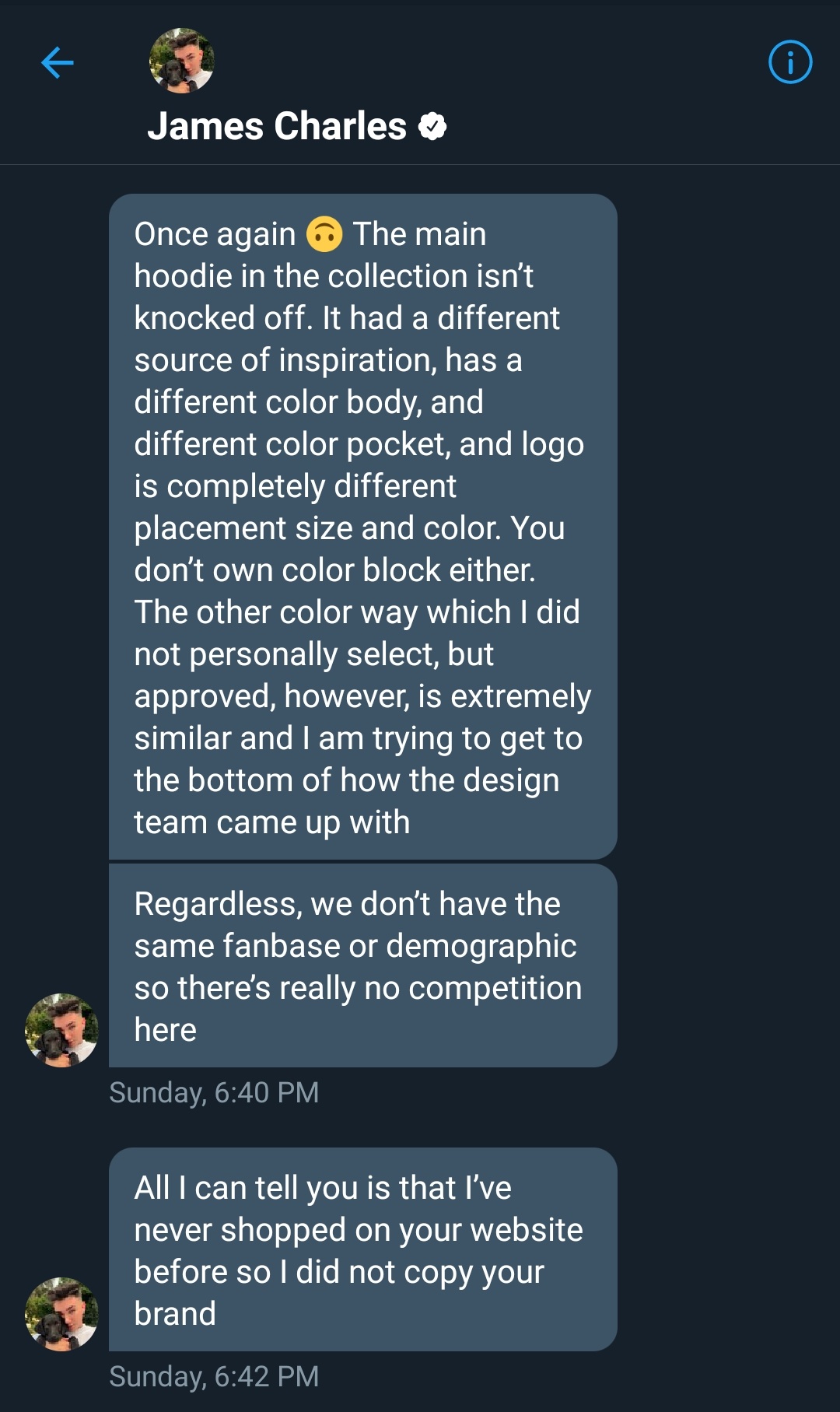 So if James has never seen Teddy Fresh's hoodie, how did he make an exact copy of it? One of James' close friend Larray has been wearing Teddy Fresh hoodies for a very long time. Maybe he took some inspiration from it and came up with a similar design without realizing it.
Ethan captioned the initial pictures with this:
James basically admits his team ripped of us but said it's fine because "we don't have the same fanbase or demographic".
Ethan Klein shares why he shared James Charle's DMs on social media
After reading the private conversation, it seems like Ethan Klein may have had a point. Things didn't seem to be resolved in his conversation with James Charles and Ethan was merely trying to shed light on what really happened between them.
Ethan Klein wanted to let the world know that James Charles has admitted to the DMs that Sister Apparel copied Teddy Fresh's design, even if it was something James wasn't fully aware of.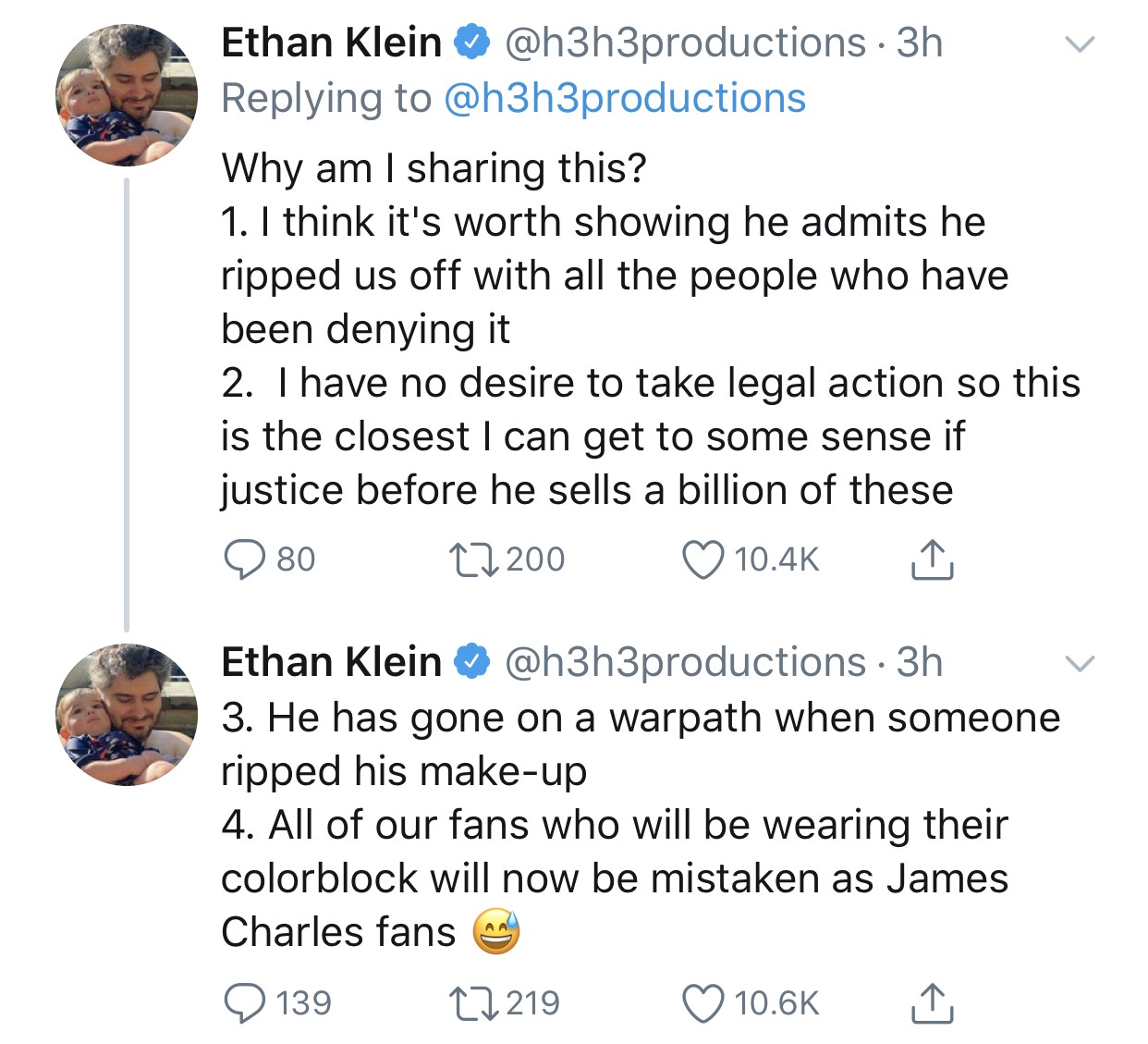 Maybe because Ethan Klein knows that a lot of brands take inspiration from each other, he's deciding to let this go. A lot of brands even come up with the same exact designs and colors. Let's take the tie&dye sets as an example. Almost every other brand has the same pattern and colors. But loyal customers only buy things from their favorite brands.
And Ethan's fans could be mistaken with James Charles' fans but they do have different prominent logos. The branding will make it easier to differentiate between the two hopefully.
Let's see how fans are reacting to the whole drama on Twitter
Some fans are really not happy with the founders of Teddy Fresh for sharing James Charles' private DMs regarding the copied hoodie design. And this is just not it, Ethan even shared screenshots of James' DMs on Teddy Fresh's official social media.
Fans were sharing that a lot of people are not aware of the fact that block print hoodies are popular since the 1980s. So it's not like Teddy Fresh has invented the block hoodie designs and pastels. It was something that was already in fashion.
Some fans are thinking that a lawsuit or legal action would be better than discussing this problem on social media where it gets harder and harder to find the real truth about such matters. Which is why they don't understand why they are not considering doing that.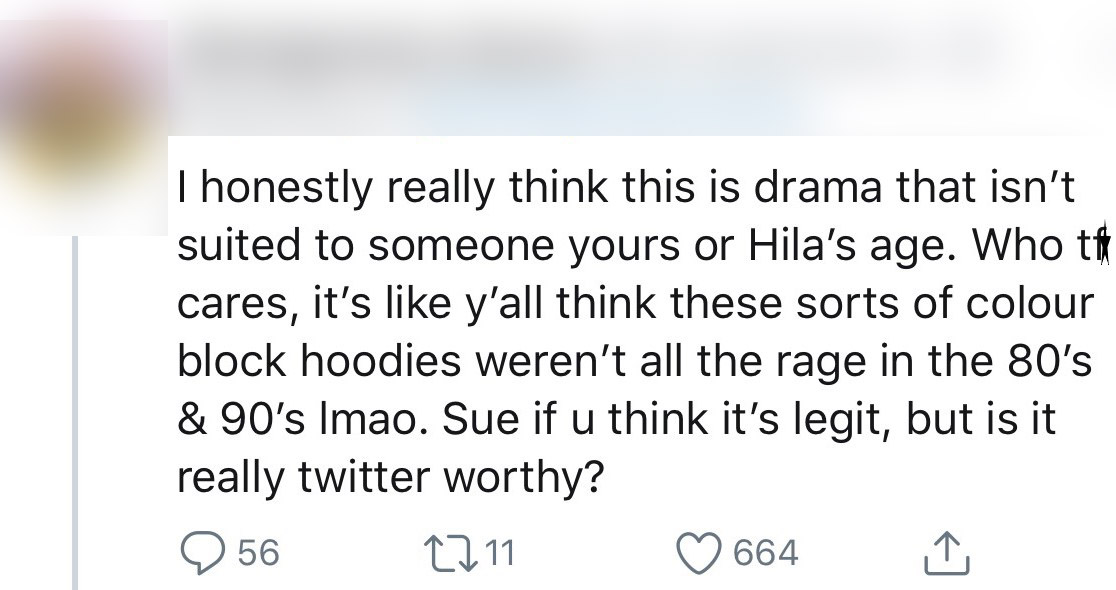 Fans think Ethan is turning a simple private conversation into a battle by posting James DMs and some of his old tweets about a brand copying his eyeshadow palettes. One fan pointed out how James Charles is being reasonable: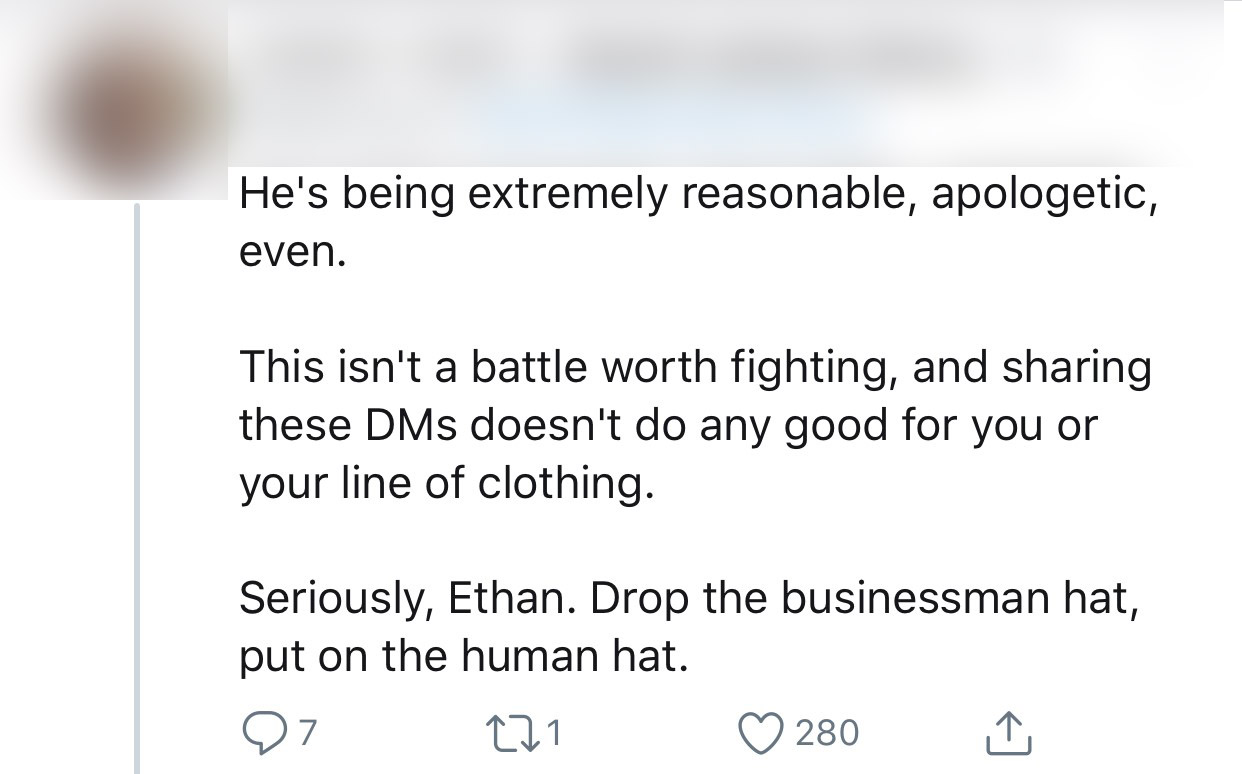 Some fans are getting tired of Ethan for posting multiple posts every day regarding his feud with James Charles.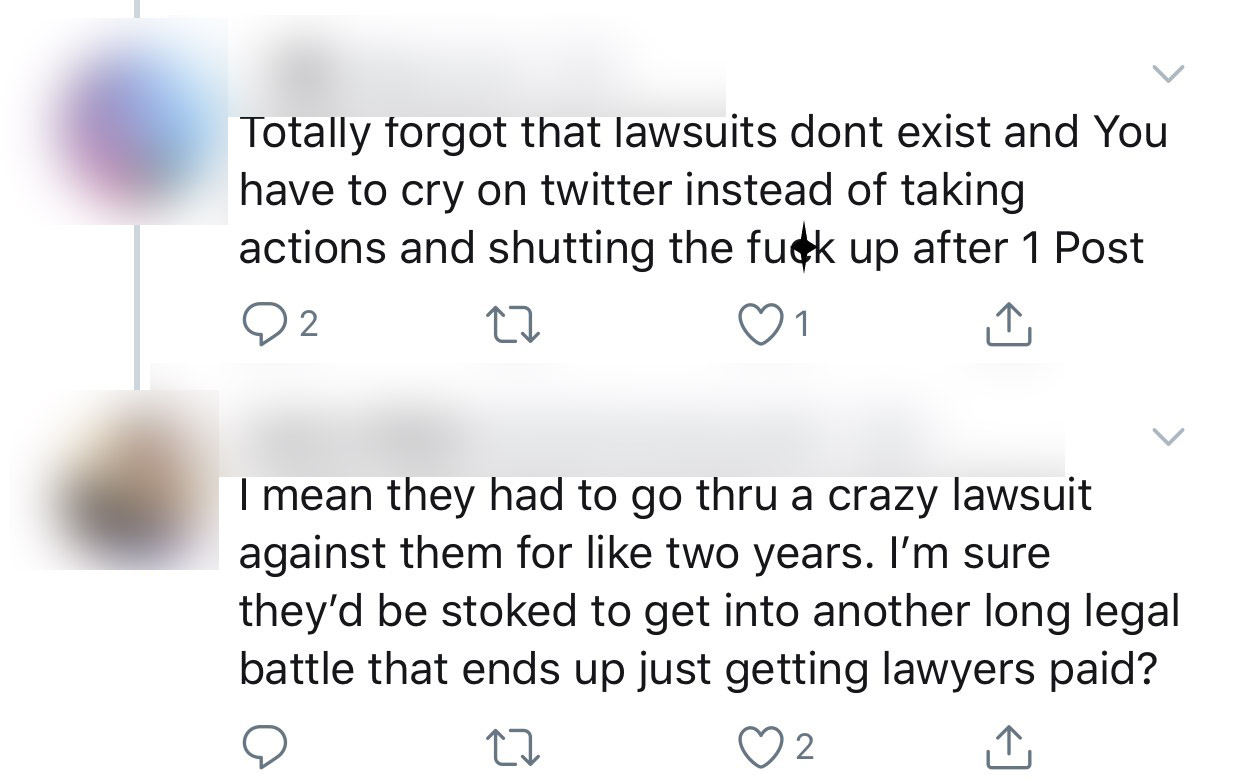 A fan pointed out that Ethan has dealt with a lawsuit in the past. A Youtuber named 'Matt Hosseinzadel' filed one against Ethan Klein's podcast h3heproductions for copyright infringement which was a messy one. Moreover, Keemstar may be planning to file a lawsuit against h3he productions as well. Hence, it can be understood why Ethan is apprehensive about going into another legal battle.
Well, let's see how Ethan and James resolve this situation and if they can move on from the drama or not.