Keemstar and Ethan Klein are once again making highlights in the YouTube industry. Some of you might know that both Keemstar and Ethan are involved in a very old feud. In which Keem reportedly lost half a million dollars in sponsorship with G-Fuel because of some false allegation made by Ethan. Later, Keem posts a video on his youtube channel and claims that he walked away from G-Fuel on his own. Then Ethan talks about this whole sponsorship thing on his Youtube podcast and refers to Keem's statement for filing a lawsuit. Then Leafy invites Keem on his youtube channel and asks him if he is really planning to sue Ethan. And now Keemstar has come out with his own merch in order to get back at Ethan for having a Twitter feud with James Charles over color block prints.
Keemstar launches Colorblock Hoodie to get back at Ethan Klein
You guys must be thinking I am joking. But I am really serious. Keemstar just launched a color block hoodie on his website. Now you guys must be thinking what does Keem's merch has to do with Ethan Klein?
Well, a few days ago Ethan claimed that James Charles' Sister Apparel company has copied his new merch designs from Ethan and his wife's brand 'Teddy Fresh'. Though he was not going to take any legal action against James, he still called James out publicly on Twitter and even shared their private conversation.
Keemstar already had some beef going on with Ethan Klein. And he was a little upset too because the video which he made with Leafy in response to Ethan's podcast against was removed by Youtube. Not just that, Leafy's Youtube account also got terminated.
https://twitter.com/KEEMSTAR/status/1308047531843162113?s=20
Then Keemstar posted a video in which he is designing a block print hoodie inspired by the 1980's color block print.
Guess who modeled for Keemstar's merch?
Leafy invited Keemstar on his Youtube channel to talk about Ethan's podcast 'Keemstar is Suing Ethan Klein'. Sadly, Leafy's YouTube account got terminated right after he posted the interview with Keemstar.
So Keem asked Leafy to model for his new color block hoodie. So the front side of the hoodie has a Keemstar logo and the back, umm, let's just leave it like that.
https://twitter.com/KEEMSTAR/status/1307839978832097280?s=20
And is it okay to say that this description is one of the coolest and legit descriptions of all time?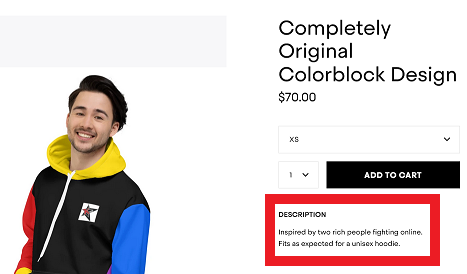 "Inspired by two rich people fighting online. Fits as expected for a unis*x hoodie."
He further mentioned in one of the tweets that he had to post one in order to make someone realize that anyone can come up with a block print hoodie.
The Keemstar hoodie costs around $70. While Ethan's Teddy Fresh color block hoodie is a little expensive and is priced at $85. Anyways, it seems like Keemstar is really fired up for having another Twitter feud with Ethan Klein.
We still don't know if Keem is seriously planning to take any legal action against Ethan. Let's just keep our fingers crossed and hope that these two can solve things privately.