When Jaden Hossler, the famous TikToker, tweeted that he would be releasing the official music video of his latest track SO WHAT soon, many fans got excited. Next, he said there is someone in the music video. We all assumed it would be the Sway boys or Travis Barker. Well, Jaden finally released the official music video of So What, and yes it had a couple of Sway Boys and Travis as well. What we were not expecting, was Machine Gun Kelly.
Jaden Hossler & Travis Barker take over the stage, kick-off MGK
The video of So What revolves around Jaden Hossler who likes a girl from his school. However, turns out she is already claimed by another one. Brokenhearted, Jaden gets ready for the homecoming. He rehearses in the garage with Travis Barker. Initially, we thought he is going to skip the homecoming. But turns out he takes over the stage to impress his girl.
With Jaden on the mics, Travis Barker has to take over the drums to perform. But, turns out his drums are already occupied by Machine Gun Kelly. Surprised at it, Travis asks him to get off his drums.
Perks of collaborating with Travis Barker? We think so. Does that mean Jaden Hossler will be collaborating with MGK in the future? Well, we could only hope with our fingers crossed.
Other surprise cameos
Other than Travis Barker and Machine Gun Kelly, the So What music video has appearances of Josh Richards, Quinton Griggs, and Anthony Reeves. In fact, if you have seen the recent boxing match between Hype House and Sway House, then you might also recognize another person is in the video. It's Caleb, Josh Richards's friend, who recently boxed with Michael of the Hype House.
At the beginning of So What video, you also get to see names of all: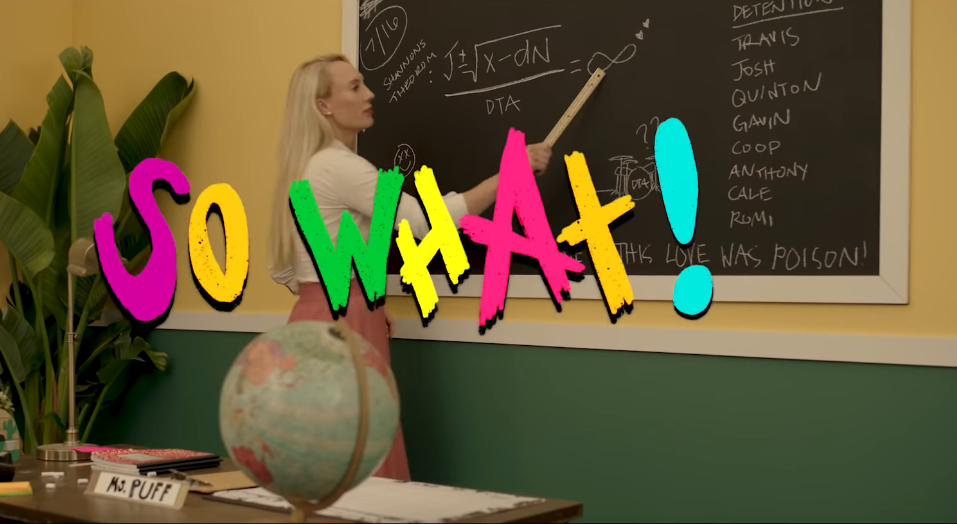 That equation on the board says Jxdn, that's Jaden Hossler. Just taking a guess, DTA in that equation and on the drums drawn on the board, stands for Travis Barker (and the song Don't Trust Anyone). 7/16 is the date when So What was released. Still trying to figure out what Shannons Theorem is. Any guesses?
Talking about the experience
Jaden Hossler and Travis Barker recently appeared in an interview with Kevan Kanney. They shared an interesting story of how Machine Gun Kelly was supposed to be the lounge singer they kick off the stage. It was MGK who wanted to be the drummer that was kicked off the stage.
You can watch the complete interview here.
Related: Travis Barker Asked For Kourtney Kardashian's Mom and Dad For Her Hand in Marriage