I have died laughing watching this video and you would too. The Try Guys, consisting of the perfect Eugene Lee Yang, clumsy Ned Fulmer, nerdy Zach Kornfeld, and quirky Keith Habersberger. In honor of beauty month, they recreated popular beauty gurus Tati Westbrook, James Charles, Shane Dawson and Jeffree Star using their makeup palettes. What ensues is utter hilarity and some pretty cool makeup looks if you ask me. The comedic timings of these guys mixed in with their lack of makeup knowledge is just perfect.
Eugene and Ned become Jeffree Star and Shane Dawson
Throughout the whole video, Eugene completely transforms into Jeffree Star, and not just on the outside. He channels his inner Jeffree as he puts on a flawless look with the iconic eye shadows. The make-up kits they used were from the beauty gurus themselves. So, Eugene and Ned used the Shane X Jeffree conspiracy and mini-controversy palettes.
Ned claimed from the start that he is not good with makeup. No offense Ned, but you were right! Though, his facial similarity with Shane Dawson helped in giving a great final look.
Keith joked about how Eugene is perfectly good in every challenge he does and has zero comedic content for the videos. But Eugene definitely proved that he is perfect in every which way.
There were multiple moments where you would laugh out loud from the jokes that Eugene Lee Yang made:
When Eugene joked about his man-bun looks: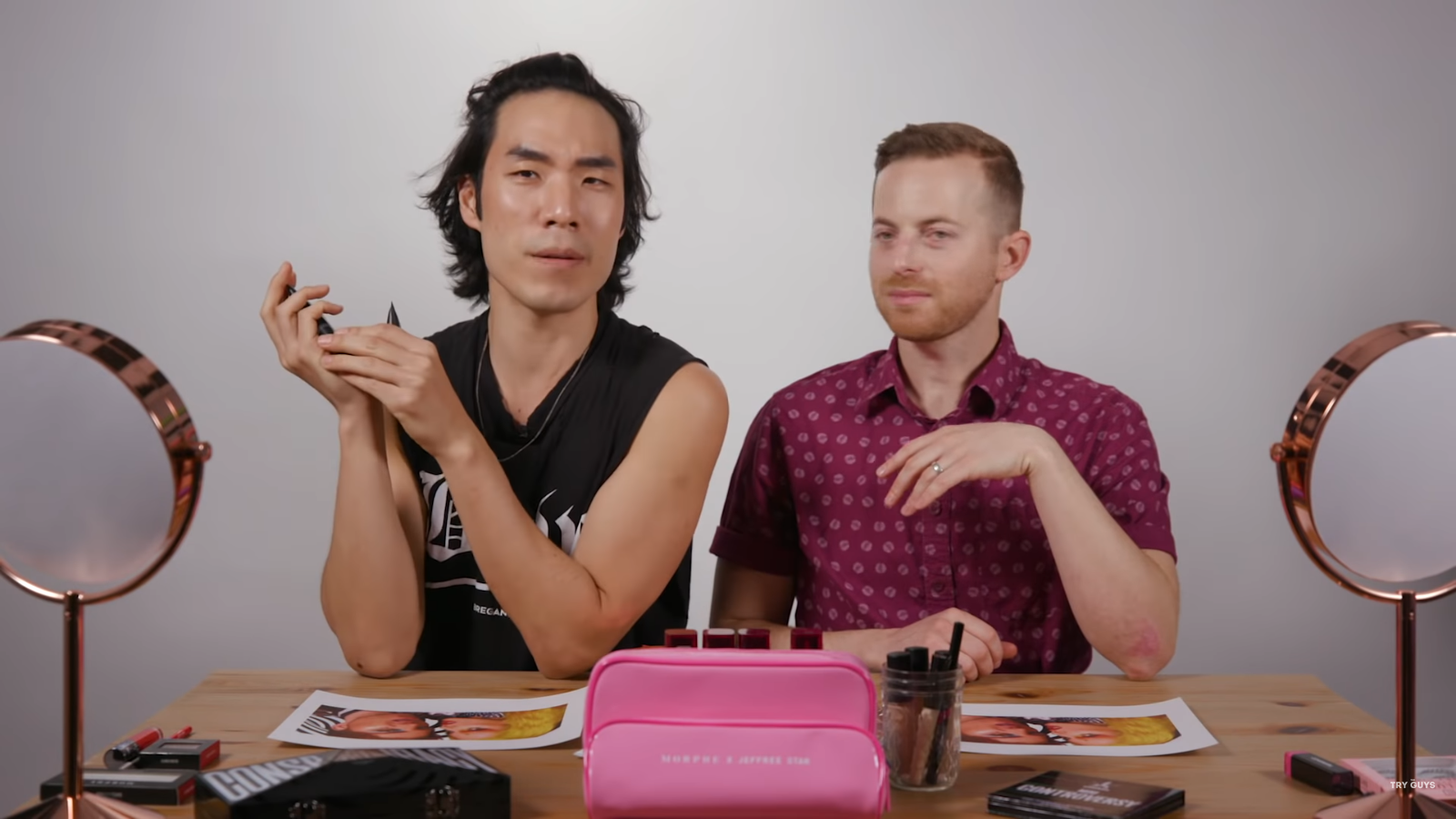 Do I look like everyone's
Asian niece named Jessica?
Eugene explains 'baking' to Ned
Eugene definitely knows more about makeup than Ned, so he helped him out. Since Ned knows about house construction and renovation better than beauty, Eugene resorted to those analogies.
The primer one was simple, it's used to help stick the paint onto the surface. This is the same for your house walls as well as your face.
But then we come to baking, special make-up technique:
So you know, after you've
primed your cabinets,

you've painted your cabinets,

you touch up the cabinets
and put them in the oven.
Uh, okay. Well, I still don't get how baking is done. But this was a good laugh!
When Eugene becomes a showgirl and Ned becomes his boyfriend
After almost finishing their looks, Eugene suddenly channels his inner show-girl: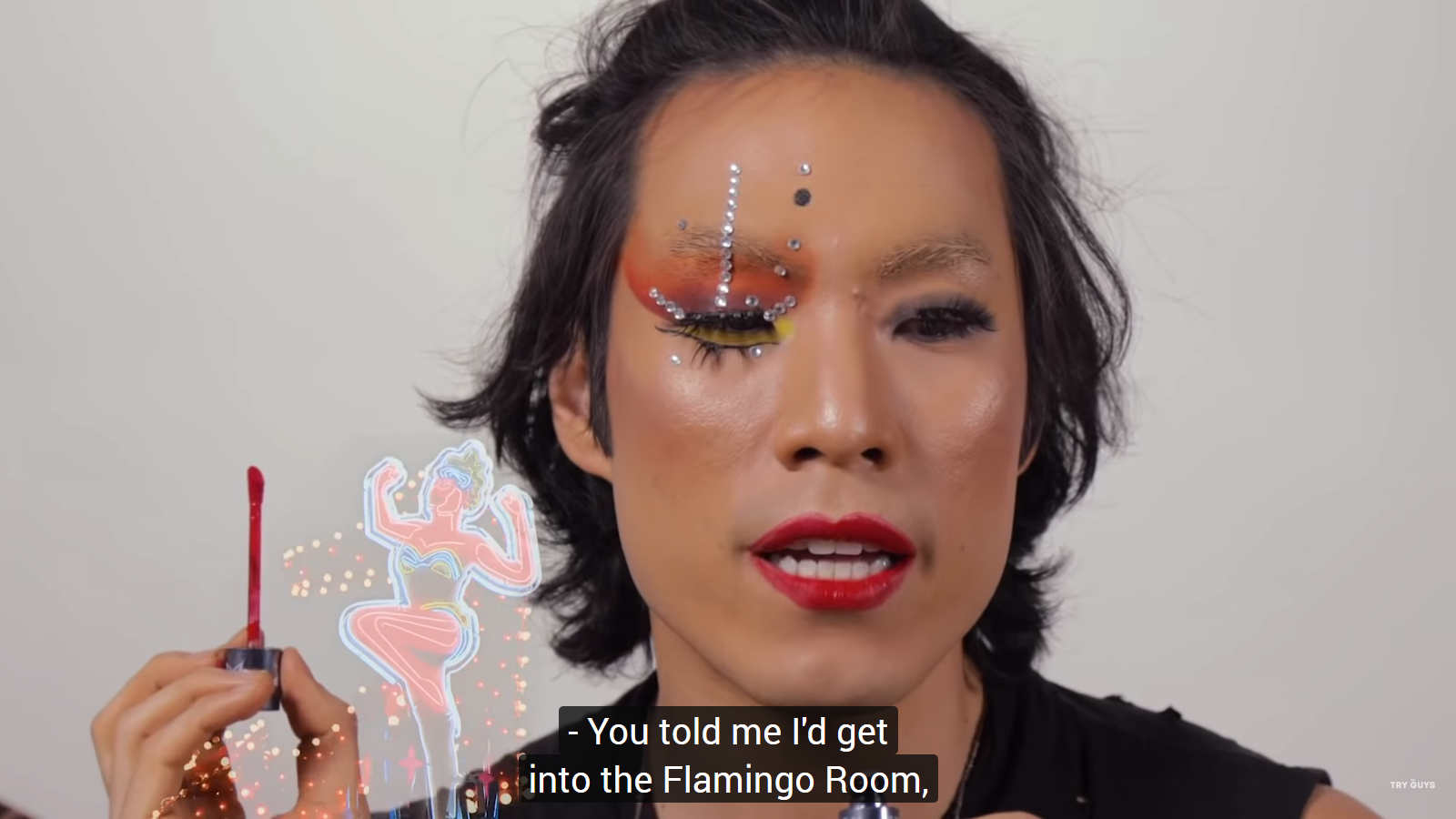 Ned is Joe, the boyfriend of Daphne. Daphne is Eugene. This back and forth should be known as the best moment of YouTube:
Daphne:  Why did you come to this show? I told you not to come any more.

Joe: No, I came 'cause I love you baby.

Daphne:  You told me I'd get
into the Flamingo Room, I'm still in the Can Can Room.

Joe: No, I'll get you there.

Daphne: I'm still in the goddamn Can Can Room!

Joe: I'll get you there, I just
need a little more time.

Daphne:  A girl can't handle
herself in the Can Can Room. You've got to pay child support, I'm up here shaking my t**s.

Joe: Daphne, it was never proven
that baby was mine.

Daphne: You know how I know
that baby was yours? He's a little piece of sh*t.
Eugene is a savage queen.
Ned gives himself a pink eye
After a quick pep talk by Eugene, Ned Fulmer finally gains some confidence in his makeup skills. 'If Shane Dawson can do it, so can you!', Eugene exclaims!
So, Ned puts on some makeup on his eyelids and it leads to this: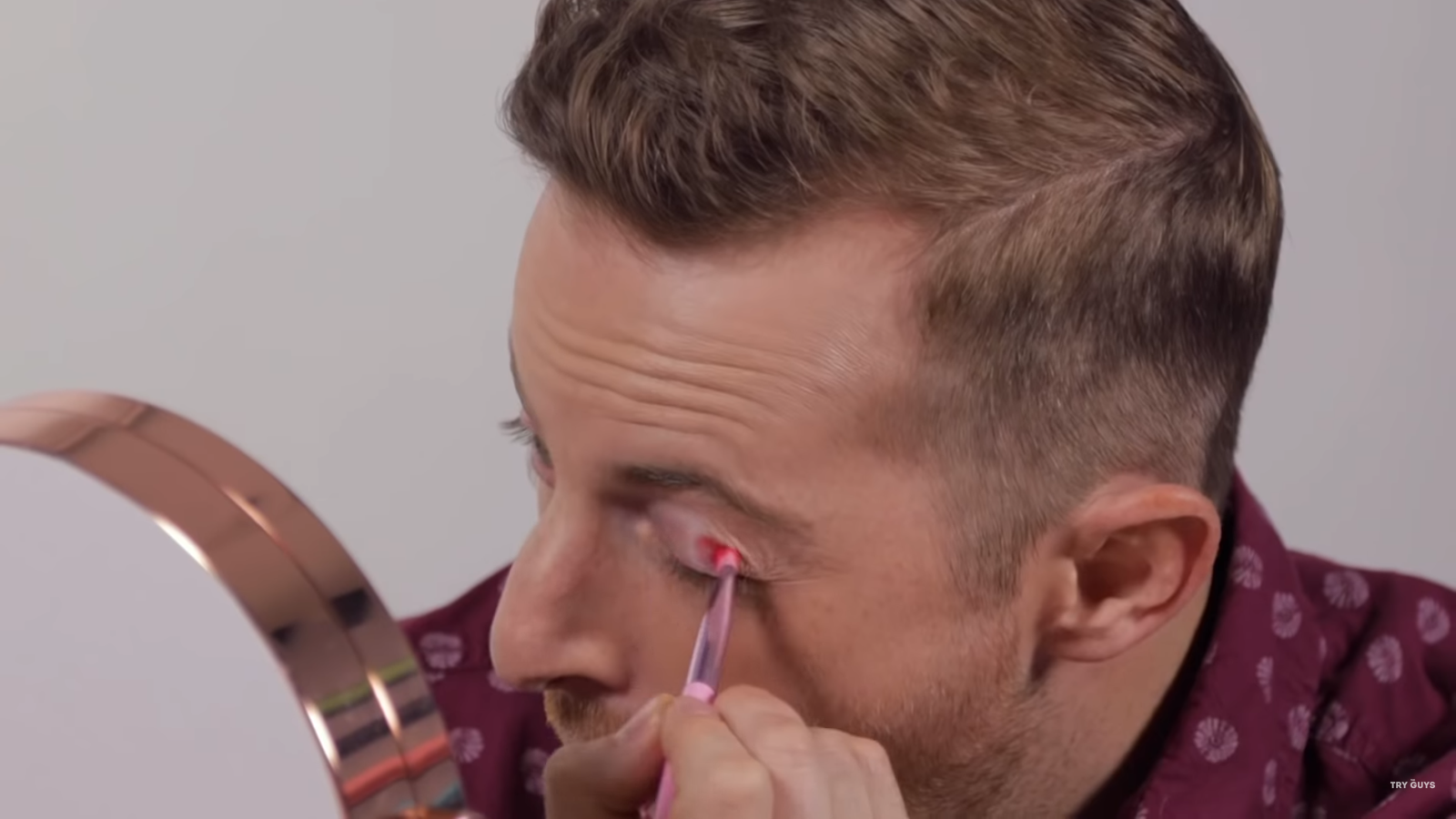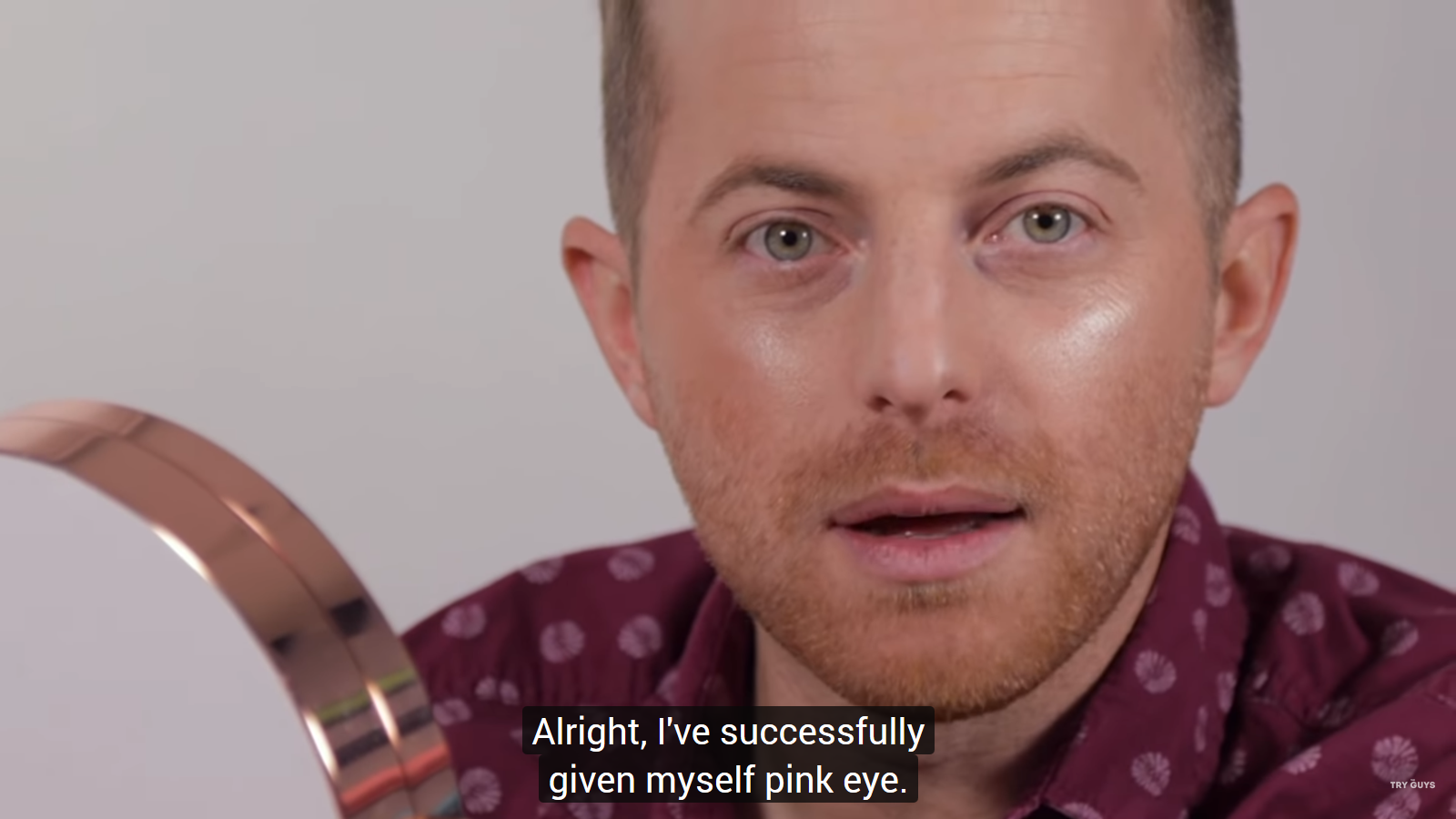 Hey, he tried his best! We appreciate Ned for that. He's not a quitter.
Zach and Keith become James Charles and Tati Westbrook
While playing with James Charles Morphe palette, Zach Kornfield started to form a deep appreciation for makeup. He compared it to that of painting, a truly artistic activity. This was expected from Zach because he had to essentially paint all of his upper body. Meanwhile, Keith used Tati's Textured neutrals palette to create his look.
Here were the most hilarious moments:
When Zac accidentally shades James Charles
I'm not sure if this was scripted or happened on pure accident. But Zac Kornfeld proved he's a savage by these very lines:
I'm thrilled to be recreating a James Charles look today. James and I actually have a ton in common. We both love tea, we both love gummy vitamins.
For those of you who missed out on the James Charles X Tati Westbrook drama, you should know that their whole feud was triggered by Charles buying vitamins from a company that was not Tati's. They previously had an agreement that Charles would sponsor only Tati's but he ended up sponsoring Tati's rival company.
When Keith jokes about feuding with someone since the beauty community is all about feuds
The Try Guys are too nice so they were 'desperate' to start a feud. Zac shares:
We're not good at being controversial, because we're too nice,
so we make a joke.
Then Zac jokingly 'calls out' Rhett and Link. Keith chimes in with the reason:
They've been nothing but nice to us.
Keith loves his lips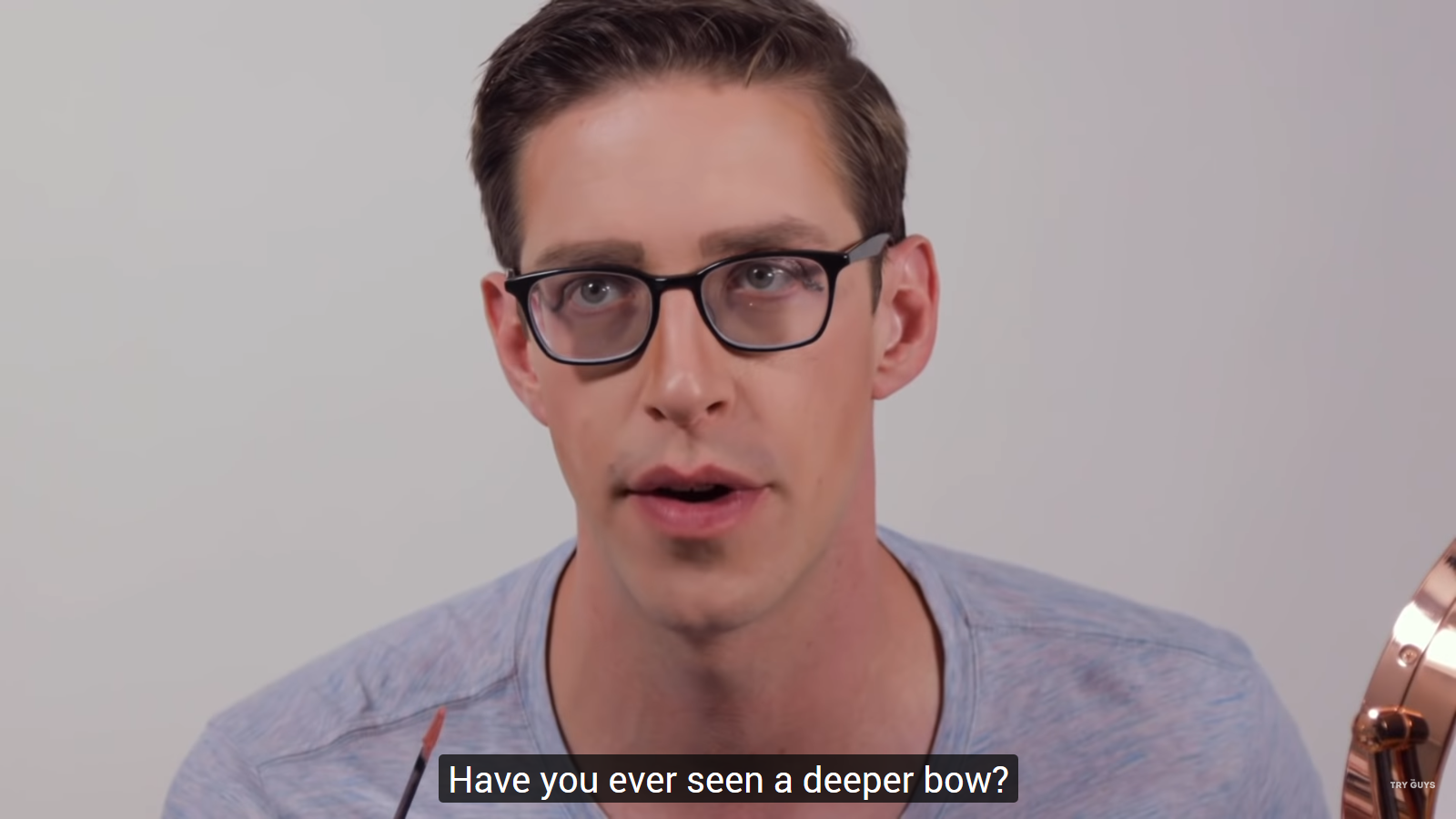 We all should love ourselves like Keith loves his lips:
The one benefit I have here today is I have the best lips of the Try Guys. I mean, you look at everybody's scrawny, thin-a**, bullsh*t lips and then you look at these mother-pluckers. Look at these plump little buddies. (kisses) Look at them, look at this cupid's bow. Have you ever seen a deeper bow?
When they both can't see
Zac and Keith both forgot their contact lenses at home so they had no idea what they were doing to their faces.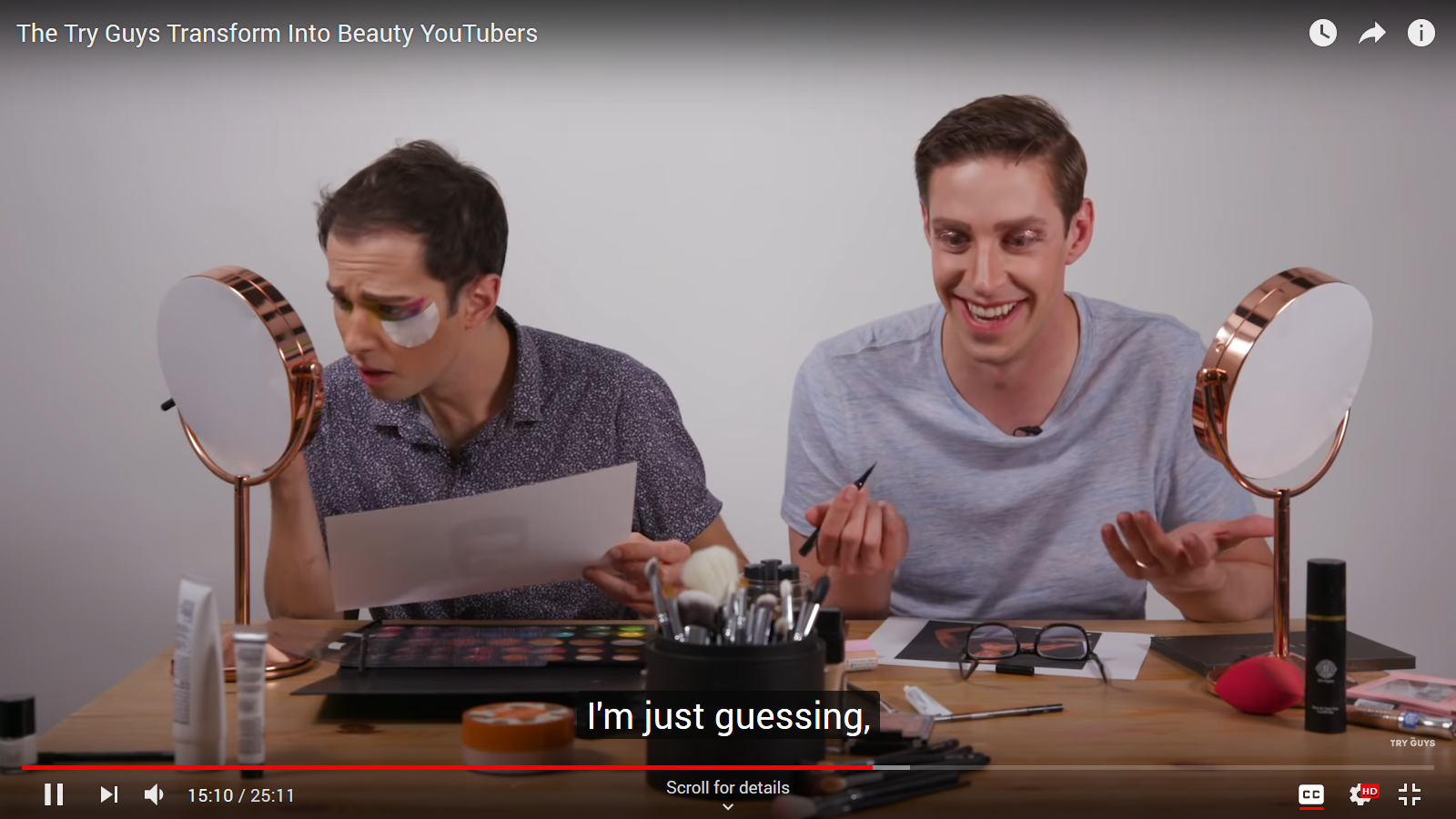 Keith further elaborates on their problem of not being able to see:
That really doesn't work
well for very specific actions. I mean, imagine if you took a
test and you closed your eyes and you just started
guessing what the questions and answers were. You have no context for
your success or failure.
When Zac calls himself a princess: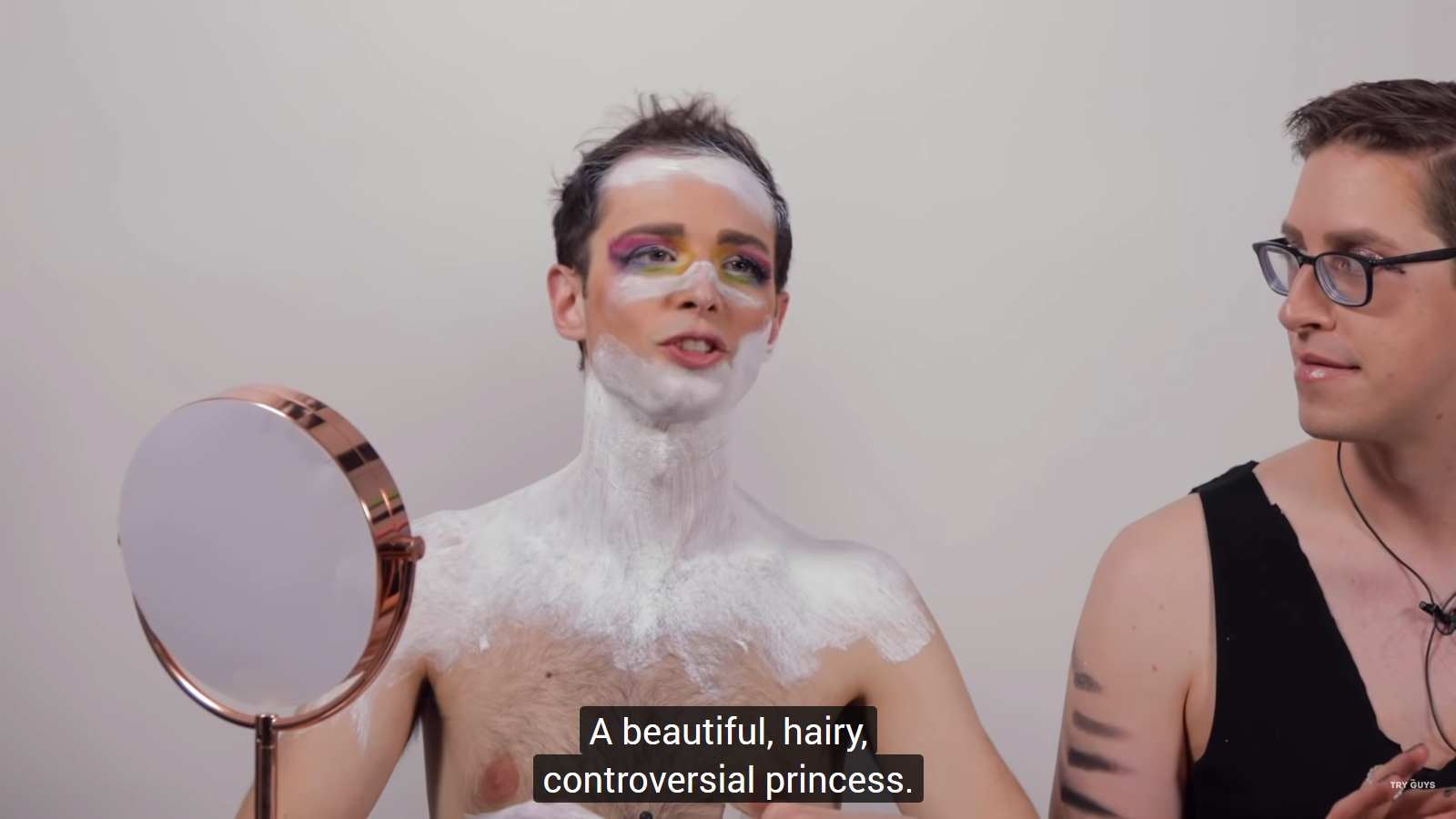 When Zac urges Keith to bring out his inner beauty: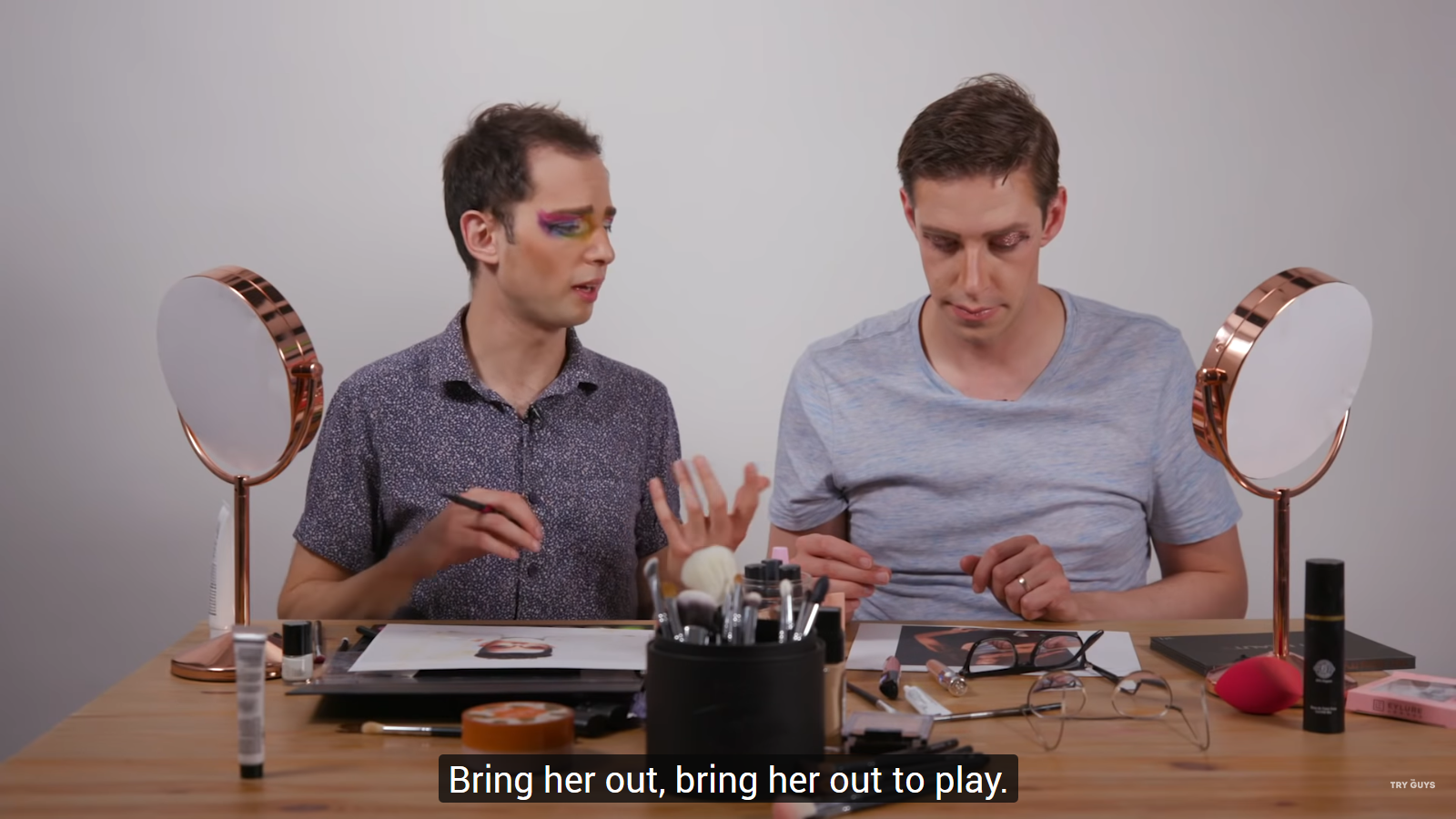 Just like Ned, Keith has a moment of self-doubt. That is when Zac steps up and encourages Keith to channel his inner beauty:
Keith, maybe it's just because you're not channeling your
inner beauty, you know? Where's Keith Habers-beauty? Bring her out, bring her out to play.
Well, we all know what Keith would call his makeup brand if he ever chooses to make one.
The Final Looks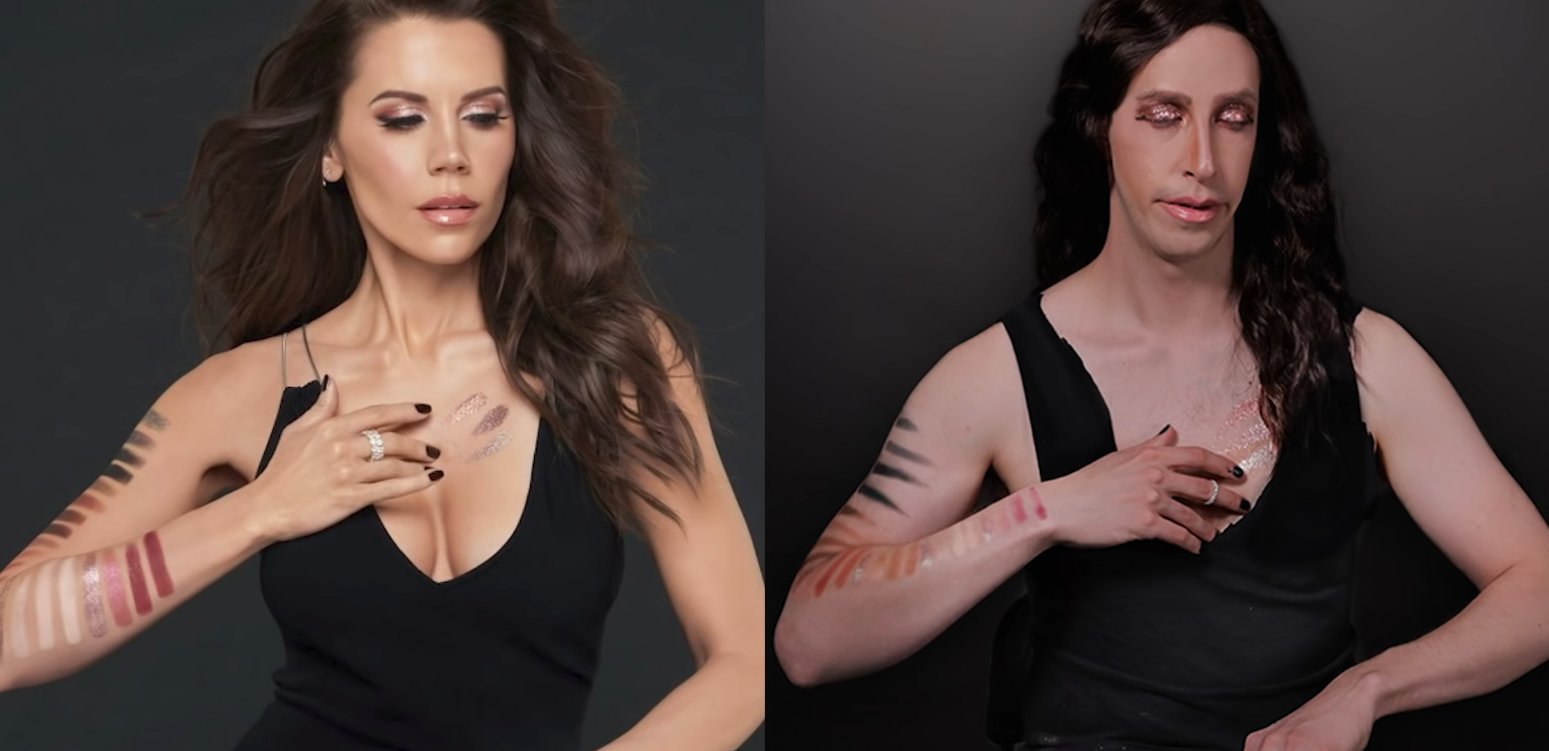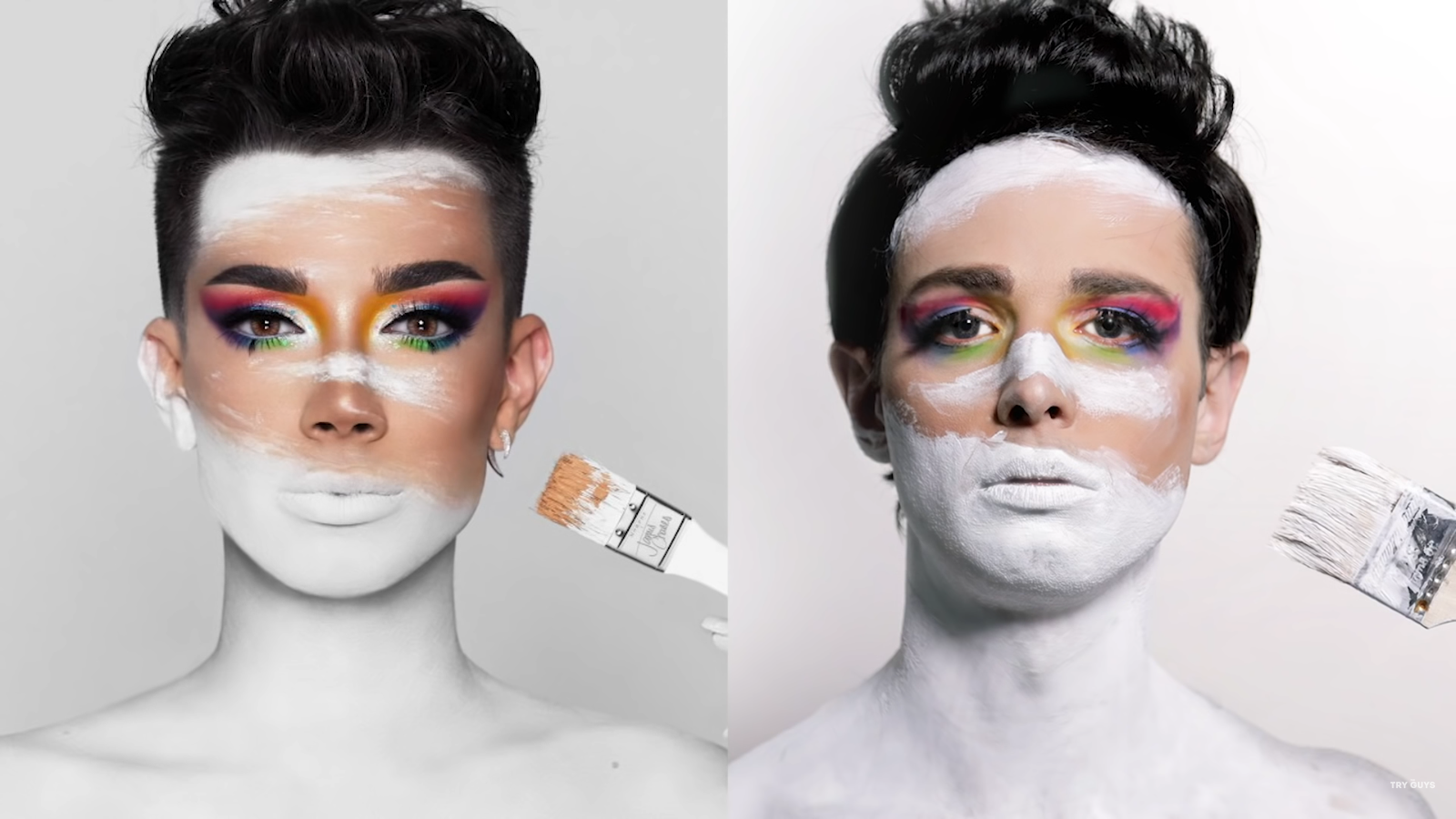 Let's see if these beauty gurus react to this video or not!