Anastasia Karanikolaou also knows as Stassiebaby, has launched footwear for the first time with EGO. (online sassy footwear brand). For all those people who don't know anything about her, she is a young model who is famous on social media. She's Kylie Jenner's BFF and she is very open about discussing her plastic surgeries too. At the age of 22, the young model has introduced her first-ever footwear in collaboration with EGO.
Stassiebaby collabs with EGO
https://www.instagram.com/p/B9pLDpQgjqA/?utm_source=ig_web_copy_link
As you can see in the video, Stassiebaby is totally flaunting her curves. And look at those yummy heels. Aren't they super fine?
https://www.instagram.com/p/B9nd0ptFKEs/?utm_source=ig_web_copy_link
Stassiebaby posted a picture on her Instagram, with the caption :
I am so excited to launch my edit with @egoofficial dropping tomorrow March 12th at 11 am PST. Hope you all love it.
The young model has over 7.3 Million followers on her Instagram account. Her Insta feed is usually brimming with holiday photoshoots, And she looks drop-dead gorgeous all the time.
In fact, Stassiebaby is very close to the Jenners and Kardashians. And they have showered her with love and affection throughout the years.
https://www.instagram.com/p/B9ZtrC9nHcL/?utm_source=ig_web_copy_link
The sizzling duo, "Kylie Jenner and Stassiebaby", is usually seen together on holidays and social media platforms.
Kylie just recently posted this picture on her Instagram in support of her BFF's very new shoe brand collaboration with EGO.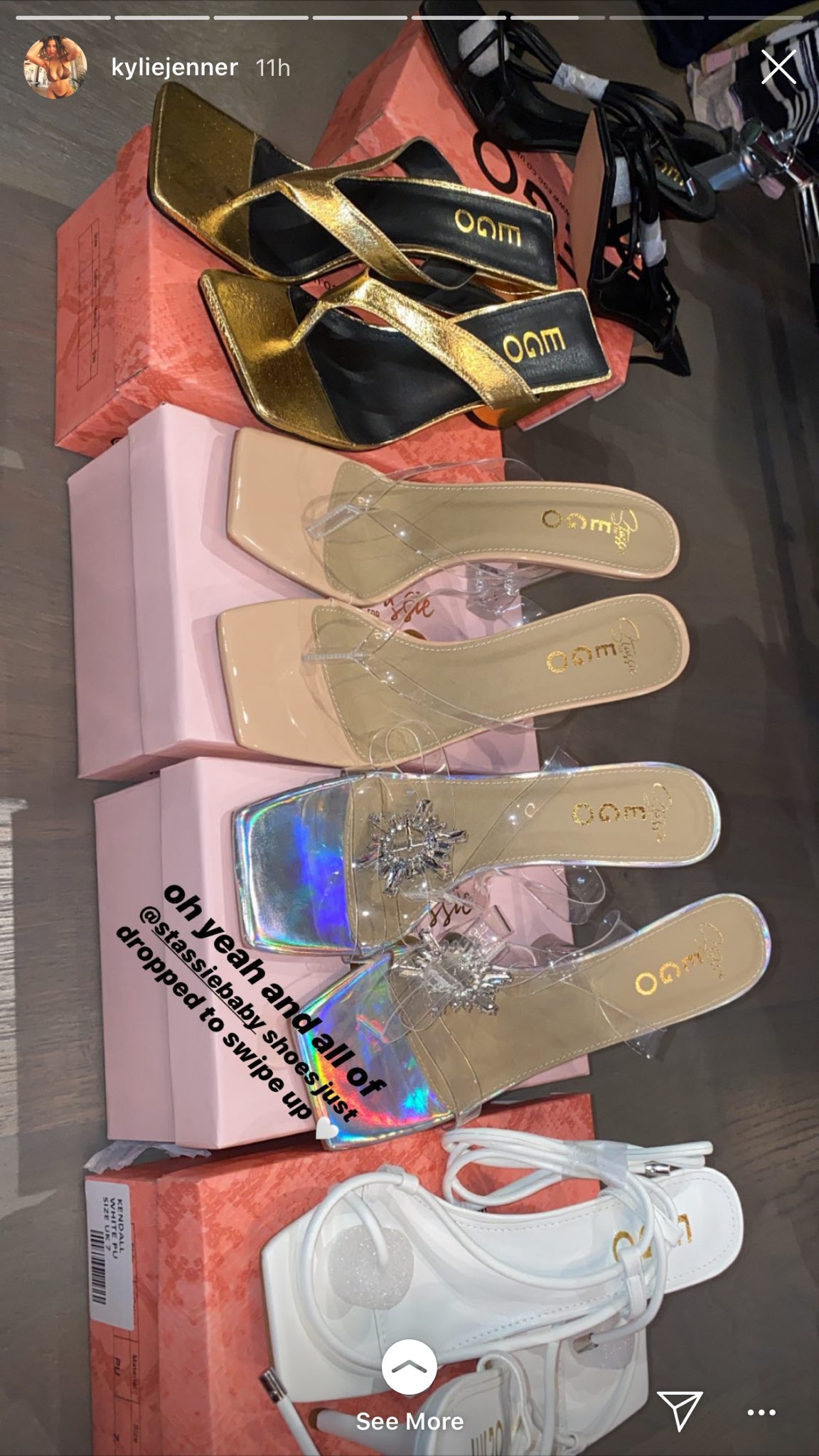 Why You Should Be Buying These Shoes?
If you want to step out in style, make sure to step out only in Stassie for Ego. Her latest collaboration with Ego has very distinctive attributes. They have all the trendy heels you need, to transform you from a Grenade To Bomb, that too in seconds. *wink wink*
Stassie's collaboration with EGO (the British shoe brand) consists of eight very stylish pieces. From stilettos to mules and sliders. You name it and they have it, in tones of nudes, shiny blacks, orbit white, sparkles of gold and blood red.
And the fun part is that they are super reasonable. The price range starts from $23.99. (as the sale is on. Otherwise, the original price is $47.99-58.99).
Stassiebaby celebrated the launch of her Shoe Collaboration with her best friends, including Kylie Jenner, Nikita Dragun, Chantel, Kelsey, Yris and Victoria, with a lavish dinner at petite Taqueria.
Stassie first announced her collaboration with the British Brand EGO on 8th March.
https://www.instagram.com/p/B9qpSm-Fcaf/?utm_source=ig_web_copy_link
Egoofficial just posted a video clip of Stassie's new collection with them, with the caption :
Curves in all the right places @stassiebaby

Vanity $20/$30
We don't want to miss getting our hands on this collection. So girlies, what are you waiting for ? Go and grab them sizzling pair of heels, before the sale is off.