With the hype around The Super Mario Bros. Movie, the Nintendo Film Universe looks like it has a bright future ahead.
These days, it's easy to hop on the "video game adaptations are good" train. It all started with Pokémon: Detective Pikachu and Sonic The Hedgehog, and now The Last Of Us is continuing the trend as a hit HBO series. Maybe all this success has influenced my opinion, but as I see more and more of The Super Mario Bros. Movie coming out in 2023, I'm getting super pumped to watch it.
To be honest, I was skeptical about the whole project at first, but the studio's slow and steady marketing approach has won me over. Universal and Illumination are taking another shot at the mushroom kingdom, and I'm excited to see how it turns out.
The iconic video game duo is back, and this time they are hitting the big screen in a brand new adventure. The Super Mario movie is set to release on April 7th, and fans all over the world are gearing up for what promises to be a fantastic experience. With its colorful and visually pleasing world, the movie has captured the attention of both old-school gamers and newcomers alike.
From the film's marketing efforts to its potential for a 3D conversion, there's a lot to discuss when it comes to this upcoming release. But will it live up to the hype? In this article, we'll take a closer look at what we know about this Super Mario movie and share our thoughts on whether it's going to be worth the wait. Get ready to grab your mushrooms and warp pipes because we're diving headfirst into the world of Mario and Luigi!
The Super Mario Bros. Movie –
Jack Black's Bowser
As you might have seen in the first trailer, The Super Mario Bros. Movie wasted no time introducing us to Jack Black's Bowser as the big baddie. While some folks had mixed feelings about Chris Pratt playing Mario, the rest of the cast has been pretty impressive. And what better way to kick things off than by showcasing Mario's main antagonist?
I think it was smart to prioritize world-building over revealing Pratt's voice as Mario. Sure, we got a tiny taste of that at the end of the teaser, but Bowser stole the show. This just goes to show that Universal/Illumination knows what they're doing when it comes to marketing this flick.
Related: The Last of Us Best Episodes: Ranking The Most Iconic Episodes
Marketing Of The Movie
The marketing team for The Super Mario movie has been working hard to build up hype for the film. They're investing in building up the world of the Mushroom Kingdom and utilizing Nintendo's extensive cast of characters to make this movie one to remember. It's still early days, but they're laying down the groundwork for something truly exciting.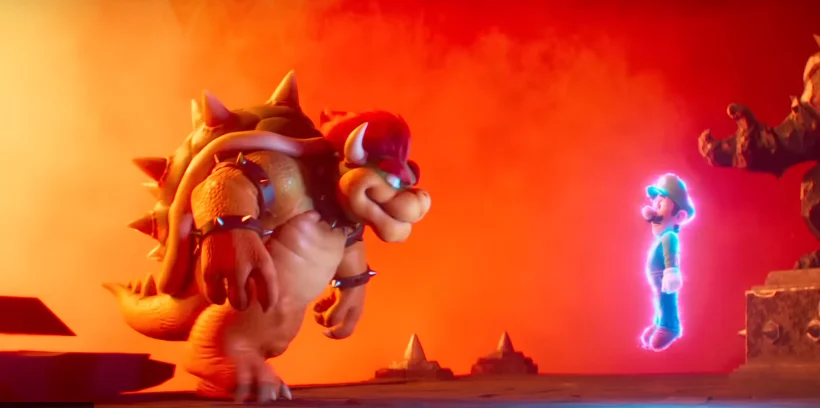 Their latest ad is a prime example of their efforts, as they aired a Super Mario Bros. Movie promo during the Super Bowl that showcased Mario and Luigi's actual plumbing business. The ad even featured the theme song from Super Mario. Super Show, a nod that fans of the classic show will surely appreciate.
But that's not all. If you call the phone number listed in the ad, you'll hear a special message from Luigi himself (played by Charlie Day). In the message, Luigi talks about all the different locations he and his brother can service, including mansions. It's these little touches that have been building the anticipation for The Super Mario Bros. Movie, and we can't wait to see what else they have in store.
The Super Mario Bros. Movie -Easter Eggs
Every piece of marketing for the movie has been chock-full of references to the franchise's rich history. Even the inclusion of "The Mario" dance move is another fun throwback to the past, but the nostalgia factor isn't the only thing they're relying on.
The clips we've seen from the movie are filled with special touches and callbacks that are sure to delight fans. Despite being brief, there are plenty of nods to Super Mario Bros. history to see and hear. Even composer Brian Tyler's musical score incorporates familiar themes that fans will recognize, and the shops in this world are filled with "antiques" that fans will appreciate. It's all in the details, and viewers will have their eyes and ears open to catch it all when this much-awaited movie will hit the theaters.
Related: From Game to Screen: Is The Last Of Us The Best TV Show Adaptation Yet?
The Super Mario Bros. Movie -3D Trailers
I recently learned about a term called "3D-NA" which refers to movies that appear to be specifically designed for 3D viewing. And the Super Mario movie seems to fit this description, with scenes that would look amazing in 3D. What's interesting is that the trailers have already been shown in 3D before other films like Ant-Man and the Wasp: Quantumania, and they were mind-blowing.
Since the movie is CG-animated, it's easier to convert to 3D because all the source files are available. While there's no guarantee of quality, it looks like the colorful world of Mario and his friends will be visually stunning. We'll even be covering the 3D version in a future "To 3D or Not To 3D" review, so stay tuned for that in April.
Nintendo Games And Future Spinoffs
The Super Mario movie is part of a potential cinematic universe that includes other games like Super Smash Bros., Mario Kart, and Luigi's Mansion. If this movie does well, we might see more video game adaptations in the future. Imagine a Donkey Kong spinoff with Seth Rogen or a Mario Kart movie! Of course, a lot needs to happen before those become a reality, but if this Super Mario movie is any indication, we could be in for a treat.
People have been waiting for a good Mario movie for a long time, and it looks like this might finally be it. The world of the movie is one we all know and love from the games, and it seems like the creators have put a lot of love and care into it. I'm feeling pretty optimistic that this movie will be great, and I can't wait to see it when it comes out on April 7th. If the videogame is among your earliest memories of videogames, I'm guessing you are as psyched as I am to watch.