Get ready to witness the epic journey of one of the greatest basketball players of all time in the upcoming Peacock's original movie Shooting Star! That's right, LeBron James' inspiring story will hit the screens this summer!
From humble beginnings in Akron (Ohio), LeBron rose to become a four-time NBA Champion, two-time Olympic Gold Medalist, and the NBA's all-time leading scorer. And now, his incredible journey to stardom is coming to the big screen, with a talented cast and crew bringing his story to life in a fun and exciting way.
With a talented director like Chris Robinson and a team of brilliant writers including Frank E. Flowers, Tony Rettenmaier, and Juel Taylor, this biographical movie is based on LeBron's own book, co-written with journalist Buzz Bissinger. And guess what? LeBron himself is also taking on a producing role alongside Rachel Winter, Spencer Beighley, Maverick Carter, and Terence Winter. Talk about a superstar team!
So, are you as excited about Shooting Star as we are? We can't wait to see LeBron's rise to basketball stardom on the big screen! Stay tuned for more updates on this highly anticipated movie!
Release Date – Shooting Star
Not only will we get to witness the journey of the legendary basketball player, but we'll also be able to see his rise to fame and the challenges he faced along the way. It's an origin story that's sure to inspire and motivate us all.
And the fact that it'll be available for streaming on Peacock on the same day it's released is just the cherry on top! No need to worry about buying tickets in advance or standing in line. You can just kick back and relax in the comfort of your own home while watching the movie.
But that's not all. With streaming services like Peacock, you also get the added benefit of being able to pause, rewind, and rewatch your favorite scenes. So, if you're the type of person who loves to dissect and analyze every little detail, you'll have the freedom to do so.
We're in for an epic and inspiring journey with the release of this movie, and the fact that it'll be available for streaming on Peacock on premiere day just makes it all the more convenient and exciting. Get ready for a rollercoaster of emotions and an unforgettable viewing experience.
Related: Top 9 Basketball Movies To See
What Is Shooting Star About?
The upcoming biographical movie about LeBron James promises to be a heartwarming and inspiring tale that takes us on a journey through the basketball superstar's high school years. We'll get to witness how LeBron and his close friends, Lil Dru, Willie McGee, and Sian Cotton, overcame challenges and setbacks to become the top high school basketball team in the country.
Set against the backdrop of the 1990s, Shooting Star will transport us back in time and give us a glimpse into the lives of young athletes who were determined to make it to the top. Along the way, we'll meet Coach Dru Joyce, who mentored and guided the Fab Four toward their goal of becoming national champions.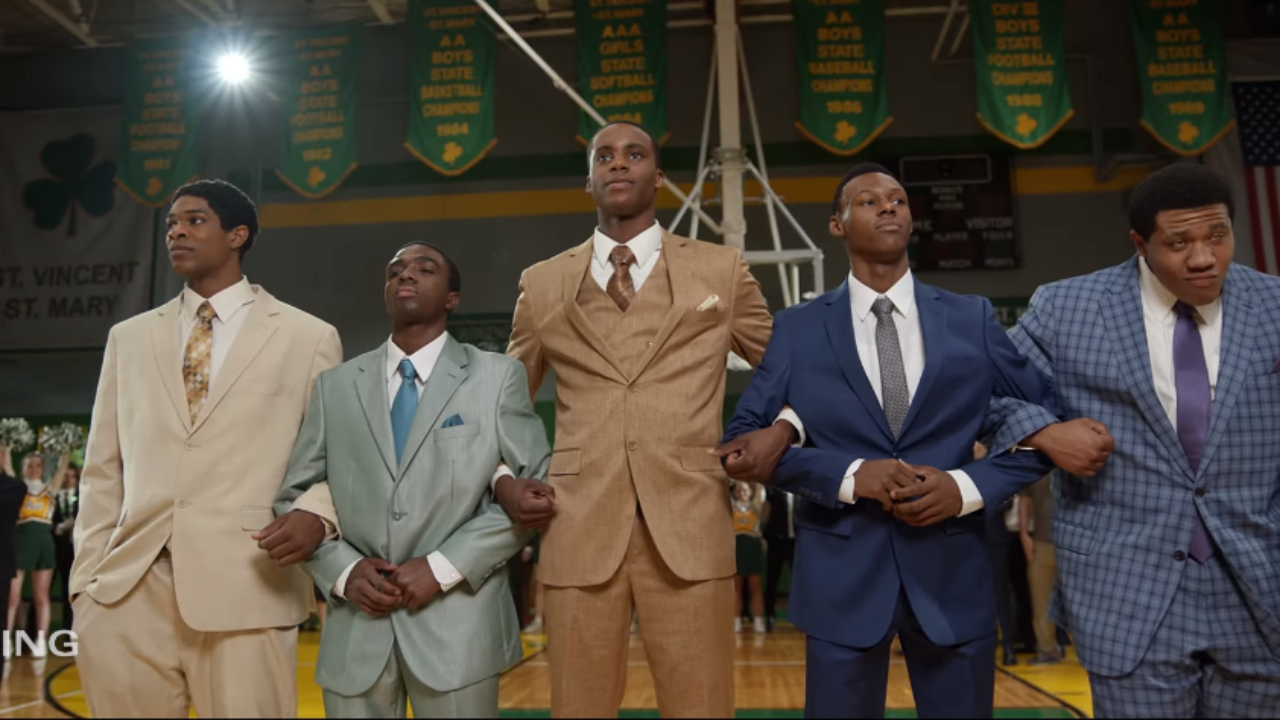 But it's not just about basketball. The movie also touches on the real-life struggles and challenges that the boys faced, from navigating racism and prejudice to dealing with personal setbacks and losses. It's a story that's not only inspiring but also relatable, as we all face our own obstacles in life.
What's more, the talented cast and crew behind the movie have us all excited. With Chris Robinson directing and LeBron himself producing, we can expect a cinematic experience that will leave us inspired and uplifted. So, mark your calendars for June 2, 2023, when the movie releases on Peacock, and get ready to witness the rise of a basketball legend.
Shooting Star – Cast & Characters
In the highly anticipated film about LeBron James' early years, Marquis "Mookie" Cook will be making his debut in a lead role. It's an exciting opportunity for Cook, a highly skilled Small Forward in real life who is now trying his hand at acting.
Joining Cook in the cast are some other talented young actors, including Caleb McLaughlin from Stranger Things, Avery S. Wills from Swagger, and Sian Cotton from Cobra Kai. They'll be playing LeBron's three best friends, Lil Dru, Willie McGee, and Sian Cotton, respectively.
The movie boasts an impressive lineup of actors, including Wood Harris as Coach Dru Joyce, who mentored LeBron and his friends toward their goal of becoming the best basketball team in the country. Meanwhile, Dermot Mulroney will play the team's new coach, and Sterling "Scoot" Henderson will play Romeo Travis, a former rival turned new teammate.
It's an exciting cast that promises to bring the story of LeBron's early years to life in a compelling and entertaining way. And with Marquis "Mookie" Cook leading the charge, we can't wait to see how the young basketball star takes on his first acting role.
Where To Stream Shooting Star?
You can stream Shooting Star on Peacock TV.
Peacock TV is a streaming service owned by NBCUniversal, and it's the go-to destination for all your favorite NBC content. You can find everything from classic sitcoms and dramas to live sports, blockbuster movies from Universal Studios, and new original shows. While Peacock used to have a free subscription plan, it currently offers two paid subscription tiers: the ad-supported Premium plan and the ad-free Premium Plus plan.
Here's the catch: the cost of Peacock TV depends on which plan you choose. For the Premium plan with ads, you'll need to pay $4.99 per month or $50 per year. With this plan, you'll get access to the entire Peacock TV library, which includes around 20,000 hours of TV and movies, but you'll have to endure commercial breaks.
During TV shows, ads will appear as usual, but films will have a few ads at the beginning so that you can watch the rest of the movie uninterrupted. If you want to skip the ads altogether, you can upgrade to the Premium plan without ads for $9.99 per month or $100 per year.
With a story that's both inspiring and entertaining, Shooting Star is sure to be a slam dunk with basketball fans and moviegoers alike. So mark your calendars for June 2, 2023, and get ready to witness the rise of one of the greatest athletes of all time in a movie that's sure to be a hit.
Related: Cartoons Predict Kobe Bryant Death | People Blame LeBron James