After a teary, emotional message from Jaclyn Hill about the first launch of Jaclyn Cosmetics, the makeup mogul proceeded to heartily thank all her fans and followers for their support. She has now revealed her first Holiday Collection.
Hill is evidently, super excited about Jaclyn Cosmetics Holiday Collection 2019. In fact, she had been working on this collection even before the not-so-good lipsticks she had launched earlier. This new collection marks Jaclyn Hill's official come-back into the makeup scene. We've dug in to find all the deets you need about the new products by Jaclyn Hill.
Jaclyn Cosmetics Holiday Collection Reveal
The Holiday PR package was revealed first; a huge, shiny, silver hexagon-shaped box that says 'JACLYN' in capital letters.
Inside the box, laying on top of a glittery back, we have the Jaclyn Hill Cosmetics Highlight Collection.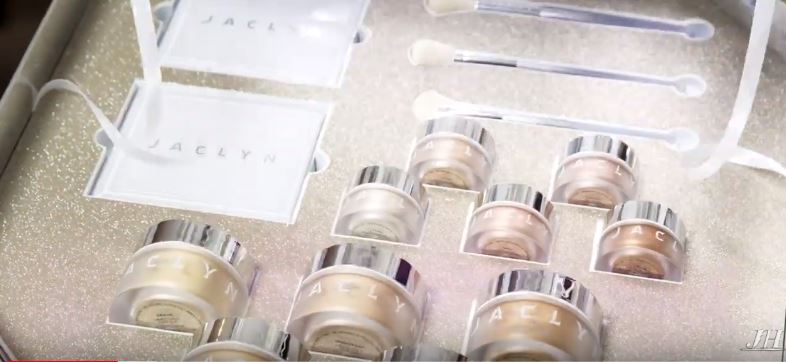 Jaclyn, squealing with delight, shared how obsessed she is with highlighting. In fact, she had previously collaborated with BECCA for the best-selling 'Champagne Pop' highlighter as well.
Jaclyn Hill Highlighters in Three different formulas
What makes the Jaclyn Cosmetics highlighters so special, is that it comes in three different formulas for various skin tones, which Jaclyn Hill has been working on "for the longest time."
"I need to glow in all different ways in all different regions!"
The collection basically includes the three different formulas plus three different brushes for each of them.
Jaclyn Cosmetics | Flash & Flair…
First up, we have the 'Flash' palette for light-to-medium skin and the 'Flair' palette for 'medium-to-dark' skin.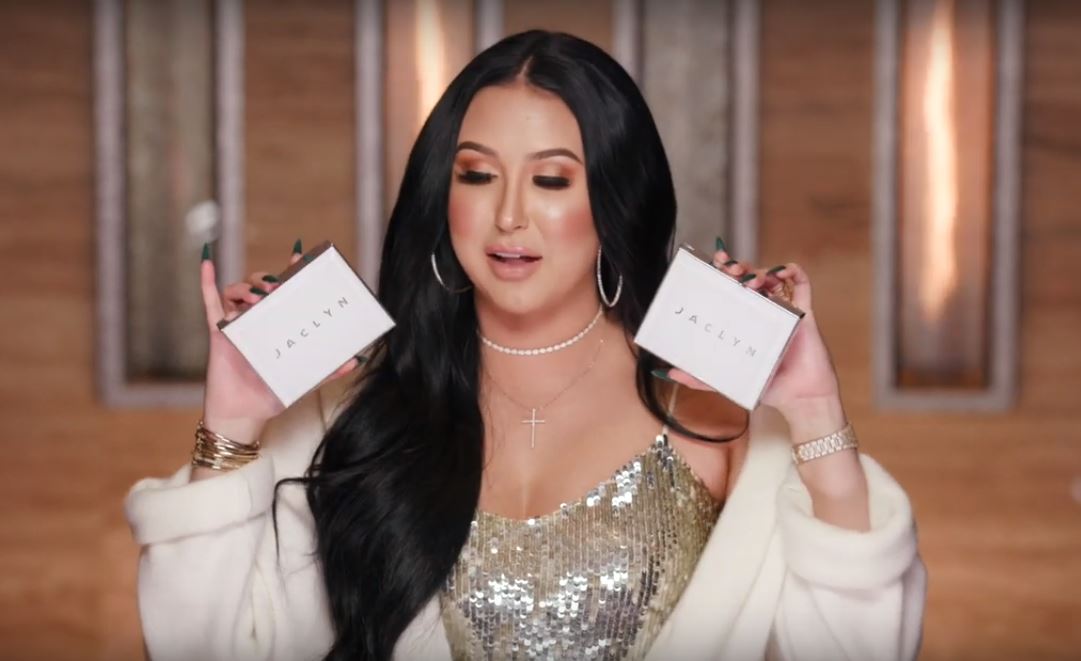 Each palette has four unique, custom highlights that were handcrafted and baked in Italy.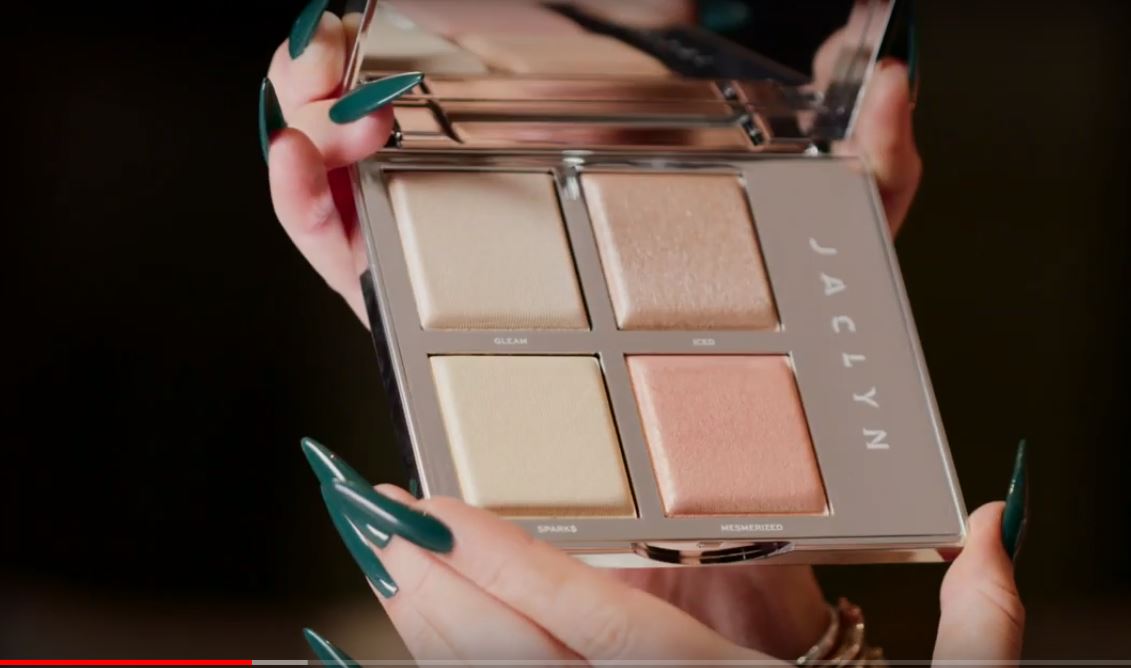 "Me and my team actually went to Milan, Italy, to the lab and see this entire process of how they do it and its really cool when you receive this palette in your mail you'll see a card too that explains the process to you. And how they're all unique because they are hand-made."
Each palette will be different from the others while the shade will remain the same. But the way it looks; the marbling, will be different.
According to Jaclyn Hill, the formula is so buttery smooth that "it melts into the skin."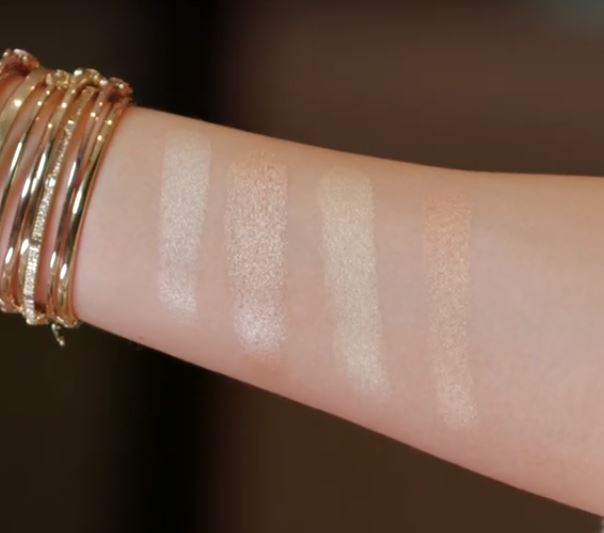 Then comes the 'Flair Highlight palette' which is made for deeper skin-tones. Here's a sneak-peek: how gorgeous!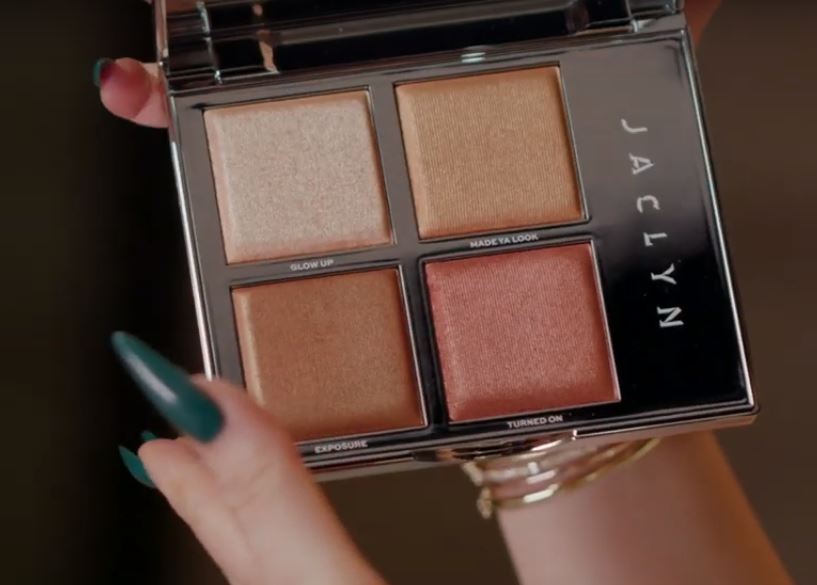 Jaclyn shared how these highlighter shades were applied on even the darkest skin tone, and they brought the perfect luminous glow and color to it.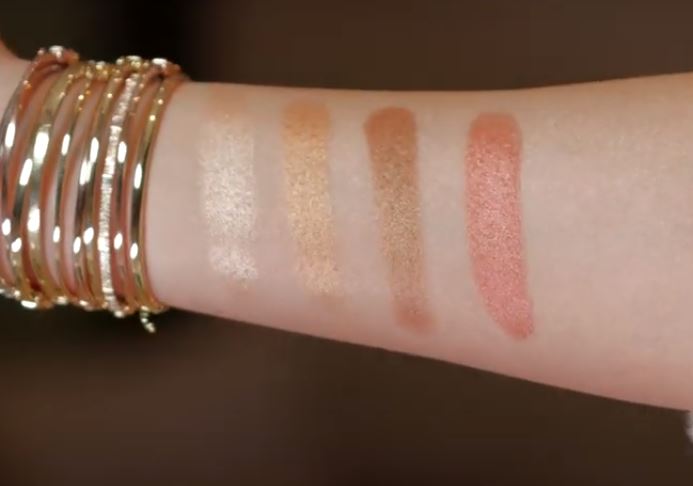 The palette is priced at $49.
Jaclyn Cosmetics Mood Light Highlighter
Next up in The Holiday Collection by Jaclyn Cosmetics is the 'Mood Light Highlighter'.
This highlighter is for that special 'glow from within.' Yes, it will bring out the look of a radiant, inner glow, without seeming like you're trying too hard, according to Jaclyn Hill.
What makes it so special is that one of the main ingredients is 'mica' which is known for it's blurring and smoothing effect.
"It's kind of like, 'Facetune' in a jar."
'Facetune' is a very popular app used to smoothen and blur skin in photos for a perfected look. WOW. We are excited about this magic product.
This can also be used without makeup. Jaclyn uses it as a face-setting powder for an all-over glow as it is very light and feathery. But it can also be used while concentrating on one area for more intensity.
The highlighter comes in 5 different shades and is priced at $32 each.
Beaming Light Highlighter
This is for the most intense, blinding highlighter.
I had so much fun creating this. I kept being like, more, more, gimme more. They are SO intense you guys!
It's a powder-to-cream formula with a very soft texture. Again, you can have these in five different shades ranging from pale silver, pinks, champagne, and bronze.
This highlighter is for $24.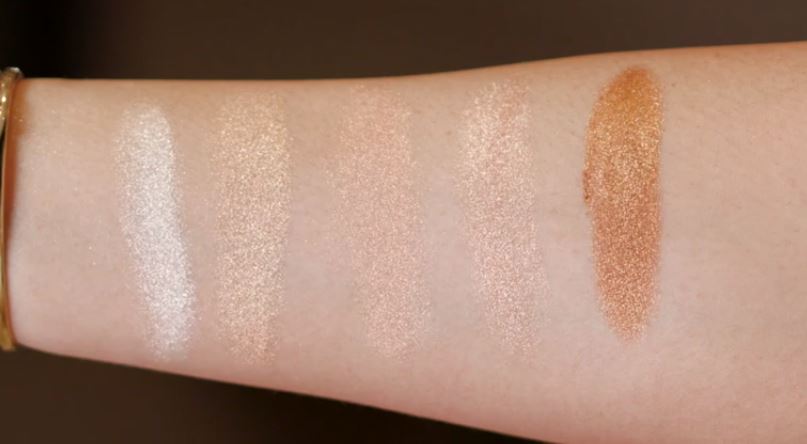 Highlighter Brushes
You can even get just the right highlight brush with each of these formulas. These brushes are specially designed for highlight as Jaclyn believes they make a huge difference.
"If you don't have the right brush for your highlight, you're gonna think your highlight sucks."
The makeup brushes are feathery white, with glittery silver handles.
Namely, the J01 (Mood Light Brush) costs $24, J02 (Accent Light Brush) for $20 and J03 (Beaming Light Brush) is for $2.
Final details
That's it! The amazing Jaclyn Hill Holiday Collection reveal is covered for you guys. Now you know what to expect.
Jaclyn will also be creating highlighter and brush bundles that can be purchased. The Jaclyn Cosmetics collection will go live for sale on November 26, 2019.