PETA, an organization made to protects animals. PETA stands for 'People for the Ethical Treatment of Animals'. They are often there to stand up for the voiceless animals who are facing torture and abuse. However, they recently made a Twitter post that many people bashed. The post included something disturbing and something that many think should not be on Twitter.
What was the controversial PETA Twitter post about?
As everyone knows, there is a trend on Twitter right now. 'Tasty' uploaded a video showcasing pictures of everyday objects that end up being cake.
These Are All Cakes pic.twitter.com/ejArkJHaid

— Tasty (@tasty) July 8, 2020
Naturally, a lot of people had fun with this and made a lot of jokes about how they cut everything they see and it turns out to be cake. And unfortunately, this is what PETA did as well.
But in their Twitter post, there was a dissection of a cat. But the insides were not cake and it was definitely an actual real cat.
Underneath this picture, PETA wrote:
Not cake

#CutOutDissection.
This Twitter post was actually a Twitter thread. In it, PETA was trying to raise awareness on the issue of animal dissection.
PETA explained in the thread:
Animals on dissection trays were likely abducted from their natural habitat or bred in captivity and killed—all before being shipped to classrooms. Virtual dissections & other non-animal tech have been proven superior. The only thing dissection teaches is disrespect to animals.
They also shared an article and captioned it:
Dissection is cruel and inferior. In nearly every published comparative study, students taught using non-animal methods such as interactive computer simulations tested as well as OR BETTER THAN their peers who were taught using animals for dissection.

People on the internet bashed PETA for using 'shock' content to raise awareness about such an issue
One user was very angry with PETA's Twitter post showcasing the disturbing dissection picture. They stated:
F*CK @peta FOR PUTTING THAT DISGUSTING SH*T ON THE TL WITHOUT WARNING. AND USING THE TORTURE OF A CAT AS A F*CKING CAKE JOKE?? YOU PEOPLE ARE MONSTERS. F*CK @peta
Another explained how PETA was using the wrong ways to get the attention of people:
TW // animal abuse PETA tweeted a graphic image of a cat being dissected (with a joke!) without a content warning only for shock factor and to grab attention, despite it being a triggering photo. PETA is a disgusting "animal rights organisation" and it has to stop.
Moreover, people condemn this marketing ploy:
#PETA

's approach is to FOIST disturbing, gorish and sociopathic photographs on your timeline via Ads even thonu dont follow them. That approach to messaging sucks!!! Bunch of sickos. EVERY company, brand & celebrity gets shaked down by them at some point.
People wanted to stop supporting PETA
Another critic of PETA used this opportunity to urge everyone to stop supporting the organization as a whole: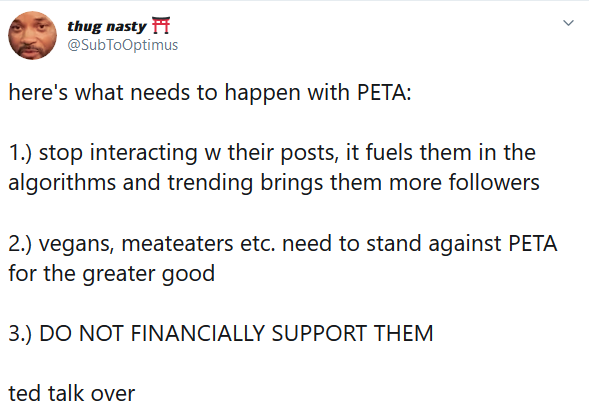 The same user also elaborated on how people should not post anything about them. If they have to, they should talk about how PETA has hurt innocent animals:
if you're finna talk about them, don't link anything they say. don't retweet it. don't encourage them. if you're going to trend them trend the stats that show how many innocent animals are killed at the hands of PETA. fight them with INFORMATION, not shock-ridden tweets.
There are proven accounts of PETA
putting
down hundreds of animals. The New York Times reports:
Over the last decade, PETA has euthanized 1,045 to 1,942 cats a year at the shelter here.
What others had to say about it
One user shares how this can be traumatizing for some:
PETA makes me so angry. Tweeting any sort of gore is a way to traumatize people. It doesn't create vegans out of nothing; it is an upsetting, triggering method of flexing moral superiority, like showing p*rn to children to make them go "ew, gross."
While some got serious, others shared wholesome pictures of animals to get the attention of the disturbing PETA post
 People were disgusted at what PETA posted and wanted to fill the Twitter Landscape with wholesome pictures instead:
https://twitter.com/callaax/status/1282956395785011200
Some are sharing that they can get the Twitter post to be taken down:
https://twitter.com/jppfeil/status/1282959098489626624
What do you think of PETA's post? Do you think they went too far?
Related: Fans come to James Charles' rescue after PETA calls him out