Nessa Barrett, the rising star and a brilliant singer, is getting ready for Halloween. Since people would probably be staying home this time, Nessa has come up with a plan to entertain her fans and interact with them through a Livestream Performance. However, keeping in view her number of fans, there is a limited number of fans who'd get to interact with her privately.
Nessa Barrett Private Interactive Meet & Greet and Livestream Performance
Nessa shared the teaser of her upcoming live performance on her social profiles. The post highlights the availability of tickets online and the details of the exclusive packages:
it's my favorite time of the year & i want to celebrate halloween with you guys! i'm hosting an exclusive livestream performance + q&a + meet and greet love u all!! tickets on sale now, link in my bio!

-nessabarrett instagram
The virtual meet & greet packages includes private video chat with Nessa Barrett, access to livestream performance, access to questions & answers' session with Nessa, and a screenshot selfie. This packages was available for $50, and it's already sold out.
On the other hand, the second packages, titled livestream experience package, is still available for purchase. It includes access to livestream performance by Nessa Barrett, as well as access to questions & answers' session with her. The cost of the packages is $10. It's a reasonable package to ask her questions about her music as well as get to hear her perform live.
Nessa Barrett also urged her fans to show off their Halloween spirits and dress up for Halloween while attending her Live Performance. If you do not have any plans for this Halloween, and you are a Nessa fan, then this performance will put you in a celebratory mood.
Upcoming projects and podcast
Apart from setting up the live performance for her fans, Nessa is also working on her music these days. She recently teased a behind-the-scenes clip from her studio where Leo Mellace was recording guitars for her upcoming track.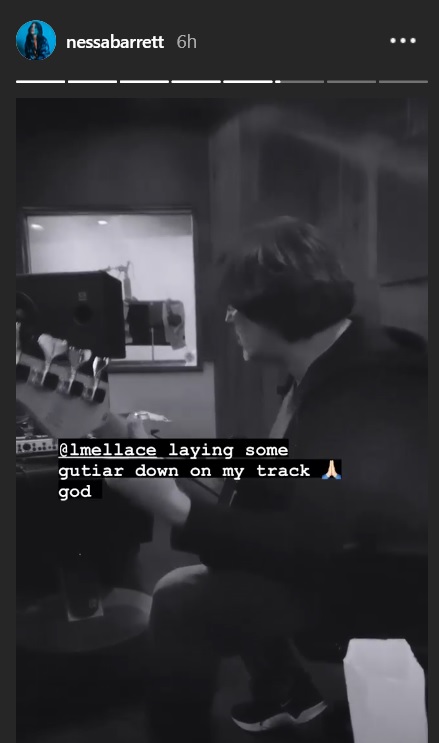 She is also appearing on Josh Richards' new podcast. Nessa Barret's ex-boyfriend Josh Richards started a new "BFFs podcast" with Dave Portnoy. Their first guest was Bryce Hall, Josh's BFF. And the new episode will feature Nessa Barrett, Josh's ex-girlfriend, and another BFF.
Considering how direct Dave can be when it comes to questioning or sharing his views, this is going to be an interesting episode with plenty of second-hand embarrassment moments. Nessa's fans weren't happy when Dave Portnoy said that Nessa used Josh for clout. Let's see how she'll handle him.