Everyone who knows David Dobrik, also knows Natalie Noel, his assistant. Natalie is not your typical assistant though. She is pretty, she has got the brains to run Dobrik's life without getting him into much trouble. She also has the whole Vlog Squad after her. Why? Because she is single and Dobrik claims he had a crush on her back in the days when they were still in high school. However, they are the closest friends now; buy-one-get-one-free kinds. People ship David with Natalie. In fact, they even have a hashtag running: Datalie. Just add the first letter of the guy you ship Natalie with, and start the hashtag, that's what Vlog Squad fans do. To distract people from coming after him, David started shipping Toddy Smith with Natalie. He shipped them so much that Todd ended up writing a whole song on her. Do you ship Tatalie?
Toddy Smith's Presents Natalina
The song features not just Natalie, you can see Scotty Sire as well. And then there's Jonah dressed as a….bug? bird? butterfly? What is that? Oh, is that a cupid?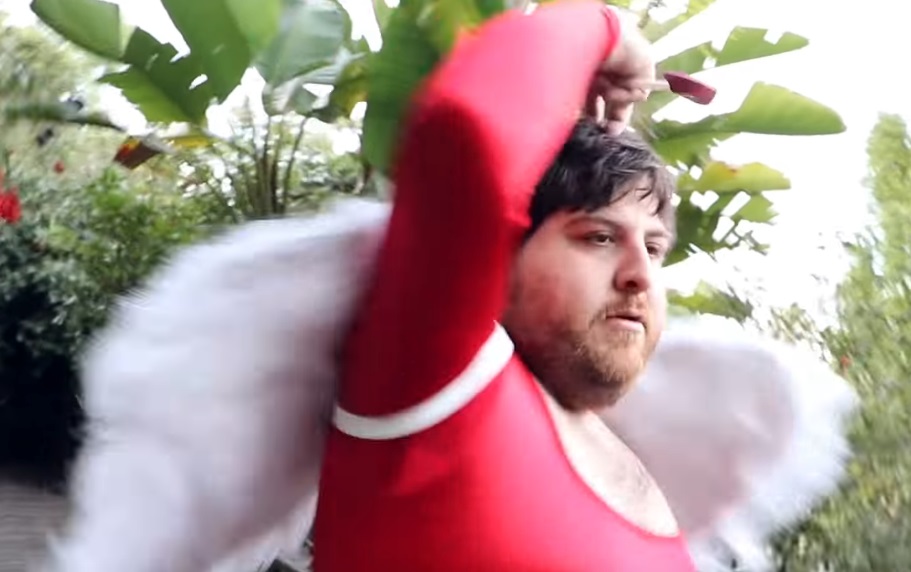 The song is pretty catchy to-be-honest. Natalina video shows candid shots of Natalie dancing, laughing and just being herself. Throughout the video, you can see Jonah being Jonah in the cupid unitard, a topless Todd lifting weights and showing off his muscles.
All these other girls yo, they were just mess ups
I wish it was you in the back of the Tesla
I wish it was you cause then it would've been true love
Don't want nobody else, I only want you love
While some people assume that they are really dating, some think Todd only wanted to promote his song. That's why the whole squad has been teasing fans by sharing receipts that prove Todd is in love with Natalie.
Jason Nash also drops in the video, urging her to give Toddy Smith a chance. Meanwhile, Jonah has this to say:
Natalie, I know I'm the cupid in this video. But, you can also give me a chance if you want.
Todd and Jason aren't happy [pretend] with how things take a turn and they ask what has he done for Natalie. Jonah says it's just, she's perfect. Then, Jason couldn't resist standing in the line for a chance as well:
If you're into older people….Just Kidding.
David Dobrik is not in the video. He was the one who posted 'Todd's flirty messages to Natalie' on a billboard.
Natalie Responds to Natalina
Natalie responded to the song like we expected her to do. She LAUGHED!!!
Im still can't stop laughing about the fact that todd wrote a whole song about me..

— Natalie Mariduena (@natalinanoel) February 15, 2020
She even confessed that she low-key wanted someone to write a song about her. She was just not expecting Todd to do it.
I've lowkey always wanted to have a song written about me, I just didn't think it'd be todd hahaha

— Natalie Mariduena (@natalinanoel) February 15, 2020
It's not us, even Natalie finds Natalina catchy.
And it's surprisingly not terrible and pretty catchy. I kinda like it.. https://t.co/hF7lFpSVFO

— Natalie Mariduena (@natalinanoel) February 15, 2020
The song has already crossed 100k streams on Spotify. It was released on February 14, 2020. While the official video came out a few hours ago. Watch it below: