Well, this news might be upsetting for a lot of Impaulsive fans who loved Mac on Logan Paul's Impaulsive. Some of you might not know this, but Logan's Impaulsive podcast is co-hosted by two of his very close friends Mac and Mike Majlak. Almost two weeks ago, Mike misbehaved with Mac during a podcast. Some fans got angry with the Impaulsive's editing team for not cutting that part out of the podcast video. And some of them even called out Mike for his unapologetic behavior. Later, Mike posted an apology tweet about his unprofessional behavior. But he didn't apologize to Mac. Oh, I forgot to mention one more thing from this podcast. Mike was super frustrated by watching something on the TV screen. So he threw a plate across the wall which accidentally hit Logan's nose. Can this podcast drama get any messier? Anyways, Logan Paul just announced on his social media that George Janko will be replacing Mac on Impaulsive.
What happened between Mike Majlak and Mac?
So, a few weeks ago Mike misbehaved with Mac in one of Impaulsive's podcasts. Though we know it's not the first time he has misbehaved with Mac on the show. I don't know if you guys remember but Mike wasn't happy with Tekashi 6ix9ine's appearance on the podcast recently. Mike kept asking Tekashi uncomfortable questions.
Anyways, jumping back to the podcast in which Mike not only said some really upsetting things to Mac. But he also kind of broke Logan's nose. Def Noodles shared both of the video clips on twitter from the Impaulsive's 213 podcasts which have now been removed.
We know these boys really like to do some crazy stuff. But throwing a plate out of frustration and accidentally breaking someone's nose is a little too much. But Mike being Mike couldn't control himself. And there is a mistake in the caption. Mike was the one who threw the plate out of frustration.
Rest of the podcast is an awkward conversation between Logan Paul, Mile Majlak and Mac. Mac brings up a few issues with the podcast and they debate it. pic.twitter.com/o8vxuvH2MF

— Def Noodles (@defnoodles) September 2, 2020
Now let's hear what Mike is actually saying to Mac:
"You are not cut off because you aren't able to speak or you aren't allowed. You generally miss the cultural point of talking about something which people want to hear about. I am sorry."
Mike further added that Mac is allowed to jump in on the conversations but whatever he said in this particular podcast wasn't informative. And Logan agreed with Mike as well. Which is a little unfair, because there are times when Logan and Mike get sidetracked from the actual topic.
Mike Majlak apologizes for what he said to Mac
Def Noodles shared Mike's apology on twitter after fans started calling Mike out for his unprofessional behavior. But his apology doesn't seem very genuine. As he is just repeating his words from the same podcast which has been taken down from YouTube. Mike admitted that this conversation should have happened behind the screen.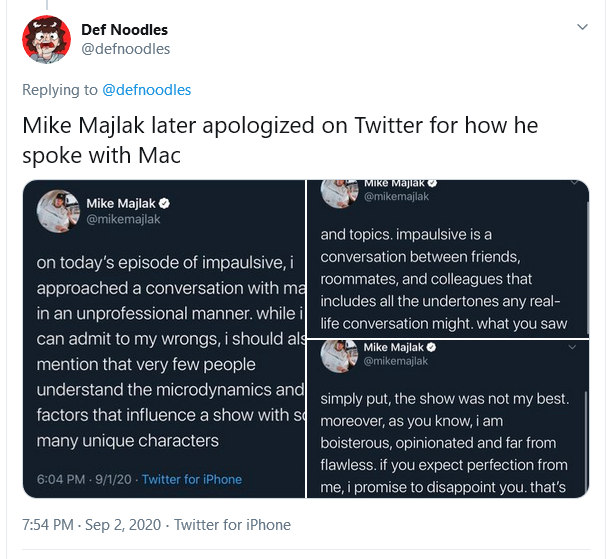 Mike further added that this podcast wasn't one of the best episodes.
"If you expect perfection from me, I promise to disappoint you. That's said, I recognize my faults and will work to not only right them but to be better in the future."
Now read this apology again. He has not once talked about hurting his co-host, Mac. And he has not even apologized to him.
Who is replacing Mac on Impaulsive?
So a few months ago Mac announced in one of the podcasts that he will be moving out from the Maverick house.
Logan seems actually really sad by hearing this news. But Mike says that he knew this was going to happen by interrupting Mac. Anyways, let's fast forward everything to the recent podcast in which Logan announced the new host for Impaulsive who will be taking Mac's place.
I kinda like this new host but I like Mac too. And I am really going to miss him. Anyways, Logan replaced Mac with singer/Youtuber George Janko.
https://twitter.com/defnoodles/status/1308848451862638601?s=20
Logan seems really excited about his friend Mac for moving to Cleveland and continuing his art career. And everything was going fine until Mike said:
"I know he (Mac) is moving on to cool things? But what's bigger and better than Impaulsive?"
Umm, what's bigger and better for a man who is trying to pursue what he loves the most? Anyways, George Janko is the new controversial host on Impaulsive.
George also co-hosted the podcast with Tekashi 6ix9ine along with Logan and Mike. Oh, and one more thing, if you guys are into horror movies, you need to watch 'No Escape'. Starring George Janko, Keegan Allen, Holland Roden, and many others.
That's it for today guys. Let us know what you think about the new co-host on Impaulsive.