Marvel fans are impatiently waiting for the next big MCU movie since Endgame. It seems as if Spider-Man 2 and Black Widow won't be enough to hold fans off. Undoubtedly, everyone is looking forward to The Eternals to actually kick off Phase IV of MCU. The movie will introduce a whole new lot of heroes (and villains). Kumail Nanjiani finally shared some deets about the movie: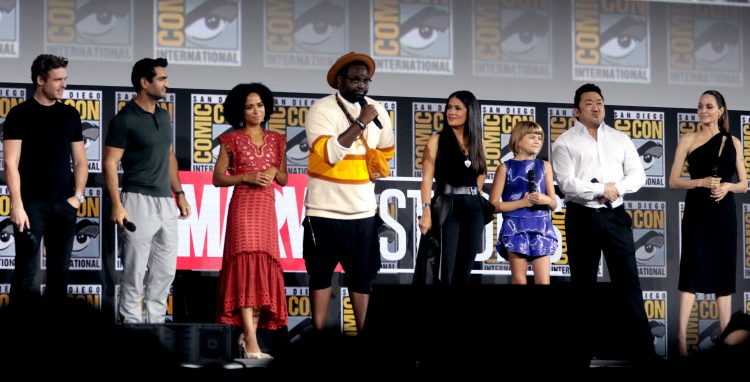 Kumail Nanjiani leaks details about the movie
Nanjiani recently appeared on the "New Hollywood" podcast with his wife Emily V. Gordon. The couple got famous when Kumail starred in his own Oscar-nominated biographic film The Big Sick. In the interview, he was asked to share some details about the upcoming movie. The Eternals is based on a group of cosmic aliens that have been living in secret on Earth for thousands of years. However, Nanjiani revealed that:
A lot of it takes place in the present day. My character, for instance, is like 'Okay, we're supposed to keep a low profile, no one should know. So I become a Bollywood movie star, that's my secret identity. We're supposed to keep quiet and I've become the biggest Bollywood movie star.
The star also revealed that the movie will feature its own Bollywood-style dance number. For those of you who don't know, Bollywood dances are a cinematographic marvel. They can include up to a hundred dancers, each outfitted in beautiful cultural dresses. Kumail Nanjiani said he took months of dance classes to prepare for the scene. He describes his experience as:
I remember the first time I went to rehearsal, I walked in and there were all these South Asian people. It was so moving immediately. I was like, 'Oh my God, we went from none of us to so many in one scene.'
Kumail has also boasted working out for months for the movie:
https://www.instagram.com/p/B6I7b2bnuJz/
What we know about 'The Eternals'?
Although no trailer has been released as of yet, there are some details that are known. First of all, the movie flexes a very talented diverse cast: Angelina Jolie, Richard Madden, Kit Harrington, Salma Hayek, Kumail Nanjiani, and Gemma Chan. It is the first time a studio is risking an introductory movie of a billion-dollar franchise with such a cast. Moreover, 'The Eternals' also features Marvel's first openly gay character: Brian Tyree Henry, who plays Phastos. Fans cannot wait for the trailer release so that they can glimpse into what Marvel Studios has in store for them.