So we all know that the beauty mogul Jeffree Star has turned his million-dollar mansion into Pomeranian Palace. But why did he do that? Maybe because the Pomeranian dogs outnumber the humans living in the mansion. Last year Jeffree lost two of his dogs, Diamond and Daddy with a gap of three months between the two. Both Jeffree and his then-boyfriend Nathan Schwandt got devasted by this sudden loss of their two beloved fur babies.
Though Nathan never really got a chance to fill the gap in his heart which was created by Diamond and Daddy's deaths. Because he and the beauty mogul decided to part ways at the beginning of this year.
But Jeffree on the other hand decided to adopt two more dogs. And currently, he has six Pomeranians at the mansion. A few months ago Jeffree mentioned that his Pomeranian 'Diva' is having some stomach issues. And now he just explained the issue in his recent YouTube video that Diva is diagnosed with Cancer.
Jeffree Star gives an update about Pomeranian Diva's health
The true 'Diva' just turned 11 this year. And he is the only dog who was with Jeffree before he started seeing Nathan Schwandt. Some of you might remember that Jeffree posted a tweet in April and talked about Diva's tummy issues.
https://twitter.com/JeffreeStar/status/1251219839844265988?s=20
Diva had some stomach issues right after the COVID-19 pandemic started. Though Jeffree was not allowed to go and be with Diva inside the hospital. But the vet clearly took care of him.
But now Jeffree just posted a Youtube video after two months and gave us an update on Diva's health. The update video was originally titled as 'I'm NEVER Dating Again…We Need To Talk'. And then it was later changed to 'I have Some REALLY Bad News'.
Diva was diagnosed with cancer
Jeffree mentions in the video that a few months ago Diva was diagnosed with Cancer.
"I am just going to be fully transparent. So over the last few months my dog Diva was diagnosed with Cancer."
Though Jeffree is surrounded by family, friends, and lots of dogs. He still hasn't gotten over the loss of Diamond and Daddy. And he is feeling devastated and traumatized because of this shocking news that Diva, one of his oldest dogs in the Pomeraning family is diagnosed with Cancer.
"Diva went in for a routine checkup. he was getting his shots. And then they (vets) noticed neal his an*l glands like just it was kind of swolllen and bizarre."
The beauty mogul then urged the vets to do every single test and find out the cause behind the swelling. The test results came out and the vets found out that Diva has 'Apocrine Gland An*l Sac Adenocarcinoma'. Which are basically tumors in the an*l glands.
Diva has already gone through surgery and the tumor has been initially removed. But there are still some cancer bacterias near the glands.
Vets want Jeffree to make a quick decision regarding Diva's radiation therapy
The vets have given a few options to Jeffree and one of them is to get Diva through 15 rounds of Radiation Chemo Therapy. But Jeffree has decided to pause this option at the moment. Because there is another sad news. The stress from the surgery activated diabetes in Diva.
Hence, Diva has to get two 'Vetsulin' shots in the morning and night. But the tumors can come back too, so the vets are urging Jeffree to make an early decision. So that Diva can go through radiation therapy as early as possible.
Jeffree also shared a few post-surgery pictures of Diva on his Instagram story.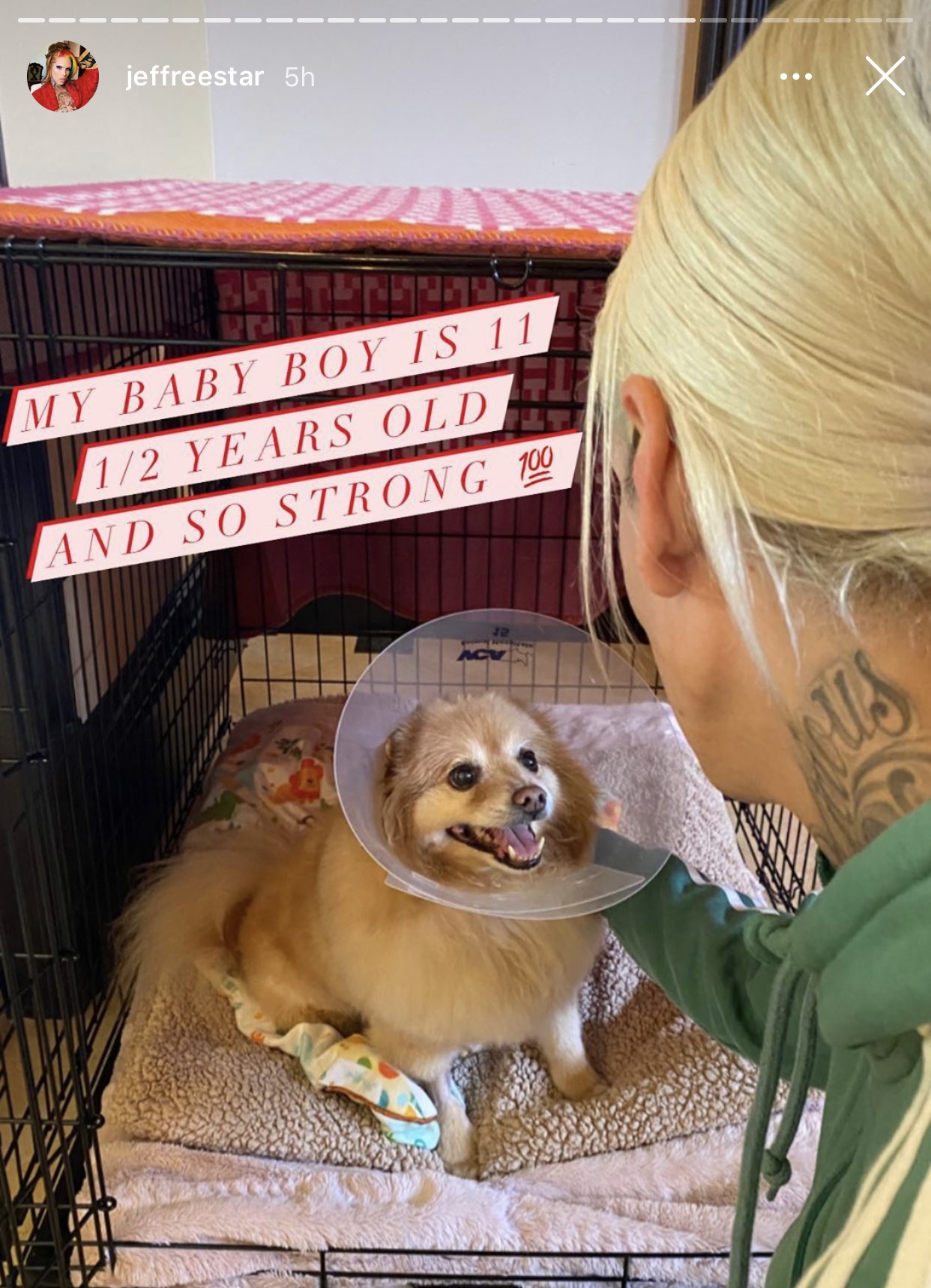 This is really breaking my heart. Let's just hope and pray that Diva manages to gain some weight and health back. As he has just lost 10 pounds after the surgery.