Let's just agree that every single one of "Jake Paul Relationships" has been quite rocky. The YouTuber has managed to remain in the news for the better part of his internet career. So, just when we thought that he was slowly getting out of his "controversial ways", Paul threw a curveball at us. In his most recent vlog, he took a not-so-subtle jab at his ex Erika Costell!
Jake Paul and Erika Costell's Break-up!
Back in the first half of 2018, Jake Paul was pulling strong views on YouTube every single day. One of the reasons behind it was his bond with former Team 10 member Erika Costell. Jerika (Jake and Erika) was one of YouTube's power couples at that time.
However, as with most "Jake Paul Relationships", the couple in question didn't last long either. At first, rumors started to emerge about the two splitting up. Later, Jake himself confirmed the break-up via tweet.
— Jake Paul (@jakepaul) November 7, 2018
Even though the exact reason behind the split remains unknown, there are some spicy rumors floating around. According to DramaAlert host Keemstar, Shane Dawson's documentary series on Jake Paul stirred the pot for an apparent break-up. Additionally, the Team 10 Founder explained on the "Jake Paul Uncut series" that Jerika's relationship had gotten toxic towards the end and both would often fight over texts or in-person.
Is Jake Paul "Erasing" Erika Costell from his Life?
Ever since Jake restarted vlogging around a month ago, he has been showing somewhat of his "mature" side. Yes, there is still goofiness but that's just JP and we can't change that.
But then in his most recent vlog, he did something that caught the attention of long-time Jake Paul fans. The vlog moment we are referring to is when Paul showed a throwback shot of his pet dog "Thor".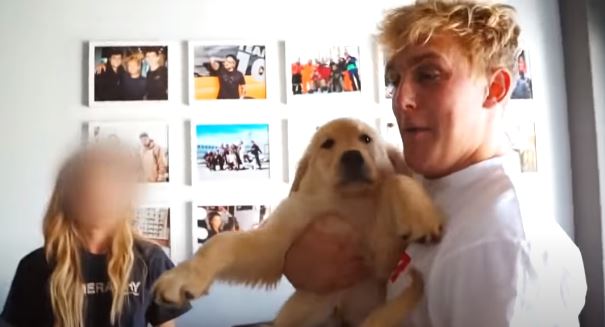 As the picture indicates, Jake is with a lady whose face is apparently blurred. If you have been an "OG Jake Pauler", you might remember that the lady in question is none other than ERIKA COSTELL!
Fans were quick to point it out in the comments. However, the YouTuber/Boxer didn't follow it up in a way that we thought he would. He simply moved on to the subject of the discussion (Finding a wifey for Thor).
Whether Jake did it just to troll the internet or he doesn't intend to feature his ex on his vlogs, remains unknown. What we do know is that he got the internet talking once again.
Did you catch the shot of Erika's blurred face? Which one of "Jake Paul relationships" are/were you a fan of? Let us know in the comments section!