I think it is safe to say that Brent Rivera and Eva Gutowski are the most confusing couple of friends ever. Their friendship goes years back and for the most of it, we love their adorable posts together. Both Brent and Eva are American Youtubers. The two are ever so comfortable in each other's company and make no secret of it. Admittedly, Eva has also said it to fans that she had a crush on Brent in a video from 2018 called Confronting My Crush – Brent Rivera. Fans have often questioned their closeness and it seems like the two enjoy the attention. In their most recent post, Eva is literally wrapped around her best friend.
https://www.instagram.com/p/B_ZREPkjC8o/
While most fans were just in awe of how flexible Eva is but, one fan just had to ask what we all have been wondering for years now.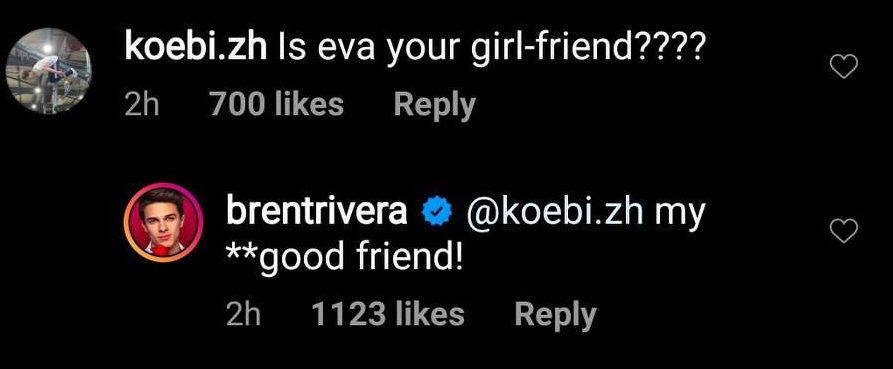 So when fan Koibe.zh asks if Eva Gutowski is Brent Rivera's girlfriend, he responds with a correction.
My **good friend.
Unfortunately for the two, that is not enough for fans who hand onto their every post.
Brent Rivera and Eva Gutowski more than friends moments
The two are BFFs for sure but, we have seen them get all mushy and together more times than we can count. But, just to refresh our Brent Rivera and Eva Gutowski Breva are the perfect couple diaries, here are a few of their most adorable moments.
https://www.instagram.com/p/Bw7foatAPyO/
FRIENDS no doubt. The couple is often found kissing in places that are the most romantic spots. And they make it their business to let the world know of their friendship all the while.
https://www.instagram.com/p/BzkM1G7npSN/
Here is a post from last July. The two best friends, Brent Rivera and Eva Gutowski took a picture in the same pose at the same spot after 4 years. I mean, that is some serious couple goals. Or well, BFF goals. Minus the kiss on the cheek.
https://www.instagram.com/p/B1jxzM8B68E/
Okay this, is just steamy. Comparing themselves to Shawn Mendes and Camila Cabello? Not a smart move Breva cause we ship them more than anything in the world. And if Brent Rivera and Eva Gutowski are even half as intense, we would literally just die!