We are living in a world with modern technology & artificial intelligence. However, some of the naturally intellect people still forget they are not living in stone-age anymore. Bullying has always been a part of every person's history. Back in the days, the person was either a bully or a victim. But even in current world, bullies have found their way to the internet. And they are not sparing the 15-year old Charli D'Amelio. The famous TikToker is facing body-shaming and she just shut down her haters.
Charli D'Amelio claps back at body-shamers
You'd imagine that the famous TikToker who has 50 million followers on TikTok will never face any issue in her life. However, that's not what reality is all about. Even Charli has to face the cruel world and their cruel words. People have been making fun of her body so much that she ultimately had to shut them all in one-go.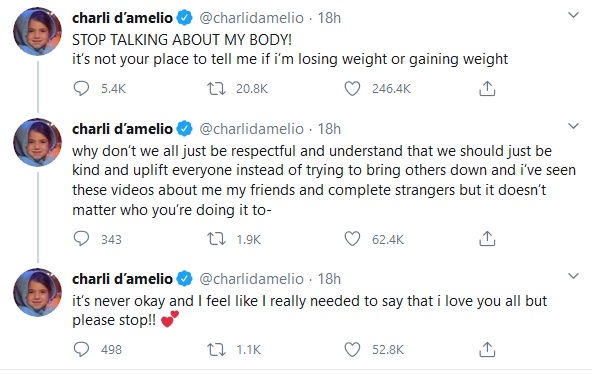 We know every other female is going through implants and surgeries these days. However, that does not mean that people have a right to verbally abuse those influencers and celebrities who are comfortable in their own skin. Charli D'Amelio is beautiful and there is nothing wrong with her, or anyone else. And turns out at age 15, she is more mature than half of the internet users out there. Because, even though she clapped back at haters, she still spread positivity.
Haters gonna hate…
Even though Charli D'Amelio has addressed the issue so maturely, some people are still asking her to keep her body covered. Wear a shirt or anything that does not show off her body to the world.
Someone commented under Charli's clapback tweet: "Put a proper shirt on then". "Maybe if you wouldn't flaunt your body then people wouldn't say anything."
And those who are appreciating her tweet, have others writing "simp" under their post. At this point, we just hope Charli stops reading all these toxic comments and keeps making TikToks.