We all love some makeup on ourselves like NikkieTutorials, right? And Ariana Grande has been one of the many singers who have put a spell on her fans with her jaw-dropping makeup looks. The singer has been an inspiration for a lot of people out there. From her clothes to winged eyeliner and makeup styles to having a signature sleek and high ponytail.
The Positions' singer has surely set some major fashion goals. And now she is all set to make a name in the world of beauty by launching her own makeup brand by the name of R.E.M Beauty.

And our very own favorite beauty guru NikkieTutorials is all set to review Ariana's makeup products.
Related: NikkieTutorials new palette similar to Jeffree Star's Conspiracy palette?
R.E.M is also Ariana Grande's famous hit song
Now r.e.m might ring a bell to some of you guys. As it's one of the top famous songs by Ariana. I am going to link it down below for you guys if you haven't heard it yet.
"Last night boy I met you
Yeah, when I was sleeping
You're such a dream to me"
This song really has my heart. And I think anyone can easily relate to it. Because we all know the power of rapid eye movement (r.e.m). Like once you wake up, it's all gone. In an exclusive interview with ELLE, Ariana also shared the reason why she is naming her beauty brand after one of her favorite songs.
"I decided to name it r.e.m. Because R.E.M rapid eye movement: focusing on dreams and focusing on the eyes. And eyes being kind of like our best way to articulate-better than you can with words sometimes."

Elle.com
Related: Jeffree Star Shades Ariana Grande's Makeup Brand R.E.M Beauty
NikkieTutorials Brutal Honest Review About Ariana Grande's R.E.M Beauty
We all love how makeup influencers like NikkieTutorials give honest reviews about newly launched makeup brands and products. Recently Nikkie received a P.R package from Ariana's newly launched makeup brand R.E.M Beauty. Though, it didn't have makeup products from all the makeup categories. But she still managed to create a very charismatic look from the R.E.M Beauty products.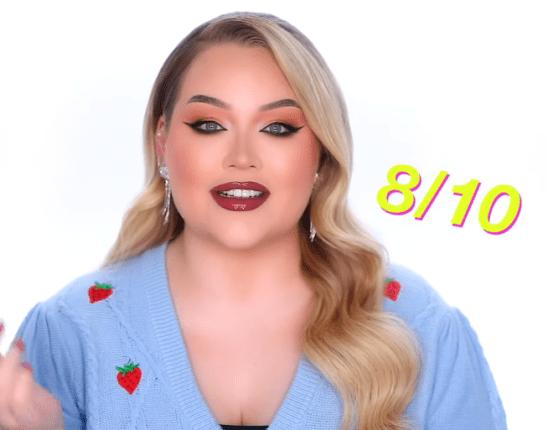 The matte liquid shadow
"I am actually very impressed by it. It looks like I have a regular, perfectly blended shadow in my crease. And I would give it like an 8/10. "
The shimmery liquid shadow
This one got a 5 out of 10 from Nikkie. Because she felt like the product should have had more chrome and glitter into it. So that it could create a proper heavy metallic look.
The mini eyeshadow palette
"If you look past the packaging, and look at the quality of the shadows. I feel like they are the perfect entry to a brand."
I and on the other hand, find the packaging really cute.
Because it's not just a mini compact eye shadow palette. But it also has 4 really pretty matte eyeshades and 2 glitter ones.
And you can easily create a day-to-night look with it, like a soft smoky nude eye. And Nikkie gave it a 7/10.
The Kohl Eye Liner And Eye Liner Marker
Umm!! Nikkie gave the eyeliner a 6/10 because she didn't think it was something which is out of the box. But she loved the eyeliner marker and gave it a 9.5/10. As the components of the eyeliner didn't bleed out and helped in creating a very smooth and neat winged look.
The Volumizing Mascara
Sadly, the mascara didn't work for Nikkie. Because it made her eyelashes fall down and make them droopy. So she gave them a 5/10. And she also clarified that she doesn't have any issue with the product. But actually, the problem is with her eyelashes.
Related: NikkieTutorials Makes Cameo in Euphoria Season 2
NikkieTutorials still has a long way to go
Highlighter Topper
Can I just say that R.E.M Beauty came up with the prettiest shades of highlighters? Like Lavender, Icy Mint, Vivid Gold, and seven other shades. And NikkieTutorials rated them 9/10.
"The highlighters, I am actually really really impressed with. Miss Mercury is going in my daily kit. I love the glow."
Matte Lipsticks
I guess this lipstick is going to be on the wish list of many fans because it is matte but had this very cool velvety finish. And it glides on the lips like liquid lip balm. And Nikkie gave it a 9/10.
The Plumping Lip Gloss
Nikkie gave the colored plumping lip gloss a 6/10 because she didn't like the fact that the packaging didn't have a wand. But she loved the clear plumping gloss and she gave it a 9.5/10.
And with that, we wrap up our R.E.M Beauty review. Let us know in the comments if you have ordered or tried any of the R.E.M Beauty products.
Related: NikkieTutorials & Selena Gomez's Virtual Collab Trending Online