Does anyone remember that Breaking Bad's Aaron Paul being considered for the role of Batman? Me neither! But apparently, it did happen a year ago. Paul was to star alongside Joaquin Phoenix's Joker. We all know the Batman in the other DC timeline is being played by Robert Pattinson, hopeful news for some after many were disappointed in Ben Affleck's Batman.
But this time, we might be getting two Batmans. After all, we do have two Jokers. The dark and tormented soul of Joaquin Phoenix's Joker, and the psychotic crazed up Joker of Jared Leto. So, naturally, there would be a lot of comparisons made.
Now, the news of Aaron Paul being considered by Todd Phillips' for his sequel to Joker came out a year ago. Nothing was confirmed. The news stated that Todd Phillips was very interested in making Breaking Bad's Aaron Paul his Batman for the Jokerverse. Other actors that were also being considered were Ryan Gosling, Bradley Cooper, and James Marsden.
Aaron Paul may have given a hint that he's bagged the role of Batman
Now, this is where things get interesting. After the news of Phillips being interested in Paul broke out, there was pretty much silence on the subject. No one talked about it in any of the press releases or news outlets. Meanwhile, Aaron Paul was busy filming for HBO's show 'Westworld' where he joined as one of the main characters.
A few days ago, Aaron Paul posted something Batman-related on his Instagram profile.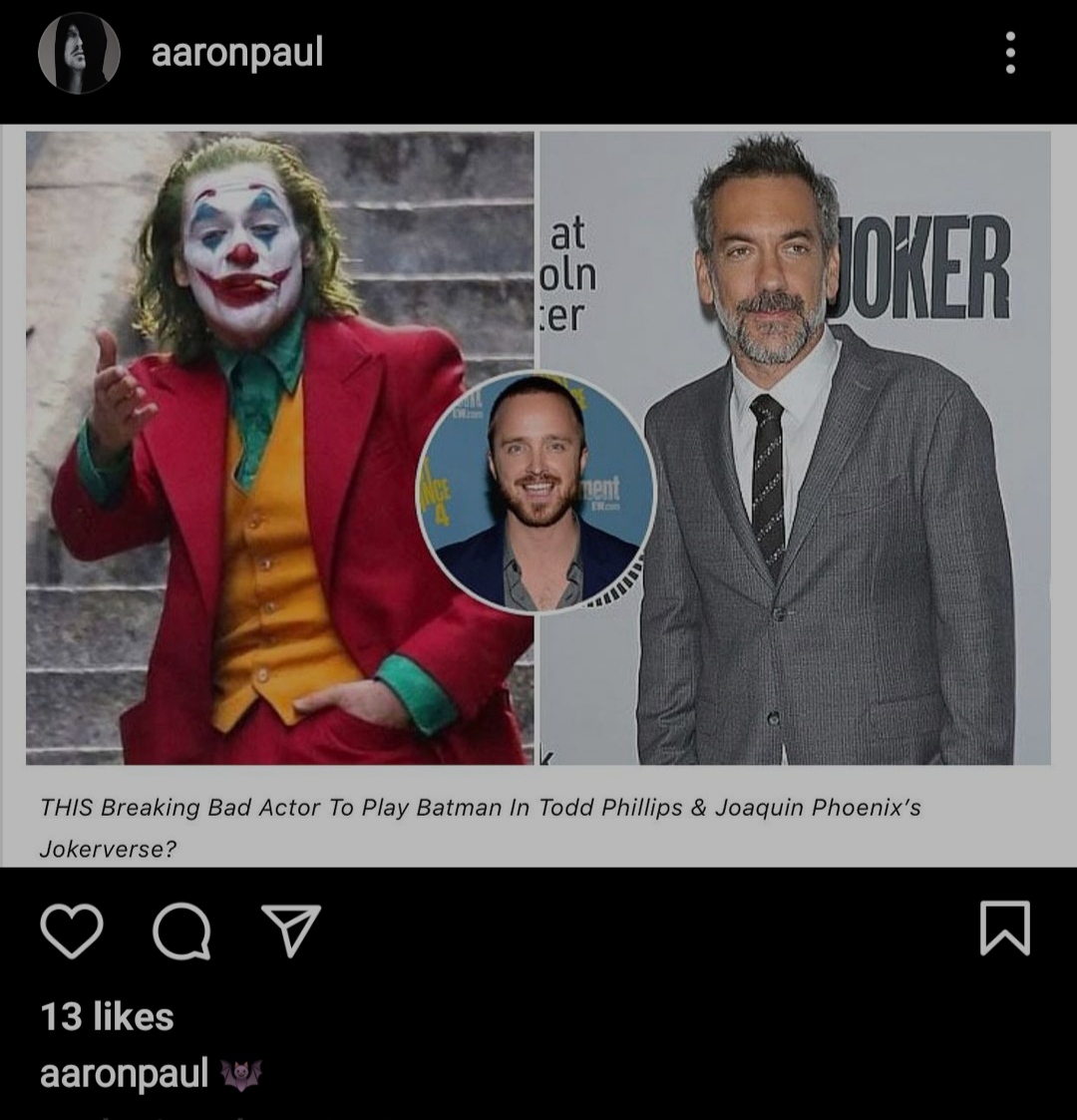 We have to dissect this Instagram post. So, there's a screenshot of a news headline that says, 'THIS Breaking Bad Actor To Play Batman in Todd Phillips & Joaquin Phoenix's Jokerverse?'
There's an image of the Phoenix in his Joker role, Todd Phillips and Aaron Paul in between. The only caption in the photo by Paul is the Batman emoji. And that is it.
Now right after I completely freaked out about the news, I went to check Aaron Paul's Instagram profile in depth. To see if there were any hints that this news is genuine or not. Because the day it was posted, the date was April 1st, 2021. Yes, it was April's Fool and I was wondering if this was some prank on the actor's part. He does have a sense of humor! Back in 2014, he broke the hearts of many fans by pulling a painful prank. Paul joked that there might be another season of Breaking Bad happening. The show had ended in September 2013. Fans got real excited before they got their dreams crushed when he revealed that he was just joking.
But as I was investigating Paul's profile, the Batman post he made was deleted. And I have evidence!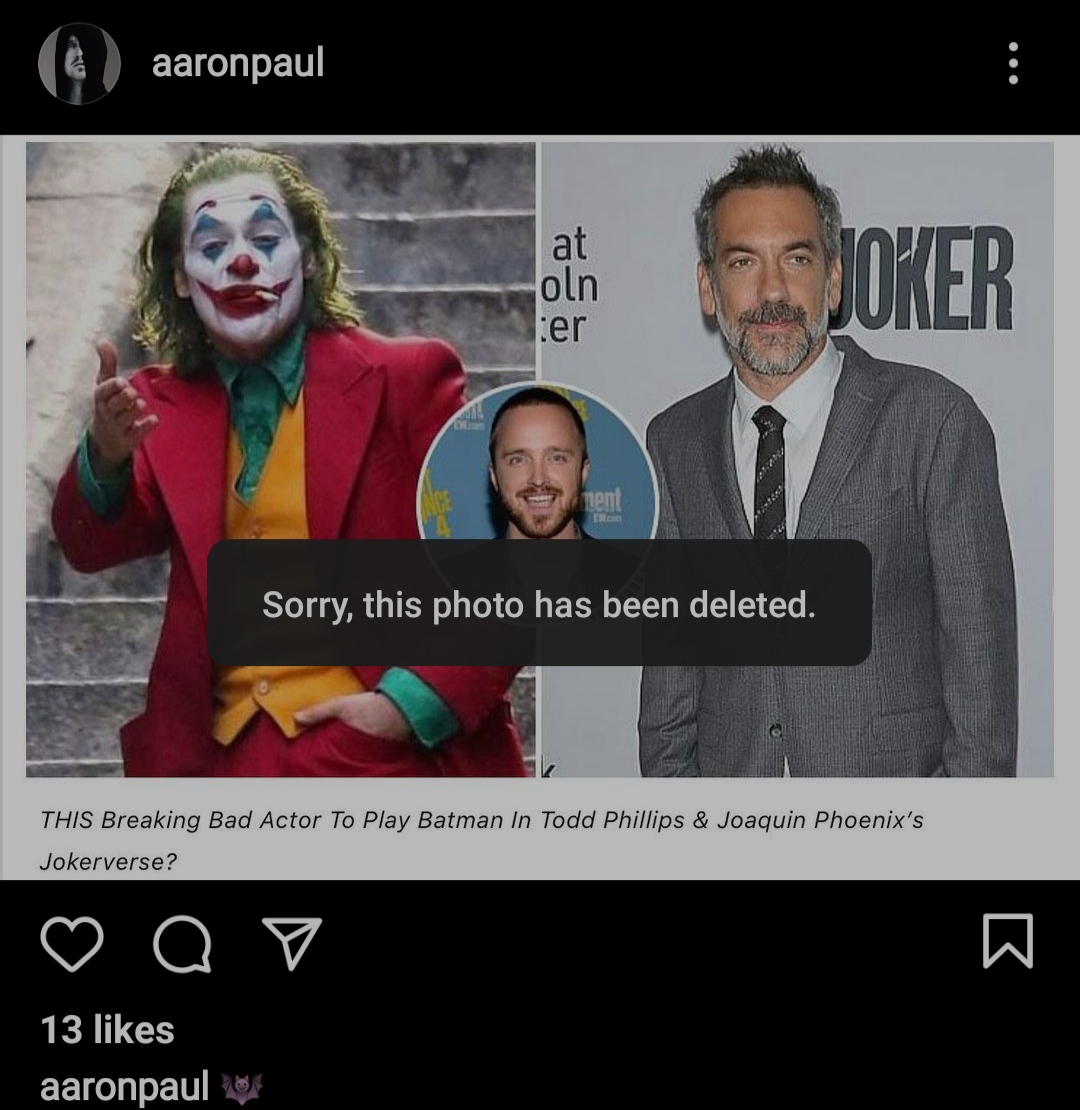 So, what does this mean?!
Don't worry, I'm just as confused as you are. But either this was a momentary prank that Aaron Paul did and changed his mind. Or he leaked the news too early and the PR team made him delete the post.
In either case, we can't wait to hear the confirmation of him playing Batman! He'd do the role justice and it's about time he makes his mark in the big movie industry. Meanwhile, we know that Joker 2 is officially happening and Joaquin Phoenix is going to reprise his gritty role of the DC's most popular villain, Joker.
Are you excited about this news? Let us know in the comments below!