The music group consisting of the twins John and Edward Grimes, Jedward, has called out Simon Cowell and his music company Syco Entertainment. They are also calling out the X-Factor show and how Cowell's company has mistreated the music groups they manage for years. In a series of tweets, the music duo revealed shocking facts that angered many fans of the beloved music groups, One Direction, and Little Mix.
Related: Gabrielle Union Cowell Says Simon Cowell Thinks He Is Above The Rules
What Jedward has revealed about Simon Cowell
The very first tweet explains that they were upset over the Judges on the reality show X Factor
The show was created in 2004 by Simon Cowell in the UK. It was created to find people with outstanding singing abilities. Musicians of all varieties competed against each other to ultimately get the prize of a record deal with Cowell himself.
It's where the world's most popular music groups, One Direction and Little Mix were formed. Many other popular groups also found their origin in the X Factor, such as the Grimes twins, Jedward.
Many had an inkling that members of these boy groups and girl groups may have been subject to a lot of overwork that might be too much. But no one knew what exactly was happening behind the scenes. Now, Jedward reveals all.
What Jedward is revealing about what actually happened to the contestants of X Factor
They shared in their tweet that everyone who was a contestant on the show was basically a 'slave' who did not get paid anything. And all the while, the show made millions of money.
Jedward also added that no judge in the show cared about the contestants. In fact, they cared more about the money.
And in one personal attack to Simon Cowell, Jedward call him out for thinking he's the 'mafia' of the music industry.
Then there is also mention of One Direction (1D) and Little Mix. Jedward claims that the only reason members of those groups have not spoken out against Simon Cowell and his management company, Syco, is because of their contracts.
And it finally led to the hashtag that instantly got trending. Jedward says that the company was 'dictating' everything that the members of the music groups could do.
There's nothing MODEST about their previous management dictating their every move from Relationships to how they live their own lives! Justice for 1D & Little Mix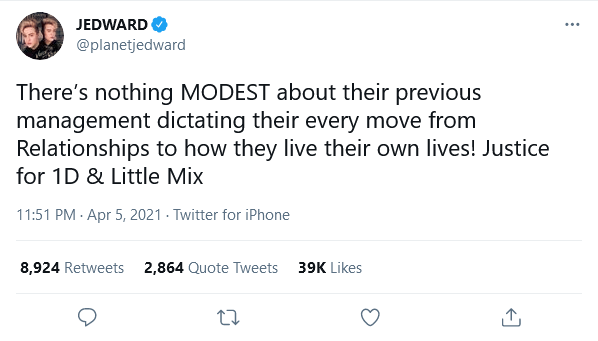 Jedward further explained that they know about these contracts because the management company accidentally sent them One Direction's contracts.
Moreover, Jedward addressed the members of the music group One Direction saying that they stand with them. They called One Direction members (Niall Horan, Liam Payne, Louis Tomlinson, Zayn Malik, and Harry Styles) survivors and shared that they knew about the situation for a long time. They said that posting the legal contracts online could lead them to the courts but it's not clear if they'll post them or not.
Fellow musician Rebecca Ferguson added credibility to the story
Popular singer Rebecca Ferguson also added credibility to Jedward's story sharing that a "certain" boyband member told her that he was often thrown against walls when he challenged the management's decisions about them.
She went on to say that she would not stop fighting for the people that the music industry has mistreated and misused like this. Ferguson also added that she's been trying to get the change happening for a long time and asking people in high places about the problematic behavior.
She's previously spoken up against the Syco company and X Factor for 'bullying' her into signing deals and contracts that she did not want to do.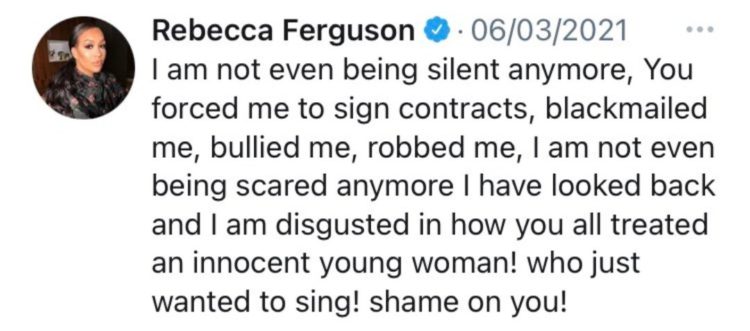 Justice for 1D and Little Mix trends worldwide on Twitter after Jedward broke the news
Anyone who knows popculture knows that Little Mix and One Direction have the most dedicated fan following on social media. One Direction fans especially know how to break the internet when expressing the love for their chosen bandmate or the group itself.
So, naturally it didn't take long for the Justice for 1D and Little Mix to start trending. Fans all over the world called out Simon Cowell and Syco for mistreating young musicians like this.