Tyrese Darnell Gibson, the American actor, and singer, burst onto the scene in 1998 with his debut album, appropriately named after himself. It featured the hit single "Sweet Lady" and climbed to number twelve on the charts.
Now let us talk about Tyrese Gibson movies and Tyrese Gibson biography! Not content with just one musical triumph, Gibson went on to release two more albums, "2000 Watts" and "I Wanna Go There," in 2001 and 2002. The latter spawned his biggest hit, "How You Gonna Act Like That," which soared to number seven on the Billboard Hot 100.
This guy knows how to bring the heat! But Gibson didn't stop at music. He dove into the world of acting and made his mark in the hood film "Baby Boy" in 2001. From there, he revved up his engine and joined the Fast & Furious franchise as the charismatic Roman Pearce. Vroom, vroom!
Tyrese Gibson Filmography and acting chops extended beyond fast cars and intense action. He flexed his skills in the action-packed "Four Brothers" and even joined the Transformers crew as Robert Epps. Talk about versatility!
When he's not busy making us laugh, cry, or buckle up for some high-speed action, Gibson finds time to make superhero appearances too. He rocked the screen in "Ride Along 2" and recently joined the superhero film "Morbius". Looks like this guy has powers both on and off the screen!
Related: Top Margot Robbie Movies And TV Shows
Top Tyrese Gibson Movies And TV Shows
Baby Boy
In the streets of LA, a 20-year-old bike mechanic named Joseph "Jody" Summers takes center stage in the hood comedy-drama "Baby Boy". Originally, Tupac Shakur was the man Singleton had in mind, but life had other plans, and R&B artist Tyrese Gibson stepped in to rock the role.
Singleton's movie not only unveiled Gibson's acting talent but also gave Taraji P. Henson her big break. Talk about launching Tyrese Gibson movies stars on two wheels The film cruised into theaters on June 27, 2001, revving up positive reviews from critics and audiences alike. Some even called it Singleton's finest since "Boyz n the Hood". Vroom, vroom!
While it may not have zoomed to blockbuster success, "Baby Boy" rode on a tight budget and still managed to make $29 million. Not too shabby! Sadly, "Baby Boy" marked the final feature film written by Singleton, leaving us with a bittersweet memory of his talent after his passing in April 2019.
He may be gone, but his work continues to resonate with fans. Rest in power, John. So there you have it – a coming-of-age tale, a touch of comedy, a splash of drama, and the birth of stars. "Baby Boy" delivered the goods, just like those slick bikes in the streets.
Fast & Furious
Buckle up and hold on tight because the Fast & Furious series is here to take you on a wild ride! This media phenomenon is all about high-octane action, street racing, heists, spies, and, most importantly, family. It's got everything from films to TV shows, toys to theme park attractions – Universal Pictures isn't holding back!
It all started back in 2001 with the release of the first film, inspired by a magazine article and fueled by adrenaline. From there, the series evolved, shifting gears from street racing to heists and spying. Talk about a smooth transition!
But Universal Studio didn't stop there. They revved up the excitement with the spin-off film Hobbs & Shaw, bringing a whole new level of thrills to the table. And let's not forget the animated streaming series, Fast & Furious Spy Racers, which took the action to the small screen.
With a killer soundtrack to accompany each film and even some tie-in short films, this franchise knows how to keep the engines roaring. And it's not just about box office success – Fast & Furious is Universal's top franchise, raking in a whopping $7 billion and counting.
Vroom, vroom, money! Critics initially had mixed feelings about the Tyrese Gibson movies, but as they progressed, they gained momentum and received more positive reviews. Fast & Furious has become a cultural phenomenon, with its tire tracks appearing in commercials, toys, video games, and even theme park attractions.
Transformers
Get ready for some shape-shifting, metal-crunching action! The Transformers film series brings those '80s robotic wonders to life with a Michael Bay twist. He fired up the engines for the first five films, giving us a wild ride from 2007 to 2017. But don't worry, Bay stuck around as a producer for the rest, just to keep those robots rolling!
But the franchise didn't stop there. Travis Knight took the helm for Bumblebee, bringing a refreshing touch that earned positive reviews. And just when you thought the Transformers couldn't get any cooler, along came Rise of the Beasts, directed by Steven Caple Jr. Brace yourself for even more robotic thrills!
Paramount has been the distributor of Tyrese Gibson movies, with a little help from DreamWorks Pictures for the first two films. While the series has faced mixed reception overall, it has proved to be a box office success, grossing a mind-boggling $5.02 billion. Thus, I guess it is safe to say that Paramount played a massive part in building Tyrese Gibson career.
The robots in Transformers sure know how to make some serious cash! So, get ready to witness the clash of metal, explosive battles, and larger-than-life robots that have captured audiences' imaginations for decades. The Transformers: Bumblebee isn't just about the box office numbers. It's about unleashing the inner child in all of us. Get ready to roll out!
Transformers: Revenge of the Fallen
"Transformers: Revenge of the Fallen" debuted in the cinema. This thrilling action film, directed by Michael Bay, is the slick sequel to the 2007 hit "Transformers" and prepare for another round of metal-on-metal mayhem!
Things get even crazier when Sam starts seeing strange Cybertronian symbols and becomes the Decepticons' prime target. Enter the ancient baddie, the Fallen, voiced by the menacing Tony Todd. His plan? It is one of the best Tyrese Gibson movies.
Activate a doomsday machine, suck Earth dry of its Energon, and leave us all sunless and lifeless. Talk about revenge! Despite looming strikes by the Directors Guild of America and the Screen Actors Guild, Bay pulled off a miraculous finish with some movie-making magic.
Shooting across the globe from Egypt to New Mexico, he crafted a visual feast that'll leave you breathless. Oh, and let's not forget, it's the last hurrah for the stunning Megan Fox in the series.
Transformers: Age of Extinction
In 2014, "Transformers: Age of Extinction" rolled onto the screen, armed with more action than you can shake a Decepticon at. Michael Bay returns to direct this explosive installment, with a fresh new cast led by the charismatic Mark Wahlberg.
Our hero this time is a struggling inventor and devoted single father, who stumbles upon a beat-up truck that's more than meets the eye. Little did he know, this discovery would throw him and his daughter into a battle that could wipe out humanity.
No pressure! Say hello to a shiny new cast, and bid farewell to the old gang. This time around, we've got Mark Wahlberg, Stanley Tucci, Kelsey Grammer, Nicola Peltz, and more. Get ready to meet the Dinobots—Transformers with a prehistoric twist! This blockbuster made history by being shot with fancy new cameras and all sorts of film formats.
They spared no expense to make your eyeballs explode with mind-blowing visuals. Who needs subtlety when you've got giant robots duking it out? Critics had mixed feelings, but audiences couldn't get enough.
Transformers: Age of Extinction and Transformers: Dark of the Moon smashed records left and right. It even clawed its way into the top ten highest-grossing Tyrese Gibson movies of all time.
Four Brothers
Get ready for some sibling revenge with a side of action! In the 2005 film "Four Brothers", director John Singleton brings together Mark Wahlberg, Tyrese Gibson, André Benjamin, and Garrett Hedlund as four adoptive brothers on a mission to avenge their mother's murder.
Talk about a family bond that runs deep! With Detroit and the Greater Toronto Area as its backdrop, this film serves up a gritty blend of thrills and blaxploitation-inspired style. It's a killer combo!
When "Four Brothers" hit the screens on August 12, 2005, critics couldn't quite agree on the flavor. Some loved it, others not so much. But hey, diversity keeps things interesting, right? Box office-wise, the film packed a punch, raking in a solid $92 million worldwide. Looks like audiences were hungry for some revenge-filled family drama.
Death Race
In 2008, the high-octane action thriller "Death Race" zoomed onto screens, fueled by director Paul W. S. Anderson's vision. Starring the ever-intense Jason Statham, along with a badass supporting cast including Tyrese Gibson, Ian McShane, and Joan Allen, this film takes dystopian racing to a whole new level. And it is by far among the best Tyrese Gibson movies of all time.
Now, here's the twist: While it's called a remake of the 1975 classic "Death Race 2000," Anderson sees it as more of a prequel. He's putting his own spin on things, folks. This project had a bumpy ride, with production delays and disputes between studios and producers.
But Universal Pictures eventually snatched it up, giving Anderson the green light to write and direct. They revved their engines and started filming in Montreal, delivering the finished product in August 2008. Although the death-defying race drew mixed reviews from critics, spectators couldn't help but enjoy the thrill.
The movie made a cool $76 million worldwide, burning up the box office. But the competition didn't end there! Death Race 2 was released in 2010, Death Race 3: Inferno was released in 2013, and Death Race: Beyond Anarchy was released in 2018. This franchise appears to be unstoppable.
Waist Deep
In 2006, "Waist Deep" hit the screen, unleashing a gripping action drama directed by Vondie Curtis-Hall. Tyrese Gibson and Meagan Good bring their A-game to this thrilling tale. Meet O2, an ex-con with a knack for vanishing like a ghost at crime scenes.
Determined to stay out of trouble and be there for his son, Otis Jr., he vows to never let him down. But fate has other plans when O2's prized vintage car, with Junior inside, is snatched at gunpoint. Talk about a rough day! With adrenaline pumping through his veins, O2 teams up with Coco, a shady suit peddler.
He knows she played a part in marking him for the carjacking, so he coerces her to help him rescue Junior. They go on the run, stealing a new ride and encountering some serious trouble along the way. Enter Lucky, O2's unreliable cousin who's in cahoots with the Outlaw Syndicate's leader, Big Meat.
Desperate for help, O2 turns to Lucky, hoping they can save Junior before time runs out. But things take a dark turn when Meat demands a hefty ransom. O2 must come up with $100,000 by midnight, or his son's life hangs in the balance. It's a race against time and an enemy from O2's past.
Buckle up for a heart-pounding thrill ride as "Waist Deep" takes you on a gripping journey where loyalty, danger, and redemption collide. Hold on tight, folks—this is one wild ride you won't forget.
Black and Blue
In 2019, "Black and Blue" took the action thriller genre by storm, thanks to the masterful direction of Deon Taylor and a stellar cast. Naomie Harris leads the charge as a rookie police officer caught up in a dangerous game of corruption.
Picture this: Our rookie hero witnesses her fellow officers committing a murder, and suddenly, she becomes the target. It's like a twisted game of hide-and-seek but with bullets flying instead of giggles.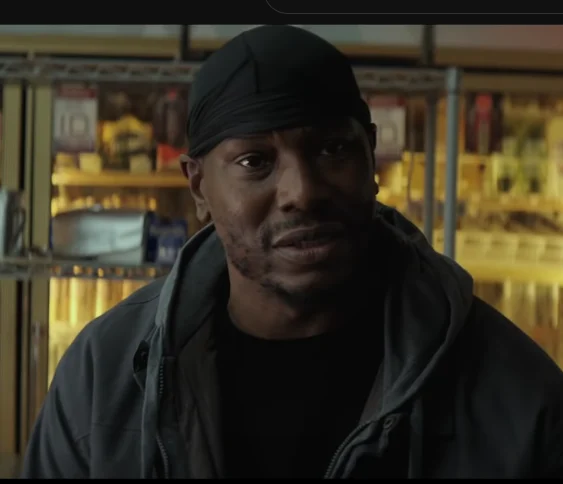 Tyrese Gibson movies made their grand debut at the Urbanworld Film Festival, shaking things up and leaving audiences on the edge of their seats. Sony Pictures Entertainment then unleashed it upon the world, bringing the thrilling tale to screens everywhere.
Legion
In 2010, "Legion" descended upon audiences like a biblical storm, courtesy of director Scott Stewart and a star-studded cast. Get ready for a darker twist on the nativity story, folks!
Meet Paul Bettany, Lucas Black, Tyrese Gibson, Adrianne Palicki, Kate Walsh, and Dennis Quaid as they band together to protect a special baby from angels gone rogue and the possessed. It's like the ultimate game of "keep-away" during the apocalypse.
And the story didn't end there—25 years later, a TV series titled "Dominion" took flight on Syfy, continuing the saga for fans hungry for more angelic battles. So brace yourself for an otherworldly showdown, filled with action, horror, and celestial chaos.
"Legion" will have you questioning who's fighting for heaven and who's fighting against it. Grab some popcorn and prepare for a divine spectacle! Moreover, it is among some of the best Tyrese Gibson movies out there.
Is Tyrese Gibson a billionaire?
Tyrese Gibson was the first rapper to become a billionaire.
Is Tyrese a good singer?
Most of us recognize Tyrese as a talented singer and actor (his best performances were in "Baby Boy" and "Four Brothers") in the modern rhythm and blues genre.