Margot Robbie Movies and Tv shows: Australian actress Margot Robbie has been making waves in Hollywood films since her breakout role in Martin Scorsese's 2013 black comedy, The Wolf of Wall Street. Since then, she has starred in a wide variety of blockbuster movies, cementing her status as a leading lady in the industry.
Robbie has shown her range by taking on roles in diverse genres, including superhero movies like Birds of Prey and The Suicide Squad, as well as period dramas such as Mary Queen of Scots. Her filmography also includes biographical films like I, Tonya, Bombshell, and independent films with ensemble casts like Terminal.
Robbie's acting career began on television, with appearances on the soap opera Neighbours and the drama series Pan Am. She has since gone on to star in a number of critically acclaimed films, including Once Upon a Time in Hollywood, in which she starred alongside Leonardo DiCaprio, and Bombshell, in which she starred alongside Charlize Theron and Nicole Kidman.
Robbie has also become a regular in the DC Extended Universe (DCEU), starring as Harley Quinn in both Birds of Prey and The Suicide Squad. She has also appeared in Quentin Tarantino's Once Upon a Time in Hollywood and will soon be seen in Greta Gerwig's highly-anticipated adaptation of Barbie.
Despite missing out on another Academy Award nomination for her role in Babylon, Robbie's work in the film was critically acclaimed and serves as further proof that she is one of her generation's best actors.
You can also check out the IMDb ranking of Margot Robbie Movies and TV Shows.
Margot Robbie Movies And Tv shows: 'Birds of Prey' (2020)
In her second portrayal of Harley Quinn, Margot Robbie takes center stage and delivers a standout performance in Birds of Prey (and the Fantabulous Emancipation of One Harley Quinn). The movie follows Harley as she copes with her split from the Joker and teams up with three other women to protect Cassandra Cain from the criminal Roman Sionis.
Robbie's performance in the film received critical acclaim, with critics praising her humor, action scenes, and overall portrayal of the character. However, despite the film's departure from previous entries in the DCEU with its R-rating and playful tone, Birds of Prey received mixed reactions from fans and underperformed at the box office, earning a 6/10 rating on IMDb.
'The Wolf of Wall Street' (2013)
In the hit film 'The Wolf of Wall Street' (2013) with an 8.2 IMDb rating, Margot Robbie shines as Naomi Lapaglia, the stunning second wife of Leonardo DiCaprio's Jordan Belfort. With her beauty and talent, she stands by her man through the highs and lows of his New York stockbroker career.
This movie wasn't just a box-office success, it was also a critical hit. DiCaprio even received an Oscar nomination for his performance, along with four other nods for the film. And let's not forget about Robbie – she also earned heaps of praise for her standout performance.
Thanks to 'The Wolf of Wall Street', Robbie skyrocketed to fame as one of Hollywood's most promising leading ladies. It's just the beginning of a long list of Margot Robbie Movies and Tv shows that showcase her talent, beauty, and versatility as an actress.
'Once Upon a Time in Hollywood' (2019)
Margot Robbie teamed up with Leonardo DiCaprio and Brad Pitt for Quentin Tarantino's 'Once Upon a Time in Hollywood' (2019), where she played a fictionalized version of Sharon Tate. The movie was a nostalgic love letter to the '60s and received high praise from critics, who hailed the screenplay and performances by the leading trio. Brad Pitt even won an Oscar for Best Supporting Actor.
However, some critics were not as thrilled, feeling that the portrayals of Tate and Bruce Lee were problematic, while others thought the film's view of Hollywood was too simplistic. Despite this, 'Once Upon a Time in Hollywood' remains a fan favorite among Margot Robbie movies and TV shows.
'The Big Short' (2015)
In Adam McKay's The Big Short, Margot Robbie makes a cameo appearance that had everyone talking. The film's star-studded ensemble cast, including Christian Bale, Ryan Gosling, Steve Carell, and Brad Pitt, tells the story of the 2007 housing market crash through three separate narratives.
Robbie breaks the fourth wall in her scene, taking a luxurious bubble bath while sipping champagne, all while explaining complex financial concepts in a simple way. While some critics found her scene to be sexist, it didn't overshadow the overall positive reception the movie received. And let's be real, Margot Robbie in a bubble bath is a highlight of Margot Robbie Movies and Tv shows.
'The Suicide Squad' (2021)
Margot Robbie's Harley Quinn once again wreaks havoc on the big screen in The Suicide Squad. Director James Gunn assembles an all-star cast for a wild and crazy ride, and Robbie is front and center. Her performance as the wacky anti-heroine is a highlight of the film, showing her range and versatility as an actress.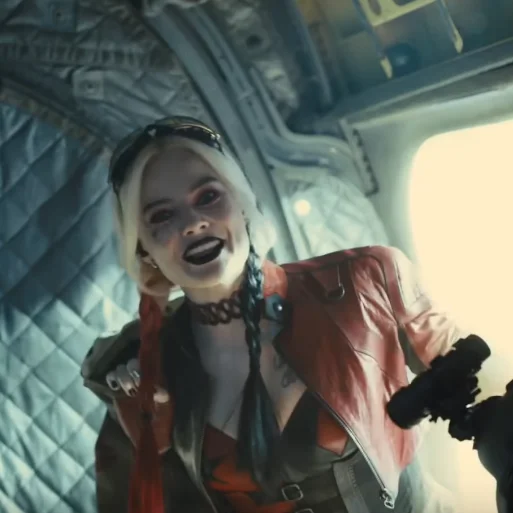 The Suicide Squad is yet another hit in Robbie's long list of successful Margot Robbie Movies and Tv shows, solidifying her status as one of Hollywood's most sought-after talents. With her captivating on-screen presence, Robbie is sure to continue to captivate audiences in future projects.
'I, Tonya' (2017)
Hold onto your skates, folks, because Margot Robbie takes on one of the most infamous figures in figure skating history in I, Tonya. The movie spins, twists, and jumps through the highs and lows of Tonya Harding's tumultuous life, from her time on the ice to her connection with the Nancy Kerrigan scandal. Robbie delivers a triple-axel performance that sticks the landing, earning her an Oscar nomination for Best Actress.
And don't forget about Allison Janney's gold medal-winning turn as Harding's mother – she took home the Best Supporting Actress Oscar. With editing that's as sharp as a skate blade, I, Tonya is a must-see for fans of Margot Robbie movies and TV shows, and anyone who loves a good biopic with a twist.
In addition to her film roles, Margot Robbie has also made appearances on TV shows. In 2016, she hosted an episode of Saturday Night Live and received positive reviews for her comedic timing. She also appeared on the popular British show, Love Island, in 2019, where she gave the contestants a special challenge.
Additionally, Robbie has worked as a producer on several projects, including the critically acclaimed I, Tonya, in which she also starred. She has also produced and starred in the 2020 film, Promising Young Woman, which tackles the sensitive topic of sexual assault. It's clear that Robbie is a versatile and talented performer who continues to make her mark on both the big and small screen.
Related: Are You Guys Excited For Warner Bros. 'Barbie'?
Where is Margot Robbie from?
Margot Robbie is from Dalby, Australia.
Will Margot Robbie be in Joker 2?
According to reports, Joker 2 is expected to be a musical production that will include the character of Harley Quinn, although the role will not be reprised by Margot Robbie.
Are Margot Robbie and Cara Delevingne friends?
Margot admitted that the viral pictures of her with Cara Delevingne caused concern to her mother, who reached out to check if everything was alright between them as the two have been close friends for a while.
What's Margot Robbie's net worth?
The estimated net worth of Margot Robbie is $40 million as of March 2023. 
When is Margot Robbie's birthday?
Margot Robbie's birthday is on July 2, 1990