There's nothing new in celebrities having affairs with others over their partners. However, hearing about an open relationship does raise eyebrows. That's why Jada Pinkett Smith decided to publically deny any rumors of an open marriage with Will Smith and admit to her affair with August Alsina in a Facebook watch. But, Twitter wasn't done with their marriage just yet. In fact, they had a field day with the video.
Jada Pinkett Smith admits to her affair in front of Will Smith!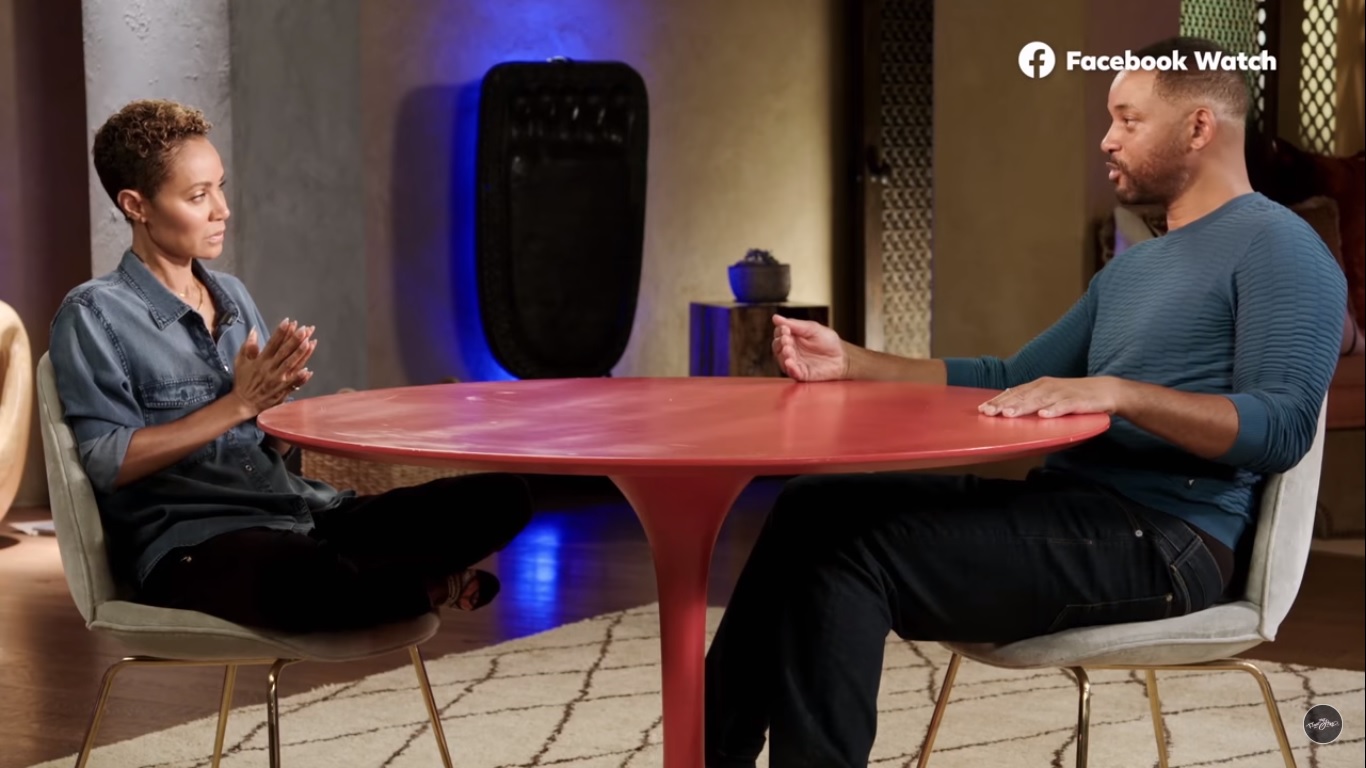 In August Alsina's explosive interview on The Breakfast Club, he claimed to have an affair with Jada Pinkett Smith. But, what really caught everyone's eye was when he said he had Will Smith's "blessing" for the affair. This sparked a lot of flames in the already popular theory that the Smiths are in an open marriage.
So, Jada Pinkett Smith came forward on her Facebook show Red Table Talk in front of Will Smith. She said that there was an affair with August Alsina, but it was when the couple was separated:
We were over… From there, as time went on, I got into a different kind of entanglement with August.
After that, Smith clarified that by entanglement, Pinkett Smith meant a relationship, saying, "an entanglement? A relationship."
Moreover, Pinkett Smith also made clear that Will Smith's blessings were never required. Due to the separation, she was the only one who could give herself permission. She also clarified that August Alsina is not a home-wrecker:
The only person that can give permission in that particular circumstance is myself… I could actually see how he would perceive it as permission because we were separated amicably and I think he also wanted to make it clear that he's also not a home-wrecker. Which he's not.
However, the real fun began when Twitter got a hold of this table talk between Jada Pinkett Smith and Will Smith.
Twitter reacts and makes a meme out of Will Smith's face
As we all know, Twitter only needs an excuse to make a meme out of anything. And this table talk by Jada Pinkett Smith was no exception. But, the one thing that caught everyone's eye was Will Smith's face during the talk. And that was enough fodder for Twitter to make a meme out of it:
Moreover, someone made a parody account of Will Smith on Twitter. And they made a whole lot of fun out of his situation with Jada Pinkett Smith:
Furthermore, even football fans joined in on the banter. And we're not just talking about normal football fans, but legends! Here's Arsenal legend Ian Wright having his fun with Jada Pinkett and Will Smith's ordeal:
However, banter and memes aside, there were many Twitter users who were not comfortable with Jada Pinkett Smith's affair. For example, Twitter user @nithyaaaaa_ did not have an issue with their open marriage or even the affair, as it was their personal matter. But, she had an issue with Pinkett Smith terming the affair as a spiritual experience and terming it as her progress. It felt like these users that she was manipulating Will Smith.
Finally, it's good to see that the rumors can finally rest now. Moreover, everyone got an amazing meme about Will Smith out of it.