There are two kinds of XO fans in the world. The first kind, who has been patiently waiting for The Weeknd's new album to drop soon. And, the other one, which is done waiting, and impatience is killing them. However, the damn album is still not out yet. Even though he has been working hard on this album, there are still no signs of it dropping any sooner. The Weeknd, real name Abel Tesfaye, has released some collaborations during this waiting period. In fact, one of the greatest hits this year is his collaboration for the Game of Thrones soundtrack; Power is Power.
The Weeknd collaborated with Travis Scott and SZA, and that song gave temporary relief to many XO fans. When the demand for the album started to get on his nerves, he deleted his Instagram account. However, the pressure remains as The Weeknd deleted his latest tweet. And we are wondering why.
The Weeknd Deletes Latest Tweet Amidst Album Requests
His latest tweet was very simple and kind of sad, to be honest. The Weeknd has been very busy, man. His latest movie Uncut Gems with Adam Sandler is about to release on December 13, 2019. Moreover, the breakup with Bella Hadid has been unexpected as well. The cherry on top, he has to complete the album soon as XO fans are anxiously waiting for it. So, it is understandable when The Weeknd posted this now-deleted tweet.
get me out of this house.
Now, either the pressure of album completion is driving him crazy. Or, he wants to go out and enjoy Halloween but needs some motivation. Whatever the case is, deleting this simple tweet has an unknown reason behind it.
Reddit For The Rescue
Though the tweet is not available anymore, an XO fan has posted it on The Weeknd deleted posts' thread on Reddit. It proves that the tweet was really there, and I am not becoming paranoid in hopes of getting the album update. I thought I was dreaming for a moment, and the tweet was just a hallucination.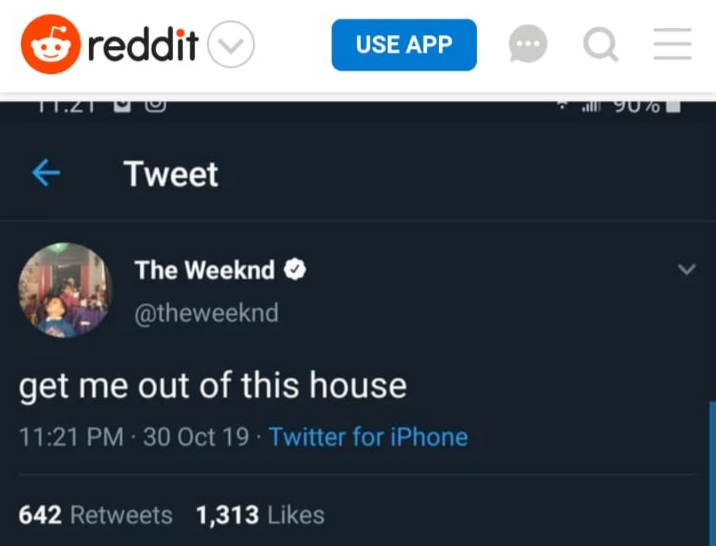 Let's keep our fingers crossed and hope we finally get the album soon and that this tweet deletion was a sign of some sort.