Noah Beck, an American social media personality and a TikTok star who has been flashing his abs and high-end fashion sense lately. High-waisted Jeans are not new to fashion but recently they are being more popularized.
And like many celebrities, Noah Beck is also helping in bringing back the high-waisted jeans trend again on an international platform. Noah has also been attending fashion shows hinting at his seriousness towards the fashion aspect of his career.
Noah Beck rocking high waisted jeans during Paris Fashion Week
Dixie D'Amelio's boyfriend Noah Beck attended Paris Fashion Week on January 19th, 2022. According to J-14 magazine, Noah attended the Ami fashion show. He arrived in a light blue and black blazer but the special part of his outfit was his high-waisted jeans. His abs were on display while his jeans presented him as a new emerging fashion icon. Moreover, Noah has not put a stop to high-waisted jeans but rather has normalized them in his everyday life.
Related: Noah Beck & Dixie D'Amelio Have Broken Up?!
Beck's High Waisted Jeans are new Inspo for Men's fashion
Noah's obsession with high-waisted jeans is not finished and does not seem to halt soon. Recently, he posted an Instagram post to his 9 million followers. In the post, he is wearing light blue high-waisted jeans without any shirt on the beach. Beck essentially mentioned in his caption that he is wearing "high waisted jeans". It seems, he is aware of his influence and the fashion inspiration he is becoming with time. Fans on Instagram are loving this new look and consider it something worth wearing in summers as well.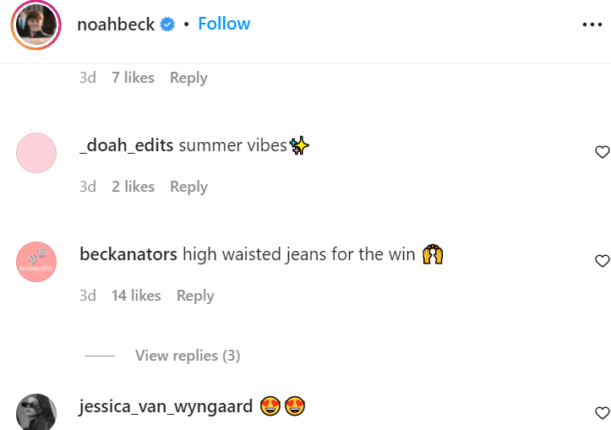 CAA has signed Noah Beck
In addition to being a social media influencer, the talent agency CAA has also hired the young star. The agency will help in excelling him in acting and modeling. Maybe, this is why we are seeing a new improvement and more unique ideas coming forward from former Sway House member.
Fans are loving this emerging fashion sense of their favorite TikTok star who is now on the road to conquering the fashion industry. Furthermore, Noah, with his Instagram posts, keeps on hinting at his evolving and influential fashion sense. We might see many young people pulling up in high-waisted jeans since stars like Noah Beck are constantly highlighting them.