How does he do it?! Pete Davidson has been in a relationship with some of Hollywood's hottest celebs, with his list of exes reading like a Paris Fashion Week line-up. The Saturday Night Live (SNL) comedian has dated Ariana Grande, Kate Beckinsale, and Margaret Qualley, among others. However, his latest relationship has landed him in hot waters with arguably the music industry's biggest name: Kanye West.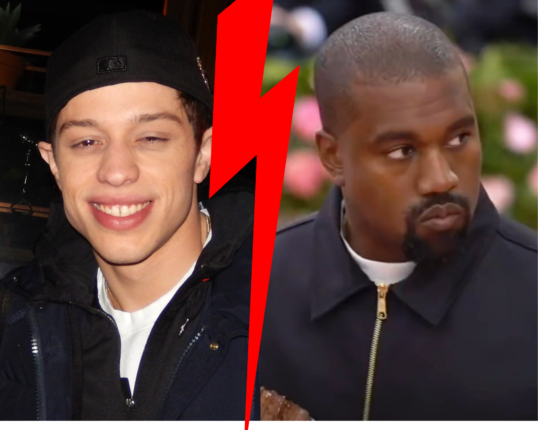 Related: Kanye West says the KimYe breakup will affect millions of families, & that he's done acceptable things as a husband
Pete Davidson shocks everyone-Again!
Fresh off of his five-month-long relationship with Ariana Grande, Pete Davidson got the rumor mill going with pictures of him holding hands with Kim Kardashian in October 2021. Kim K needs no introduction. However, it is pertinent to mention that this was only seven months after her shocking divorce filed with Kanye West despite their six-year-long marriage. Trouble in paradise, it seems! Despite the Kimye divorce and the two seemingly having moved on, with Kim dating Pete Davidson and Ye linked to actress Julia Fox, Kanye is still in denial.
Where it all went wrong
Kanye West directly dissed Pete Davidson in his song Eazy. Ye released the song in January 2022, and Pete and Kim's relationship was well underway when the track dropped. Ye wrote:
"God saved me from the crash, just so I can beat Pete Davidson's a*s."

Eazy – Kanye West
However, this was just the beginning of beef that would last for a long time. In February 2022, Kanye was featured on City of Gods with Alicia Keys by Fivio Foreign. Yet again, he called out Pete – a prominent cast member on SNL – with the lyrics:
"This afternoon, a hundred goons pullin' up to SNL. When I pull up, it's dead on arrival."

City of Gods – Fivio Foreign ft. Kanye West and Alicia Keys
Picking sides and playground insults
Ye has always had a rocky history with social media, and he took his beef with Pete Davidson public for the world to see on February 12, 2022. In a now-deleted Instagram post, he posted a picture of himself, Timothee Chalamet, Kid Cudi, and Pete Davidson at dinner. However, Pete's face was crossed out with a big red X, with the caption, "Just so everyone knows, Cudi will not be on Donda because he's friends with you know who." He added, "We all speak in Billie language now."
"You know who" appears to be a reference to Pete Davidson, who is a close friend of Kid Cudi. He referenced pop-artist Billie Eilish for a separate issue, with Kanye claiming she dissed Travis Scott.
West further appeared to threaten Pete in another Instagram post two days later of a man holding another in a chokehold with the caption, "Upon my wife's request, please nobody does anything physical to Skete. I'm going to handle the situation myself." The post also included private messages between Kim Kardashian and Kanye, with the former saying the rapper has created a "dangerous and scary environment."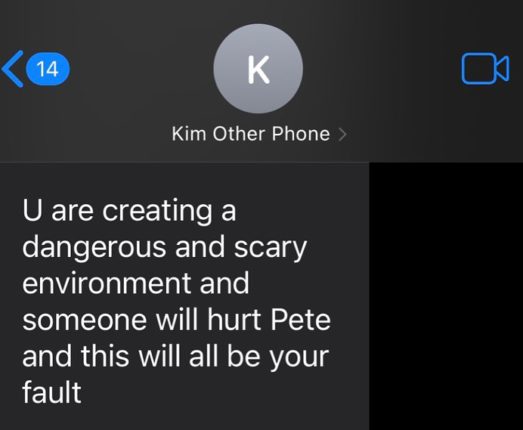 Let the memes begin!
Usually, when celebrities beef, it's the fans who roll the memes. This time, however, Kanye West has resorted to sharing memes aimed at Pete Davidson, Kim Kardashian, and Kid Cudi. In arguably the most famous meme in recent times, he edited a Captain America: Civil War poster with all the celebs he's currently beefing with.
Kanye later shared a similar poster of Venom 2, with his face superimposed on Venom and Pete Davidson as Carnage. The rapper then shared a headless photo of Pete and Kim with the caption, "LOOK AT THIS D*CKHEAD." Yet another post of a message allegedly sent by Pete Davidson shows Pete telling Ye that he will not involve himself with Kim and her children.
Pete Davidson's response?
All is quiet on this front. Pete has excused himself from the social media banter, with only a single cryptic video possibly aimed at Kanye on his Instagram bio. The video, titled "Better to be king for a night than schm*ck for a lifetime." was posted right before Pete promptly deactivated his Instagram account again. West, however, has been quick to take credit. Posting a screenshot of the "User not found" message, Ye wrote:
"Ran Skete off the gram. Tell your mother I changed your name for life."

Kanye West on why Pete Davidson quit Instagram
Whether it's just the harmless rants of Kanye West that we're so used to or the start of something more, only time will tell. Meanwhile, we're thoroughly enjoying Ye's take on the whole matter, with Pete Davidson and Kim K looking just fine.