Netflix's hit series You is back for a fourth season, but it seems to have hit a few bumps in the road. So let's get down to doing a YOU Season 4 review!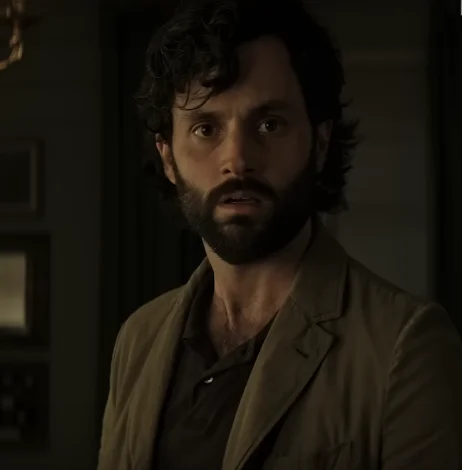 YOU Season 4 Review
We will try to do the YOU Season 4 review in two parts. That is not on us, it's on Netflix. They decided to release it in two parts. So here goes part 1.
Netflix's YOU Season 4 – Part One
The latest installment attempts to reinvent the show once again by sending Joe Goldberg (Penn Badgley) across the ocean to deal with a new set of challenges. This time, Joe is tasked with tracking down a serial killer in a new murder mystery plotline. However, the first few episodes leave viewers wondering if the show has strayed too far from its original formula. While previous seasons successfully reinvented the show, season four's changes may not be as well-received. Fans may be left wondering if the show has lost its way, or if this new direction will be a refreshing change of pace. Only time will tell if this latest reinvention of YOU is a hit or a miss.
In season four of YOU, viewers catch up with Joe Goldberg, now living a new life in London under the name Jonathan Moore. After settling down with librarian Marienne (Tati Gabrielle), Joe has landed a job as a literature professor at a university. He seems to be thriving in his new role, enjoying the anonymity of being an expat in a foreign country. But as always, trouble finds Joe. Once he gets involved with a wealthy social circle, things take a dark turn, and his new life begins to unravel quickly.
Season four of YOU takes a new direction by introducing a murderer, dubbed the Eat the Rich Killer, who is targeting wealthy individuals that Joe has just become involved with. As Joe tries to navigate his own problems, he also finds himself in danger and receiving mysterious messages from someone who knows his true identity. While the concept of a murder mystery may be intriguing, it doesn't quite fit the established tone and style of the series. Previous seasons managed to balance new storylines with the show's signature pulpy tone and social commentary, but season four seems to struggle with finding that balance.
Joe's new acquaintances are difficult to like, making it hard for viewers to invest in their storylines. In previous seasons, there were always redeeming qualities to the antagonists, but here, the entire supporting cast feels insufferable. Despite these issues, fans of the series will still find themselves eager to see how Joe navigates the dangerous waters of his new life, but they may not find the same enjoyment as in previous seasons.
The audience is introduced to a new cast of characters that are mostly wealthy and insufferable. Joe's new friends, including Adam, Phoebe, Rhys, Kate, and Roald, are reduced to rude, snooty, and unlikable stereotypes of rich people. This makes it hard to feel invested in the show's murder mystery plot, especially since the murderer is targeting the same wealthy people Joe has just befriended.
We are not done!!
The show attempts to add some meta-commentary on classic murder mystery tropes, but it falls flat without any characters to root for. The commentary on classism is not subtle and is too on the nose, with the rich characters openly expressing their disdain for democracy and their desire to be in control. By episode four, it becomes difficult not to wish for the Eat the Rich Killer to dispose of these characters.
While Netflix's YOU Season 4 attempts to introduce a murder mystery, it falls short of delivering a classic whodunnit experience. There is no clear trail of clues that could lead the audience to deduce the identity of the killer. Instead, the protagonist, Joe, seems to fumble his way through the story, being just as surprised as anyone else. Unlike previous seasons, Joe takes a more passive role, reacting to events rather than driving the story forward.
Penn Badgley's acting is still a highlight of the show, playing both the public and private sides of Joe exceptionally well. However, Season 4 leans more heavily on Joe's voiceover narrations, which can feel excessive and distracting. It's also disappointing that the characters Joe interacts with are one-dimensional and serve merely as fodder for the Eat the Rich Killer. Even Joe's back-and-forth with Kate fails to match the chemistry he shared with Love in previous seasons.
Review: Netflix show 'You' throws incredible shade at Kanye West after he bought house next to Kim Kardashian
YOU Season 4 Review: Part 2
In each episode of YOU Season 4 Part 2, Joe's web of lies starts to unravel, revealing the flaws in his character that viewers may have overlooked before. While Part 1 may have left some people unsatisfied, Part 2 remedies these issues by exploring Joe's guilt and forcing the audience to question the reliability of his narration. The uncertainty surrounding Joe's character and actions creates a thrilling viewing experience, with tension building as the layers of the story are peeled away.
The change in tone from a quirky thriller to a darker and more violent story may feel like a different season altogether, but it adds a refreshing level of unpredictability to the series. Despite an awkward disconnect between Part 1 and Part 2, the overall effect is both unnerving and captivating.
Related: Is Netflix's You Season 4 The Last One?
YOU Season 4 Review: Why Two Separate Parts?
If we are to truly do a fair YOU Season 4 review, we must address the elephant in the room: The decision to split it into two parts.
Netflix's YOU Season 4 has garnered much attention for its exploration of the twisted mind of protagonist Joe Goldberg. However, the series has not been without its criticisms, particularly regarding its narrative structure. Some viewers have argued that the two parts of the season should have been released together, as the second half of the series elevates the first and delivers a powerful finale.
While Part 1 focuses on building up a new facade, Part 2 is about shattering everything built in the earlier episodes. This is precisely why doing a YOU Season 4 review becomes a unique challenge. The uncertainty created in the latter half of the season is thrilling and makes every conversation important to pay attention to. Viewers are constantly questioning the reliability of the narration and Joe's perspective. Does he know the truth about what he's done? Are we being given all the actual facts? The murky waters of Part 2 are treading with great effect, and with every layer, the darkness seeps in deeper.
As the series comes to an end, YOU Season 4 twists the knife, making it clear that Joe Goldberg is irredeemable. He's never been someone to love, and in every single way, he is not worthy of love. The show asserts that Joe twists joy and romance, breaking the women in his sights no matter what his twisted mind thinks. Part 2 is deeply effective in showing how Joe is evil, and by the end, there is no question about it.
Unfortunately, the first part of the season has some issues, but luckily, Part 2 remedies them. However, it's important to watch the two parts together to fully appreciate the twists and turns that the series takes. Despite its flaws, the show still manages to deliver a powerful finale that leaves a lasting impact. Fans of psychological thrillers and twisted characters will undoubtedly find much to love in YOU Season 4.
That's all from us on the YOU Season 4 review. You'll have to watch it to find out if you agree or not.