Florida Man drops on Netflix on April 13th and we are hyped up! From the mystery thriller genre, the tv show Florida Man is coming to Netflix in April. The latest series features the talented Edgar Ramirez alongside Abbey Lee, Paul Schneider, and Emory Cohen.
The official trailer offers a glimpse into the world of Mike, played by Ramirez (known for his role in Dr. Death). At the start, we find Mike attending a support group for gamblers, where we learn more about his character and how he ended up in a difficult situation owing money to a dangerous Philly mobster.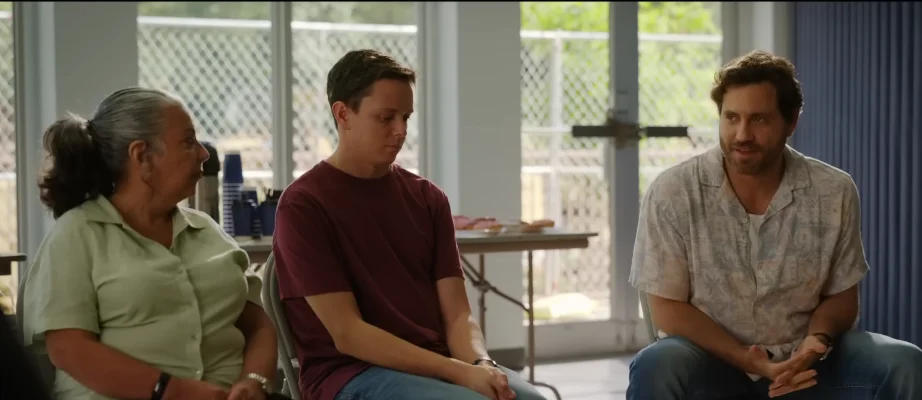 Mike's poor decision-making skills lead him to have an affair with the gangster's girlfriend, after being tasked with the simple job of ensuring her safety. Things take a turn for the worse when the woman flees to Florida, and the mobster offers Mike a job to find her and bring her back in exchange for clearing his debts. Join us as we follow Mike's journey through the murky underworld of crime and see how he navigates his way out of danger.
Florida Man – What we know about the plot
As Mike continues his search for the elusive woman, he keeps his true intentions hidden while befriending the locals, including a law enforcement officer and a criminal. However, the plot takes a surprising turn when Mike finally locates the woman, and he and the gangster's girlfriend team up with the locals to plan a heist. But even with his keen sense of people, Mike soon discovers that not everyone can be trusted. The teaser also promises plenty of classic Florida elements, such as alligators and firearms.
In addition to Edgar Ramirez's character, this new series features a talented ensemble cast, including Abbey Lee as the on-the-run girlfriend, Emory Cohen as Mike's ruthless mob boss, Anthony LaPaglia as Mike's father, Lex Scott Davis as his ex-wife, Otmara Marrero as his sister, and Paul Schneider as Officer Andy Boone, among others. Don't miss out on this exciting new series, coming soon to Netflix!
The makers of the tv show
Our very own Jason Bateman, who achieved success as an actor, director, and executive producer in Netflix's Ozark, is set to bring his production skills to the small screen once again with the upcoming mystery thriller series. Bateman's production company, Aggregate Films, is backing the series alongside executive producer Michael Costigan. The show was created by Donald Todd, known for his work on This Is Us and Ugly Betty, and he will also act as the showrunner.
The project will be directed by Miguel Arteta for the first and second episodes, with Kevin Bray, Haifaa Al Mansour, and Julian Farino completing the directorial team. This marks Bateman's latest venture into television production following the success of last year's true crime miniseries, Under the Banner of Heaven. Stay tuned for more updates on this exciting new project!
Related: What Makes Better Call Saul Better Than Breaking Bad?
The new poster for the tv show
Netflix's forthcoming limited series, Florida Man, has released a striking new poster that is sure to pique viewers' interest. The poster features a colorful sunset framed by palm trees at the bottom, with someone seen fishing a small revolver out of the water. In the cylinder of the gun, we see Edgar Ramírez's character, Mike Valentine, sporting sunglasses and gazing at his deadly catch.
Fans who have seen the trailer will recognize a similar scene in which another character pulls a revolver out of the water using a fishing line. The show's tagline, "some places just reel you in," is prominently displayed at the top, hinting at the series' ties to the Sunshine State.
The inspiration for the tv show
For years, the internet has been flooded with bizarre headlines about a "Florida man" who seems to break the law in the most outlandish and creative ways imaginable. From using an alligator as a weapon to getting into a high-speed chase on a mobility scooter, there's seemingly no limit to what this mythical figure is capable of.
The internet has taken notice of this tv show, and the phenomenon has become a cultural touchstone, inspiring countless memes, jokes, and even merchandise. But while the headlines are undoubtedly entertaining, they also raise important questions about the state of Florida itself and the people who call it home.
That's where Netflix's new mystery thriller series comes in. Produced by Jason Bateman's production company, Aggregate Films, the series promises to explore the Sunshine State's dark underbelly in a way that no meme or viral news snippet ever could.
While the series is sure to be entertaining, it also offers a unique opportunity to explore some of the societal issues that the "Florida man" phenomenon raises. What drives people to commit such outrageous and often dangerous crimes? What role does poverty, addiction, and mental illness play in their behavior? And what does the "Florida man" meme tell us about our fascination with crime and the darker aspects of human nature?
With a talented cast, including Edgar Ramirez, Abbey Lee, and Paul Schneider, and an experienced production team behind the scenes, this tv show is poised to be one of the most talked-about shows of the year. Whether you're a true crime junkie, a fan of Jason Bateman's work, or just someone who can't get enough of all of the memes, this is one series you won't want to miss.
Related: What Charlie Tahan Thought Of His Character Wyatt Langmore's fate in Ozark Season 4

Should you watch 'Florida Man'?
If you're a fan of dark comedy shows like "Better Call Saul" and "Barry," then you're going to want to add "Florida Man" to your watch list. All three shows share a similar blend of humor and drama, along with complex characters and intricate storylines.
"Better Call Saul" follows the story of Jimmy McGill, a struggling lawyer who eventually becomes the infamous Saul Goodman. The show has been praised for its witty dialogue, absurd situations, and nuanced performances from its cast. Similarly, "Barry" stars Bill Hader as a hitman who decides to pursue a career in acting. The show is a perfect example of how comedy and tragedy can blend together, with Hader's character navigating the seedy underbelly of the acting world while trying to leave his criminal past behind.
"Florida Man" fits right in with these two shows, with a unique premise that combines humor and drama in unexpected ways. Edgar Ramirez plays Mike, a former cop who finds himself in debt to a Philly mobster. Things go from bad to worse when Mike gets involved with the mobster's girlfriend and ends up on the run in Florida. The show's quirky characters, outrageous situations, and sharp writing make it a must-watch for fans of dark comedies.
One of the things that makes all three shows so compelling is their ability to balance humor and drama. They all explore the darker side of humanity but do so with a sense of levity that makes them all the more enjoyable. The characters in each show are flawed and complex, making them all the more relatable.
So, if you're looking for a new show that combines laughs and thrills, this tv show is definitely worth checking out. With its talented cast, clever writing, and offbeat sense of humor, it's a show that's sure to keep you entertained from start to finish.